---
Swappa is all about affordability and reliability; helping users save money and not get ripped off. We make the buying and selling part easy, but it's not a successful sale until the sold item is in the hands of the new buyer. That's where the United States Postal Service comes into play. Whether you're a seller looking to maximize your profits, a buyer in a rural area, or anywhere in between, you'll likely find that USPS is a great option for shipping and delivery of your newish smartphone, tablet, MacBook, or game console.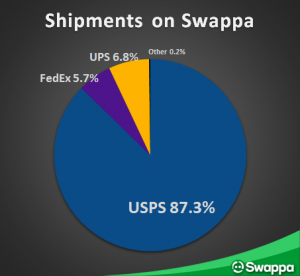 Most sellers on Swappa ship with USPS
After selling an item on Swappa's online marketplace and receiving payment from the buyer, you have up to two business days to ship the item or one day for express shipping. It's up to you as a seller to choose how you'd like to send the item. Basically, you have three choices: USPS, UPS, and FedEx.
In the first few months of 2020, more than 87% of sellers on Swappa have shipped their items using USPS. This is in contrast to 6.8% who used UPS and 5.7% who used FedEx. In other words, roughly 7 times as many sellers on Swappa used USPS compared to UPS and FedEx combined! This is due to a number of reasons, but the largest contributors are price and convenience.
USPS saves sellers money
Price is likely the primary reason why most of our sellers choose to ship using USPS. Although all three shipping couriers have their place, USPS will more often than not be the cheapest option for most low-volume sellers. As a case study, let's compare rates when shipping two different packages: a small package representative of a typical smartphone and a large package representative of a Nintendo Switch or MacBook. And to get the most accurate representation of how much it actually costs when shipping to a variety of locations, we'll start with rates to nearby states and then look at rates when shipping a much longer distance. For this comparison, we will use publicly available rates obtained from the USPS Postage Calculator, FedEx Rate Finder, and UPS Shipping Calculator (using UPS Simple Rate pricing).
Apple iPhone
Let's start with a small box that should cover the majority of cell phones shipped on Swappa such as an Apple iPhone. For this example, we'll use a 9.5" x 4.5" x 3.5" box weighing 2 lbs.
Shipping near
Shipping this package from New York to a residential address in a relatively close state such as Maryland via USPS Priority Mail (estimated 2 days) costs $7.92. Shipping this via UPS Ground (est. 2 days) costs a bit more at $11.50, and UPS 3-Day Select increases cost once again to $18.50. What about FedEx? FedEx Home Delivery costs $10.88 (est. 1 day), whereas FedEx Express Saver costs $22.64 (est. 3 days). In other words, shipping a small package to a nearby state is a few dollars cheaper using USPS Priority Mail.
Shipping far
What if you need to send this box a bit farther? Shipping the same package from New York to a residential address in California costs $12.10 using USPS Priority Mail (est. 2 days). Switching over to UPS Ground saves a tiny bit at $11.50, but takes about twice as long (est. 4 days). If you want to get closer to the delivery window offered by Priority Mail, UPS 3-Day Select takes you up to $18.50. Finally, FedEx Home Delivery (est. 4 days) costs $13.56, whereas the faster FedEx Express Saver (est. 3 days) costs $35.50.
Nintendo Switch / Apple MacBook
Now, let's check out how things stack up when shipping a larger item such as a Nintendo Switch or Apple MacBook. For these larger items, let's use a 17" x 13" x 5" box, weighing in at 5 lbs.
Shipping near
Shipping our larger box from New York to a residential address in Maryland via USPS Priority Mail (est. 2 days) costs just $11.30. Switching over to UPS, we're looking at $25 using UPS Ground (est. 2 days), and $44 with UPS 3-Day Select. FedEx Home Delivery comes a little closer, at $12.32, and is estimated to take just 1 day for delivery, whereas FedEx Express Saver would cost $31.06 and increase the estimated delivery window to 3 days. With our larger package, USPS Priority is once again the cheapest option, offering a great balance of price and speed, although FedEx Home Delivery comes close.
Shipping far
Now, let's see whether geographic distance shakes up the pricing hierarchy. If we ship our large package from New York to California, we're looking at $26.70 via USPS Priority Mail (est. 2 days). How does this stack up against the competition? Just like with our small package shipped across the country, UPS Ground is slightly cheaper at $25, but would take twice as long at 4 days. UPS 3-Day Select gets a bit closer to Priority Mail's delivery timeline, but is much more expensive at $44. FedEx Home Delivery is once again a viable option, costing the least at just $22.95, but with a long estimated delivery time of 4 days. Moving up to FedEx Express Saver (est. 3 days) causes prices to skyrocket to $62.32.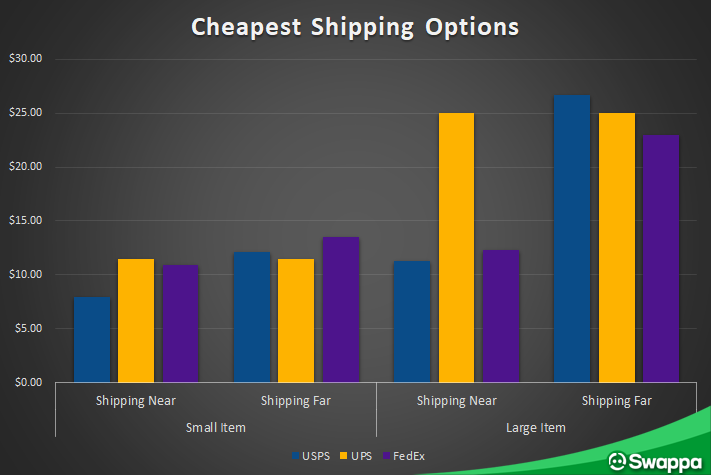 So to recap, shipping small packages to nearby states using USPS Priority Mail is generally going to be a few dollars cheaper than the competition. When shipping these same packages to destinations that are a bit farther away, you may be able to snag a better deal using UPS Ground or FedEx Home Delivery. Just keep in mind that these cheaper options may take about twice as long compared to Priority Mail, so your mileage may vary.
The story remains pretty much the same when looking at larger packages, with USPS Priority Mail delivering the best rates for most sellers. Shipping a large package to a nearby state was cheapest with USPS. But just like what we saw with the smaller package, you may be able to find a slightly cheaper option when shipping to a remote destination. So before you ship, make sure you shop around using the rate calculators above and pick the best option for you!
PayPal integration, flat rate shipping, and no hidden fees
In our price comparison above, we found that USPS Priority Mail offers some of the best rates across a variety of package sizes and destinations — but that doesn't quite tell the whole story. USPS also has a few hidden perks that make the experience a bit simpler overall so you can prevent the headaches before they arise.
For starters, there's PayPal integration. Here at Swappa, we require that all online Marketplace transactions go through PayPal. We do this in order to make sure that payments are safe and streamlined. But there's another benefit! Thanks to USPS's PayPal integration, sellers are able to generate a USPS label in just a few clicks, right after logging in to accept payment.
Next, we have USPS Priority Mail Flat Rate boxes. Sellers on Swappa are responsible for shipping costs, and are expected to factor this in when creating a listing. USPS Flat Rate boxes serve as a great safety net, since you know that if your item fits, that's the most you'll have to pay. Finally, there are no hidden fees when shipping with USPS. In other words, you'll never get to the post office, only to be hit with a surprise rural delivery fee.
*****
We've already established that Swappa is the best way to make money selling your used tech. But after your listing has sold, there's still one remaining opportunity to maximize your profits as a seller: shipping. Nearly 90% of sellers on Swappa choose USPS. This is likely due to USPS's competitive prices and flat rate options, as well as the added convenience from PayPal integration that allows sellers to purchase a shipping label right at checkout. However, there are plenty of great options for how to ship your phone, and you may find that another carrier is a better fit for you. Regardless of which shipping solution you choose, you can always make the most money by selling your gently used tech on Swappa.
We have several helpful guides covering how to buy and how to sell on Swappa, as well as how to ship popular items like the Nintendo Switch, Sony PlayStation 4, and Apple Macbook. So what are you waiting for? Click on the button below to get started selling your gently used smartphone, tablet, laptop, or game console!
---
Get a deal or Make More. In the App.