---
It's no surprise that buying is an important component of how Swappa works. An online marketplace for buying and selling used tech, anyone new to the marketplace might be wondering what the buying process looks like, as well as any tips for shopping our crazy good deals.
When something finally catches your eye, you'll need to know how to buy it and everything that's involved. In this post we'll walk you through the entire buying process, providing some valuable tips and insight to help ensure you walk away happy, and with more money in your pocket.
Related:
Use your PayPal account
Swappa uses PayPal for all purchases made in our marketplace. A lot of this has to do with convenience and the rock solid protections PayPal has in place to ensure everyone is happy throughout the transaction process. For those that don't have a PayPal account you can always checkout using a PayPal guest account but if you ever plan on selling down the line, becoming a verified PayPal user is your best option.
Register for a Swappa account
Of course, in order to actually buy anything on Swappa you'll first need to create an account. This will create a profile for buying/selling and uses a rating system that acts as a sort of trust score when dealing in marketplace. Sign up is extremely easy, requiring a minimal amount of info like a working email address. After that you're ready to start shopping.
Find the products you want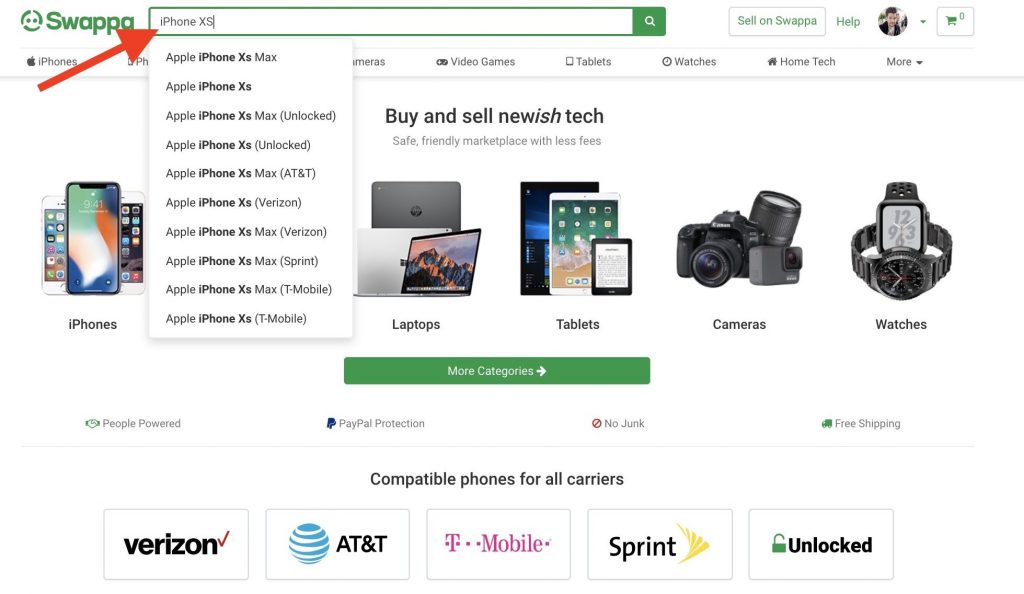 To get started shopping on Swappa, either manually browse around for items on the home page which are separated into dozens of categories. If you already know what you're looking for, simply tap the big, green search bar at the top and begin typing. Products will begin populating as you type, allowing you to quickly choose from the list, or hit enter to view a search results page.
Search results
Search results are pretty straight forward, showing you everything related to what you typed into the bar. Tapping a specific product will show you listings for that product. For phones there's a few more steps to narrow things down to a specific model since most smartphones are further separated by their wireless network.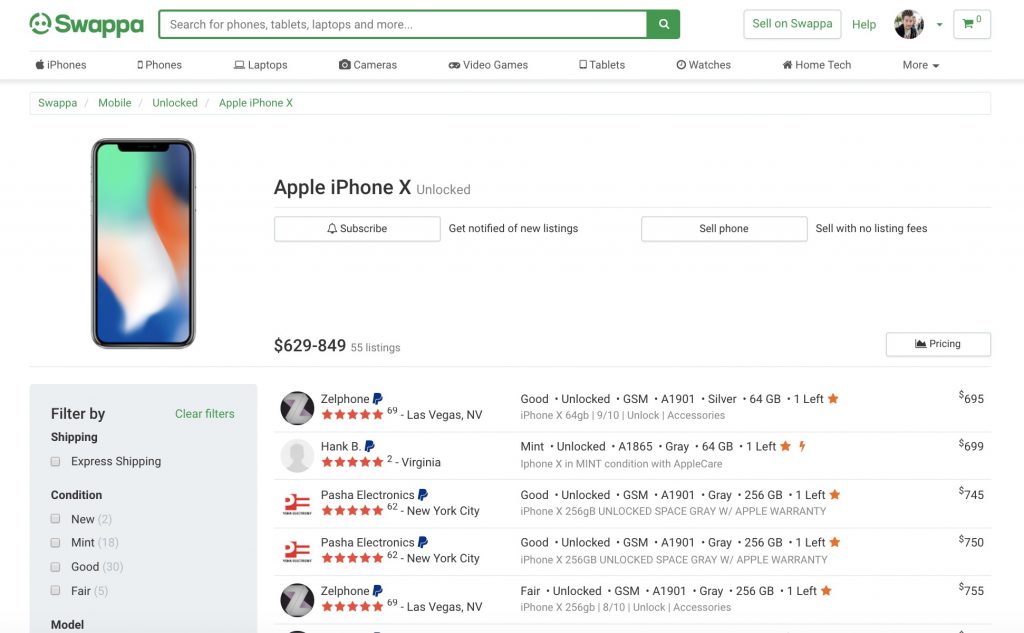 Once a specific device has been selected, you'll see a page showing you all the listings for that device. Featured listings (listings denoted with an orange star) appear at the top of search results and are shown lowest to highest price. Some listings will have a tiny lightning bolt icon which means the seller also provides express shipping for an additional fee.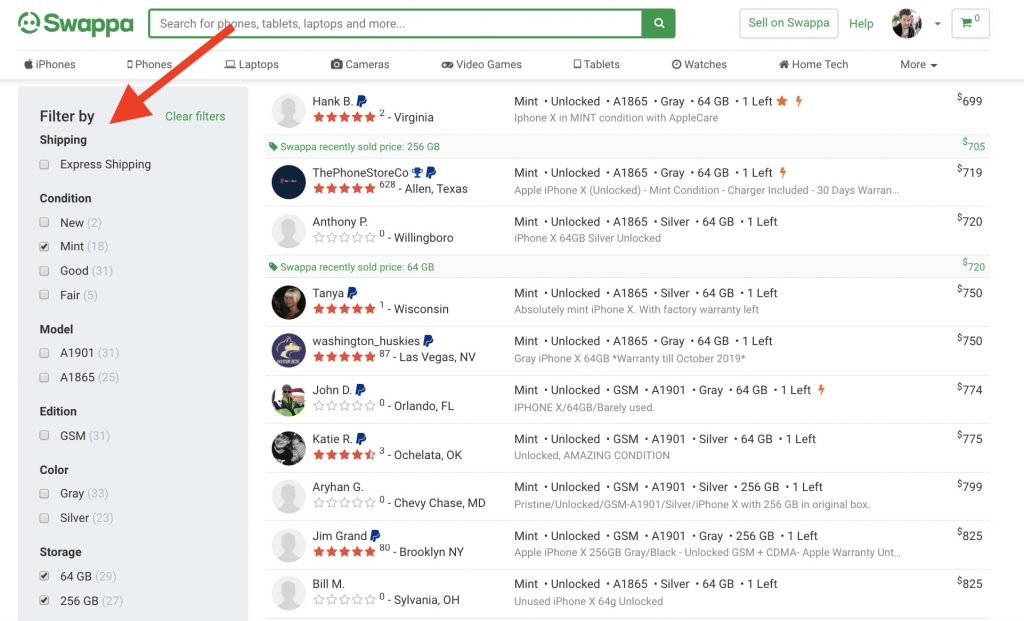 On the left side of the search results page you'll notice a handy set of filters. These are great for fine tuning your search results, especially if you only want to see devices in a specific condition, storage size, or color. Definitely use them.
Often times users will include any accessories they've purchased for the device, so it's important to click a listing — even if it's priced slightly higher than others — to see if anything else is included. You never know what you may find with some slightly higher priced listings including bonus goodies like cases or even accessories like a VR headset.
Seller ratings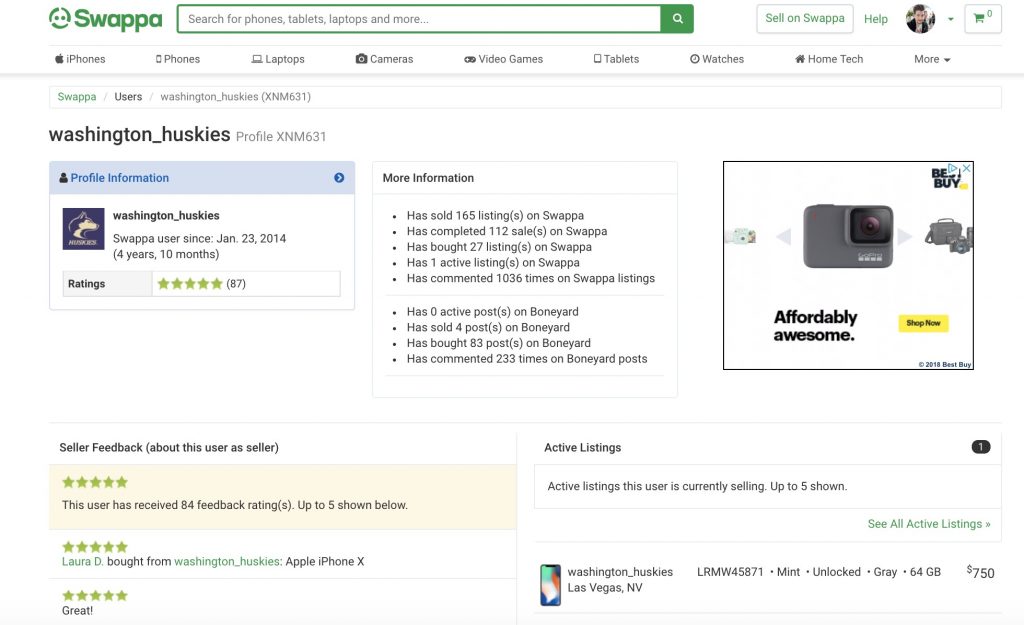 A 5-star rating is also shown underneath each sellers name with a tiny number displaying the number of reviews they've received. You can find more details on their ratings by visiting their profile page. Just click on the listing and then the seller's name. This is meant to give you a general idea of a seller's trustworthiness but don't be alarmed if someone has no ratings — new sellers are common and everyone has to start somewhere, right?
Making a lower offer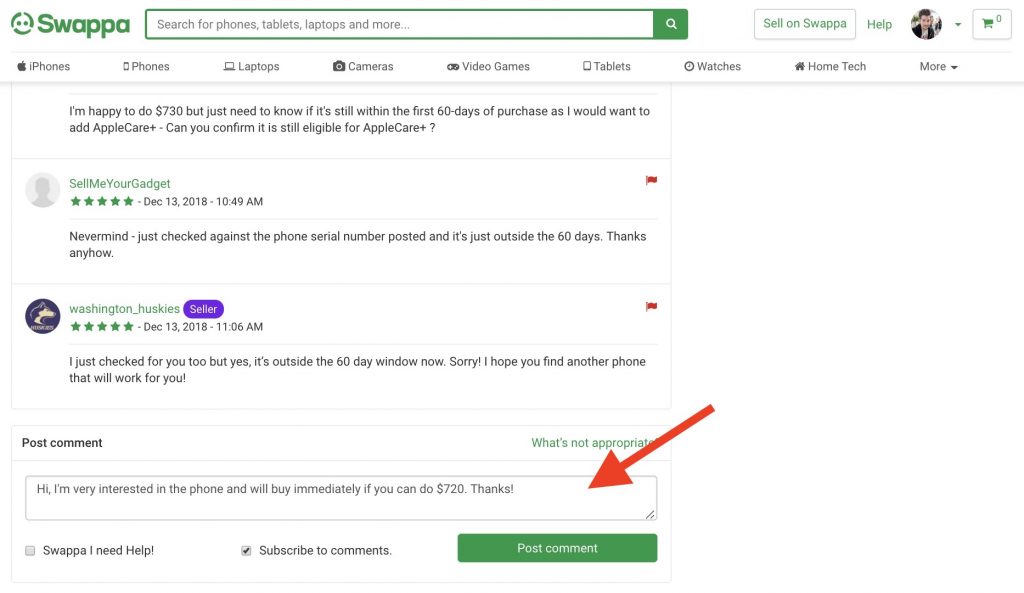 Most sellers are firm in their pricing but some are willing to lower the price if the product isn't moving. You can always make an offer by leaving a comment on a listing requesting a lower price but here are a few things to keep in mind when making an offer on Swappa:
Comments are public so anyone who has already left a comment or subscribed to a listing's comments will be notified of all correspondence.
If the seller agrees to an offer in the comments, this is made public and anyone can jump in and buy it for the lower price.
When making an offer, stay on top of your email notifications and be prepared to act fast before another Swappa user swoops in on your offer.
Buy Now
Once you've found what you're looking for, you can either check out immediately by pressing the Buy Now button or Add to Cart (beta). Selecting Buy Now will take you to our check out page where you can also purchase add-on items like Accident Protection Plan for items like phones, Express Shipping (if provided by the seller), and even accessories like an extra Lightning cable for your iPhone.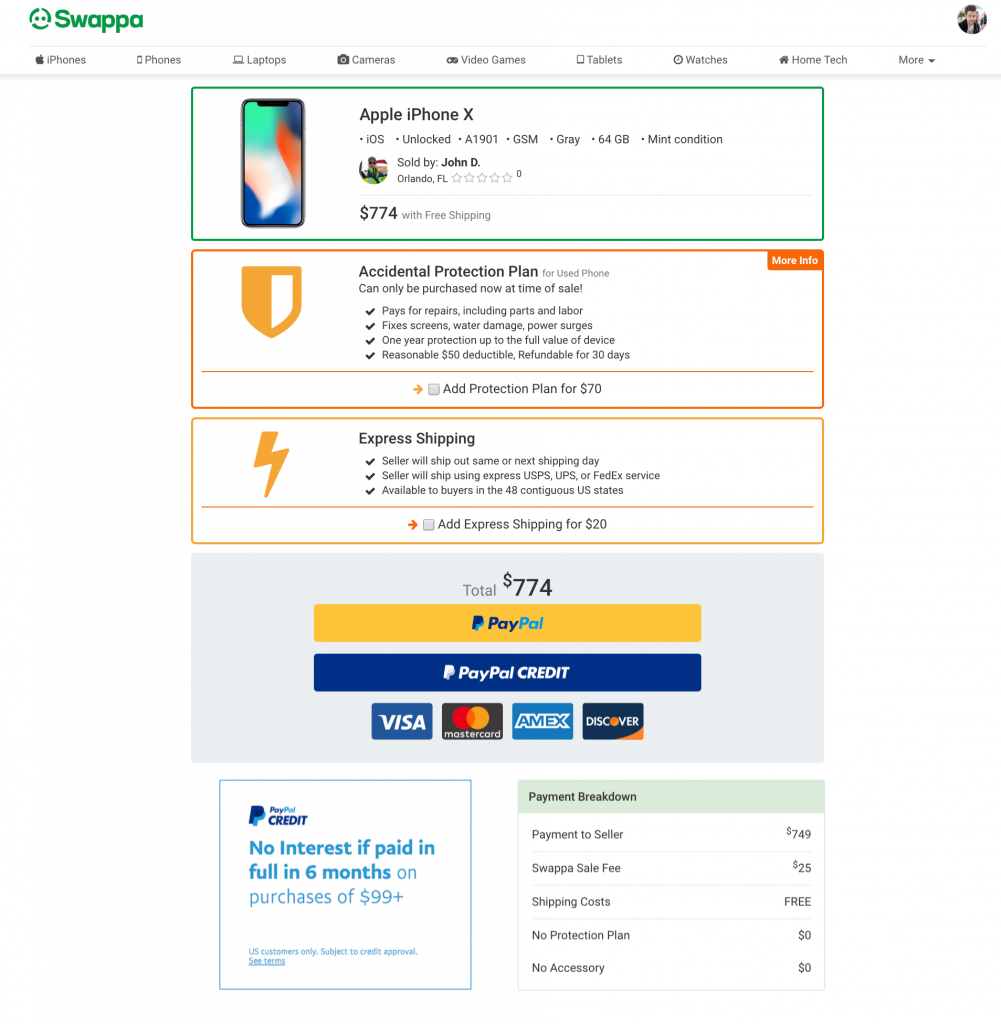 To finish the check out process, simply choose from the various payment options (PayPal, PayPal Credit, or PayPal Guest), after which you'll receive email receipts for your purchase. Don't forget that for every item purchased in the marketplace, you'll receive two payment confirmations: one for the purchased item and a separate charge for Swappa's sale fee (which was already included in the listing price).
Add to Cart (beta)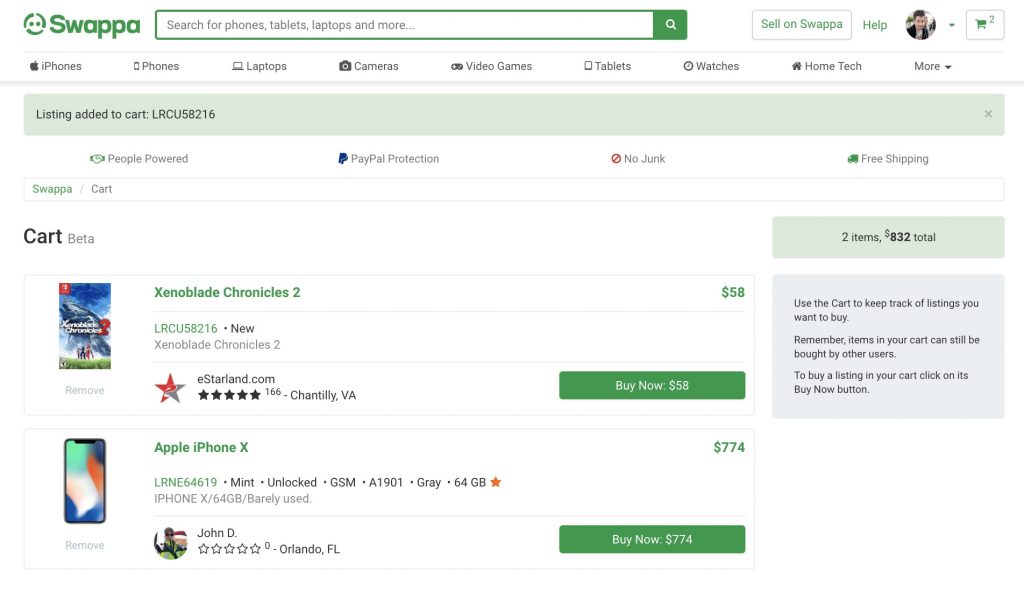 Recently added to the Swappa marketplace is our new shopping cart feature. When viewing a listing you can select the Add to Cart button which takes you to your cart page. To the right, you'll see the number of items in your cart, as well as the total combined price. The cart feature is still in beta, so at the moment you can only purchase each item individually. The ability to purchase everything in your cart at once will be added in the future.
For now, the cart is a quick way to save the listings you care about, allowing you to continue shopping or follow up with listings you may have commented on. Of course, listings in your cart remain active in the marketplace, so they could disappear at any time if purchased by someone else.
Returns and refunds
It doesn't happen often, but like most things in life, things don't always work out quite the way we want. To help address these rare occurrences, Swappa has Return and Refunds policy that all sellers must adhere to. It's pretty straightforward.
If the buyer receives a device that wasn't as described, they're entitled to a refund. Simple as that. Sellers will be required to refund the money for returned items (once they've been received) and are subject to PayPal's refund policies and limitations.
Shipping costs on returned items can either be handled by the seller or buyer, depending on the situation. For instance, if the device sold is broken or not as described, of course the seller would pay the return shipping fees. If the buyer received a device they no longer want and change their mind, then they will have to pay to ship it back. Just like when an item is initially purchased, any items being shipped back should have proper tracking and insurance.
In the event of a return, Swappa will refund the sale fee when the seller is at fault but in the event that a buyer simply changes their mind about a purchase. Should you have any other questions, feel free to reach out to our support team here.
♻️📱💻📷🎮
So there you have it. Buying items on Swappa is not only dead simple, it's also safe and fun. If you're looking for more details, feel free to check out our Buyer FAQ. Now get out there and start shopping the best tech deals around!
---
Get a deal or Make More. In the App.


---