---
Congratulations, you sold your used MacBook on Swappa! (or eBay) Now you have to send the Apple laptop to the buyer; you want to pack it safe and ship it cheap. This article will guide you how to ship a MacBook. Consider this your MacBook Shipping Guide.
Hopefully you sold your MacBook on Swappa and paid no seller fees. If not, use Swappa next time to sell your used iPhone, iPad, or even video games.
The best way to ship a MacBook Pro costs about $30-40:
Use a 17" x 13" x 5" box
Use plenty of bubble wrap
Use air pillow cushions on the sides
Use USPS Priority (with insurance and tracking)
Shipping a MacBook using USPS and the above supplies will cost you around $30-50, depending on the insured value and shipping supplies. Keep in mind that the cost of supplies (e.g. box, bubble-wrap, tape) varies.
Packaging
For safe packing and shipping you'll need a box big enough to hold the MacBook contents, including accessories, and plenty of protective cushioning. We recommend at least an inch or two of space around each side of the contents and the shipping box you use to allow for bubble-wrap or other protective material.
Assuming you have the original box and accessories:
MacBook Pro 13" weighs about 4 lbs, 12 oz. The original box measures about 13.0" x 9.5" x 2.2".
MacBook Pro 15" weighs about 6 lbs, 3 oz. The original box measures about 15.5" x 11.0" x 2.2".
Even though the 15 inch MacBook Pro is a few inches bigger than the 13 inch both are well accommodated by the same size shipping box. A 17" x 13" x 5" box is just about perfect for shipping the laptop, original box, and plenty of bubble-wrap cushioning material.
Boxes for shipping aren't expensive, but they're not necessarily easy to find either. Unfortunately USPS post offices don't offer a box in-store that will fit a MacBook. You can order almost any size box from Amazon, for instance, but only in bulk. Bubble-wrap is relatively easy to find, but a full roll will cost about $5-10.
Use the bubble-wrap to surround the laptop on all sides with protective cushioning. Also ensure the laptop is secure inside the shipping box and does not slide around.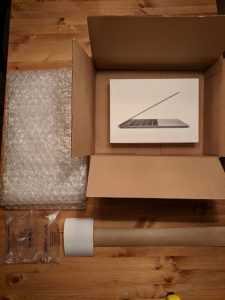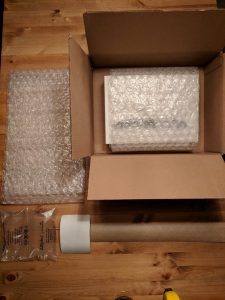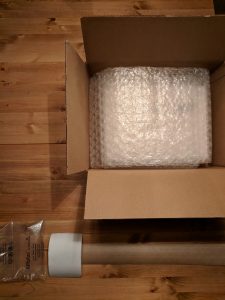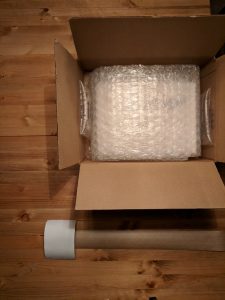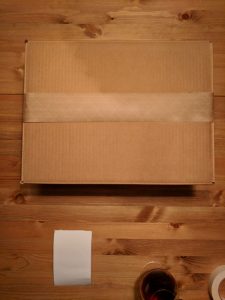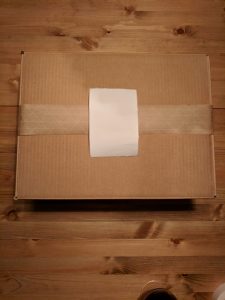 Recommended materials for packaging MacBook Pro:
Shipping box measuring 17″ x 13″ x 5″ (or bigger)
At least 14 sq ft of thick bubble wrap
4 air pillow cushions
Reinforced packaging tape
Shipping label
Including the weight of the recommended box and protective bubble-wrap adds about another pound (16 oz) of weight.
This makes the shipping size and weight as follows:
MacBook Pro 13" with bubble-wrap weighs about 5 lbs, 12 oz in the 17" x 13" x 5" box.
MacBook Pro 15" with bubble-wrap weighs about 7 lbs, 3 oz in the 17" x 13" x 5" box.
Carriers and Costs
USPS is the preferred shipping provider for the vast majority of Swappa sellers. There's always a post office, mailbox, or postal carrier nearby. Shipping costs are typically the cheapest with USPS as well. USPS Priority service includes tracking, insurance, and fast 2-3 day delivery.
USPS Postal Calculator: https://postcalc.usps.com/
One downside of shipping your MacBook with USPS is that you're generally on your own for packaging and materials. Luckily there are options.
Full service shipping locations, like the UPS Store and FedEx Ship Centers, can help accommodate your MacBook and provide all the packing materials and shipping services for a reasonable fee. It's more expensive than doing it yourself though; expect to pay around $50 when all's said and done.
Shipping with UPS is a good option. My local UPS Store, for example, could ship a MacBook Pro (13 or 15 inch) for about $47; that's $33 shipping plus a $14 packaging fee. The packaging fee included a 21" x 16" x 5" box and packing material. The shipping fee includes insurance ($1000 worth for this example) and can vary based on to and from zip codes.
UPS Rate Calculator: https://wwwapps.ups.com/ctc
Shipping with FedEx is a fine option as well. My local FedEx location, for example, could ship a MacBook Pro (13 or 15 inch) for around $53; that's $37 shipping plus a $16 packaging fee. The packaging fee included a 17" x 17" x 8" box and plenty of packing material. The shipping fee includes insurance ($1000 worth for this example) and can vary based on to and from zip codes.
FedEx Rate Finder: https://www.fedex.com/ratefinder/home
It's also worth noting that if you are shipping your MacBook without the original box then UPS Stores and FedEx Ship Centers both usually have special laptop packaging and shipping box for an additional cost.
Insurance
Swappa always recommends shipping with a tracking number and proper insurance to cover the value of the device. Properly insuring a MacBook will increase the costs of shipping a bit, but it's worth the piece of mind in the rare circumstance that your shipment gets lost or damaged in transit.
All carriers handle insurance costs similarly; you pay more per $100 of value. With USPS, insurance is around $9 for $500, $15 for $1000, and $21 for $1500. UPS and FedEx insurance costs are similar.
Printing a Shipping Label
PayPal makes it easy to print a shipping label for a payment you've received. Here's a screenshot of what it might look like to generate a USPS label for your MacBook.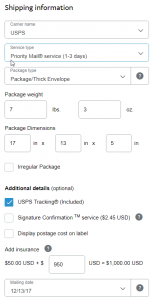 Of course you can also fill out a shipping label by hand or get one when you drop off the package at a post office, UPS Store or FedEx Ship Center.
Selling and Shipping your MacBook Pro
When you sell your MacBook on Swappa or eBay you'll want to ensure it is shipped to arrive safely. Whether using USPS, UPS or FedEx you'll want to ship it in the right sized box, pack with plenty of protection, including insurance. And be sure to sell your next piece of tech on Swappa (no seller fees).
Don't forget to Reset your MacBook and Restore to Factory Settings before shipping as well. Thanks for using Swappa!