---
If you buy a brand-new smartphone, the resale value drops as soon as the box is opened and the phone is activated. And, once a phone has been used, the value tends to drop slightly from month to month. Price drops are inevitable when dealing with smartphones, but they are looked at entirely differently depending on whether you are looking to buy or looking to sell. This is good news if you are looking to buy a newish phone, and if you are looking to sell — the sooner you sell, the better you will do.
Keep reading to learn more about the price drop history of the iPhone 11, and about how you can find cheap iPhone 11 deals.
---
Apple iPhone 11 price drop history
Apple announced the iPhone 11 in September 2019. The iPhone 11 is part of the 13th generation iPhone lineup, and it offers options for 64GB, 128GB, and 256GB of storage space. The 64GB iPhone 11 launched with an MSRP of $699. The 128GB and 256GB models each arrived with a premium for the added storage capacity, which brought the prices to $749 and $849, respectively.
| | | | | | | |
| --- | --- | --- | --- | --- | --- | --- |
| | July 2021 | August 2021 | September 2021 | October 2021 | November 2021 | December 2021 |
| iPhone 11 (64GB) | $473 | $463 | $432 | $405 | $405 | $408 |
| iPhone 11 (128GB) | $527 | $510 | $491 | $450 | $443 | $445 |
| iPhone 11 (256GB) | $556 | $539 | $529 | $476 | $484 | $470 |
Used iPhone 11 Prices on Swappa
The iPhone tends to hold its value fairly well, at least as compared to other smartphones. As you've likely seen from the above table — there are times when the value will increase from month to month. But in general, you should expect the price to decrease slightly each month. For example, the 64GB iPhone 11 value dropped by $65 in the six-month period from July 2021 to December 2021. The 128GB iPhone 11 value dropped by $82 and the 256GB iPhone 11 value dropped $86 over the same six-month period.
Time plays an important factor when it comes to used smartphone prices. But there are several other factors that you should consider when getting ready to buy or sell. The other factors include the condition of the phone, the amount of internal storage space, and market demand. And keep in mind that part of the market demand aspect circles around when Apple releases a newer model.
Review the current iPhone 11 price trends on Swappa.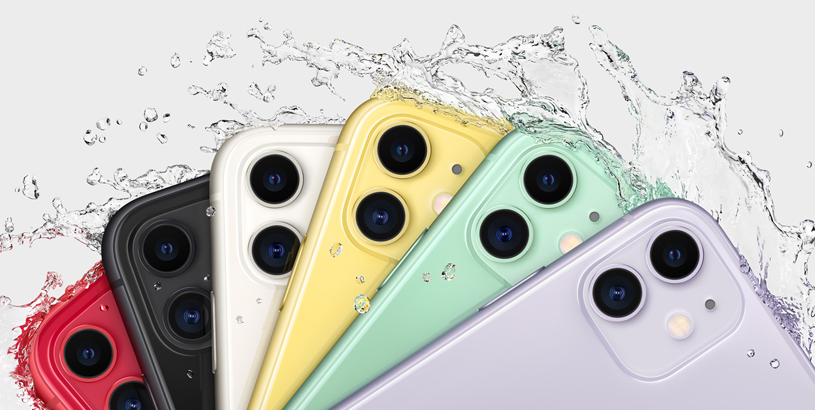 When is the best time to buy an iPhone 11?
If you're looking to buy an iPhone 11, or any gently used iPhone, you've likely spent some time wondering when do iPhone prices drop. Numerous factors affect the price of a used smartphone, such as the condition and the specs. But market availability also plays a key role, so the best time to buy an iPhone is immediately before or immediately after Apple releases a new iPhone, which typically happens in September.
You will be able to find a good deal if you buy just before the new model is released because lots of people sell their current phones to fund their upgrade. Similarly, buying just after a new iPhone is released is good because there will be more to choose from, and that tends to favor the buyer (with a reward of slightly lower prices).
Of course, if you're looking to buy a gently used iPhone 11, such as what can be found in the Swappa marketplace, any time is a good time to buy. This is because buying a newish smartphone is always going to be less expensive as compared to buying a new smartphone. See how the iPhone 11 stacks up with our iPhone 11 Comparison Guide and check out other models on our iPhone Buyer's Guide.
You can subscribe to get an email alert every time a new iPhone 11 listing is added by clicking on the "Subscribe" button on the iPhone 11 listing page.
When is the best time to sell an iPhone 11?
People often list their iPhone for sale just before or just after Apple releases a newer model. Those are great times to sell because there are often plenty of buyers looking for a deal, and that often means a quick sale. Having your phone sell quickly is great because it means you will be able to fund your upgrade.
Selling just before or just after a new model is released can probably be considered the most convenient time to sell. But the best time to sell is always going to be right now, because, as we detailed in this post — prices for used smartphones tend to drop slightly from month to month. If you have an iPhone 11 sitting around, you should probably tap the green button below to get started on your listing.
Regardless of whether you are buying or selling — the Swappa marketplace should be your go-to location for gently used smartphones. The Swappa marketplace is easy to navigate, and perhaps more important, it is safe and secure for buyers and sellers.
Swappa has a strict no junk, no jerks policy, so you can browse the marketplace knowing that you'll be dealing with like-minded people, and not a jerk that is looking to take your money or sell you something that is broken or damaged. And we make buying even easier with Buy Now, Pay Later. Get the tech you want today, and pay for it in 4 easy installments spread over time.
It is easy for us to make the claim about being safe and secure, or about having happy users — but the claim can be backed up with our Trustpilot rating, which is Excellent.
---
Snag the best deals on used iPhones wherever you go. Download the Swappa App today!

---