---
The very moment that you peel back the shrink wrap on your brand-new iPhone or Samsung Galaxy phone, you inevitably lose a substantial amount of resale value. In many cases, this near-instantaneous depreciation means that your new and shiny phone is suddenly worth just two-thirds of what you originally paid!
Here at Swappa, we're firm advocates of buying a gently used phone in order to avoid that initial, rapid depreciation. But beyond buying used, does your choice in smartphone platform affect how well it holds its value on the used market? Join us as we take a deep dive into the resale values of Apple iPhones and Samsung Galaxy phones to see which holds its value best.
Jump to:
How we got our numbers
Before we dive into which phone platform holds its value the best, let's touch upon the devices we selected and how we compared them. In order to keep things as fair and inclusive as possible, we looked at all the flagship Apple and Samsung phones dating back all the way to the middle of 2014 — that's over 30 phones total! For Apple, this meant including all iPhones newer than and including the iPhone 6; and for Samsung, this meant looking at their flagship Galaxy S and Galaxy Note lines starting with the Galaxy S6.
Note: We restricted our search to just Samsung's high-end phones because we wanted to make sure we were comparing products targeting similar market segments in order to have an apples-to-apples comparison — or perhaps more accurately, Apples-to-Samsungs.
With our phones selected, we then looked at current and historical resale value of each phone on the Swappa Marketplace, and compared these numbers to the original MSRP and launch date. From this, we calculated resale value over time, as well as rapid depreciation based on device age.
So without further ado, let's dive into the data!
Which phone has the best resale value?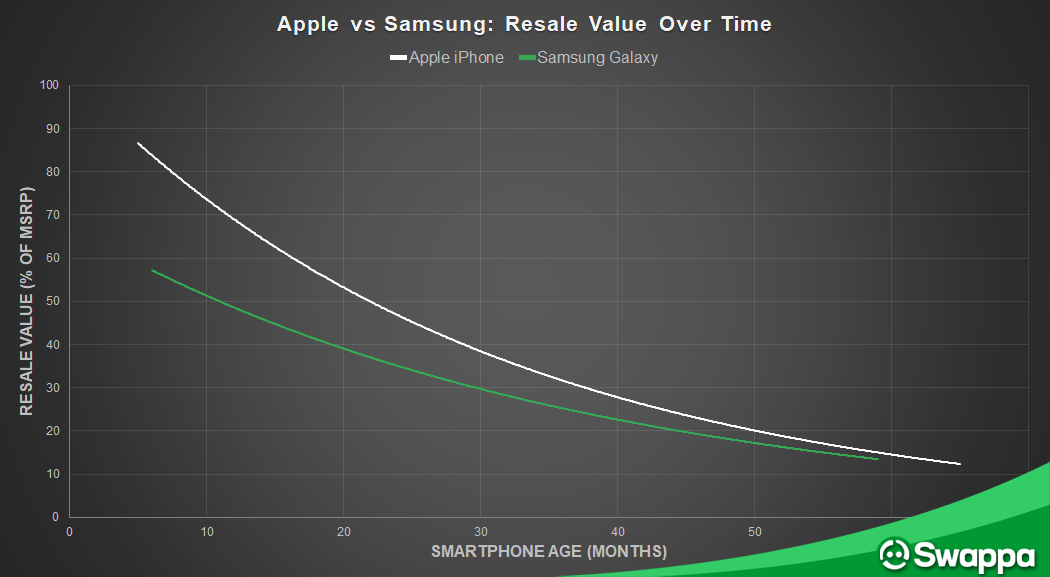 It's long been speculated that Apple iPhones have better resale value than their Android counterparts, and this appears to be largely true. While Samsung flagship devices themselves hold their resale value better than most other Android phones (Google Pixel devices notwithstanding), they simply cannot match the iPhone's resale value in the first couple years of device ownership.
Apple takes an early lead, but Samsung catches up
The best example of the iPhone's lead in early resale value comes immediately after launch, while the devices being sold are still in the current generation. At this point, iPhones typically go for upwards of 90% of their original retail value, while Samsung Galaxy S and Galaxy Note phones tend to go for around 60%. However, with time the resale values of both brands converge — and after about 3 years of ownership, both iPhones and Galaxy phones end up going for about 40% or less of their original value on the used market.
How to get the best deals on iPhones and Galaxy phones
Now before we jump to any conclusions thinking that the iPhone's early lead in resale value makes one platform better than another for potential buyers, let's keep mind that there are pros and cons for each platform. If you're looking to get a killer deal on a gently used, current generation phone, you'll get the most savings by buying a used Samsung Galaxy phone on Swappa. By comparison, on the Apple side, you'll have to wait roughly one generation in order to get the same sort of discount on a used iPhone.
On the other hand, if you've purchased a current generation iPhone and decide it's not for you, you'll get the best early resale value with Apple. Whichever you're buying or selling an iPhone or Galaxy phone, the best way to make sure you end up with the most cash is by using the Swappa Marketplace.
SHOP IPHONE DEALS SHOP SAMSUNG DEALS
Why do iPhones hold their value?
Now that we established that the iPhone holds its value extremely well, let's try to figure out why. Regardless of the storage configuration, color, and sometimes even device condition, Apple phones generally carry the most resale value on the used market — at least during those first three years of ownership.
In a way, this makes perfect sense. All Apple iPhones are high-end, flagship devices. But beyond that, they also offer a level of ecosystem integration not seen anywhere else in the industry. Of course, this isn't to say that Samsung Galaxy phones don't offer comparable specs, features, and performance to rival the very best from Apple — they do! It's just that Apple devices generally go that extra mile by making sure that everything works well together and falls inline with the overall user experience.
Finally, iPhones have even become status symbols to some. So in addition to owning what is unquestionably one of the very best smartphones available, getting a new iPhone (especially within those first three years) is almost like wearing an expensive piece of jewelry. It's a luxury item that commands an equally luxurious price — and to millions of smartphone buyers around the world, the premium experience is more than worth the premium price tag.
What iPhone color sells for more?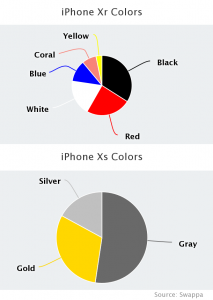 Here's where things get a little tricky. Despite the fact that we often see certain colors selling more often than others on the Swappa marketplace, this doesn't exactly translate into substantially different resale prices. In other words, you can generally pick whichever color you like best, and rest assured that it won't really affect your wallet a few years down the line when you decide to resell your iPhone.
While there are some minor differences in resale value between the different color choices, this is more often seen in smaller marketplaces that are more limited than Swappa. However, part of the beauty of Swappa is that we safely and conveniently connect buyers and sellers all across the country. Because of this, we cut out the middleman and bring all the best buyers and sellers together so that everyone can save!
That said, if you really want to play it safe and make sure that you have the absolute best chances of getting a high resale value down the road, you can't go wrong with the more understated color options. They typically have the broadest appeal — much in the same way that the most popular car colors are black, white, and silver. However, the biggest thing you can do to make sure you get the most for your used iPhone is to sell on Swappa!
Do Samsung phones hold their value?
With the recent launch of Samsung's new flagship Galaxy S20, S20+, and S20 Ultra; many are undoubtedly looking for ways to sell their existing smartphones in order to help fund an upgrade. There are also incredible deals to be had on the previous generation Galaxy S10, S10 Plus, and S10e. This is where Swappa comes in. Due to the faster depreciation within the first two years, you can get amazing deals on used Samsung Galaxy phones on Swappa — current or previous generations.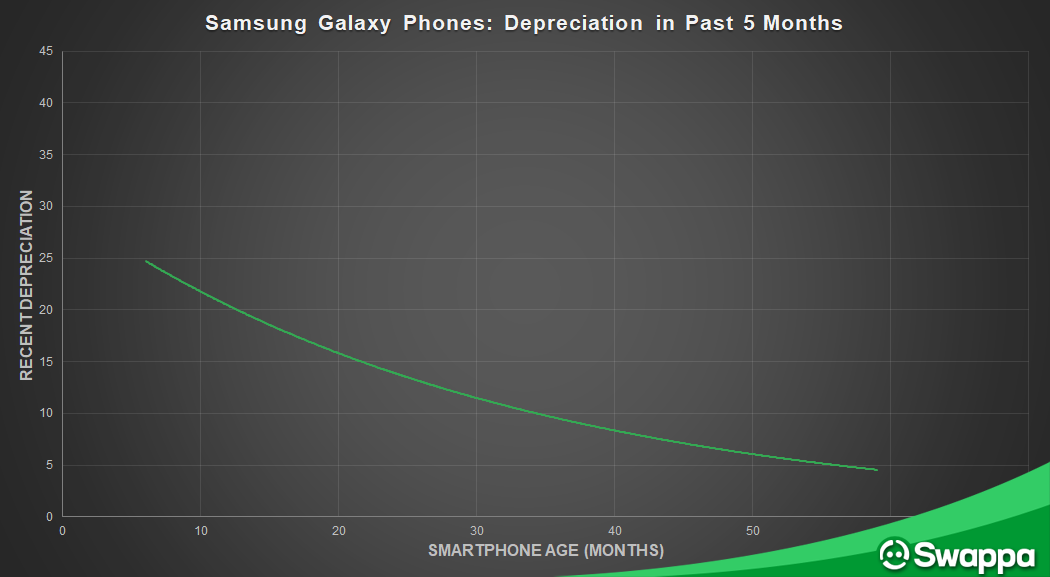 So if you're looking to snag an amazing deal on a slightly used current-generation flagship, buying a used Samsung Galaxy phone will net you a bigger discount. This becomes an even better deal when you consider that after about 2 to 3 years, Samsung phones don't continue to depreciate much either.
While Apple phones keep their value due to premium design, build quality, and aesthetics, they're not the only game in town when it comes to a premium mobile experience. Over the past few generations, Samsung has really made a name for itself by delivering a comparable ultra-premium experience on their flagship devices — and buyers on the second-hand market are aware of this. Just keep in mind that whether you're looking to buy or sell a used Samsung Galaxy phone, your wallet will be happiest when on Swappa.
*****
So what can we take home from all this? For starters, as we saw in our resale value summary chart above, depreciation is an ongoing process. This applies to all phones — whether Samsung Galaxy or Apple iPhone. Phones just keep getting cheaper over time, as new models are released. So in the end, it doesn't really matter who makes it, you'll always get more money the earlier you sell your phone. So if you have a phone that you're not using, the best time to sell is NOW.
We also learned that Apple iPhones do indeed hold on to their value a little better than Samsung phones — at least during the first 2 to 3 years. However, over time, both iPhones and Galaxy phones lose resale value. So if you're planning on holding on to your phone for two to three years, or more, future resale value won't be significantly different between the two.
Finally, whichever phone you choose, make sure you buy and sell on the Swappa Marketplace. Whether in-person or through our online marketplace, Swappa is the safest and easiest way to buy and sell used tech online. Each listing is screened by our expert moderation team before it goes live in order to make sure that buyers get a fully functional, gently used iPhone that's ready for activation on whatever network they choose. And now with Swappa Local, you are able to buy and sell wherever's most convenient for you.
So head over to the button below and get started selling your used phone on Swappa. While you're at it, check out our roundup of the 7 best places to sell your used iPhone.
SELL YOUR USED PHONE ON SWAPPA