---
In what has become a fall tradition, Apple released the iPhone 11 lineup in late-2019. Unlike the previous generation, this time around Apple opted for a bit more simplicity in terms of the naming structure. Apple shifted away from the "R" and "S" branding (XR, XS, and XS Max) and introduced the iPhone 11, iPhone 11 Pro, and iPhone 11 Pro Max.
Is it worth picking up a used iPhone 11 on Swappa, and how does it stack up against newer phones in 2022? Keep reading to find out!
iPhone 11: Release date
Apple unveiled the iPhone 11 at the "By Innovation Only" event, which took place on September 10, 2019. This release marked the 13th generation of the iPhone and along with some new features and functionality, the iPhone 11 became available for pre-order on September 13, 2019, and began shipping on September 20, 2019.
We already have an iPhone 11 Pro review, so in this post, we'll be focusing on the iPhone 11. One of the highlight features of the iPhone 11 is the dual-camera setup, which makes for a noticeable difference on the back of the device. However, overall, the iPhone 11 will have a familiar look and feel if you happen to be upgrading from an iPhone XR. Continue reading to learn more about the iPhone 11 and whether it's worth buying in 2022.
iPhone 11: Specs
Although the iPhone 11 Pro is the higher-end model for 2019, that doesn't mean the iPhone 11 is lacking. Coming with solid improvements over the previous year's iPhone XR, the iPhone 11, as opposed to the iPhone 11 Pro, is likely the best mix of price and features for most buyers. Let's outline some of the key specs and how they compare to newer iPhones:
6.1-inch Liquid Retina HD display (1792 x 828) (326ppi)
Glass and aluminum design
Dual 12MP Ultra Wide (f/2.4) and Wide (f/1.8) rear cameras with Night Mode
Single 12MP True Depth (f/2.2) front-facing camera
A13 Bionic Chip
Third-generation Neural Engine
4GB RAM
64GB, 128GB, 256GB storage options
3,110 mAh battery
IP68 rating (water-resistant up to 2 meters for up to 30 minutes)
The iPhone 11 also features dual SIM (nano-SIM and eSIM) for network connectivity. The iPhone 11 originally shipped with iOS 13. However, the phone can be upgraded to iOS 14, which means you'll be getting the latest version of iOS.
iPhone 11: Colors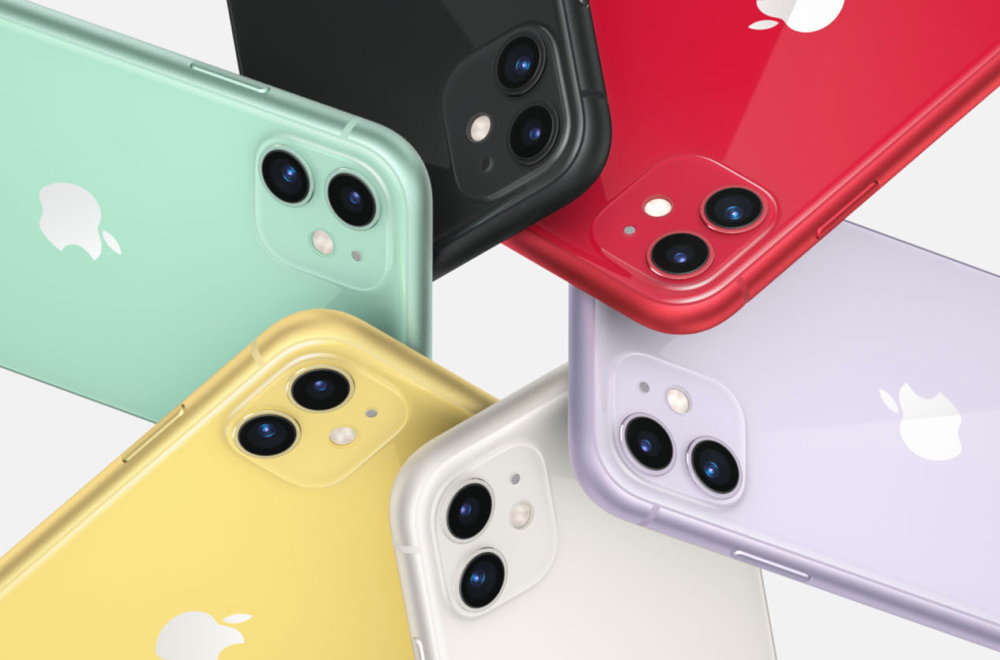 Apple is offering the iPhone 11 in six color options: Black, White, Green, Yellow, and Purple, as well as Product(RED). The black, white, and red options are fairly standard colors, with the green, yellow, and purple appearing as lighter, more pastel shades.
iPhone 11: Size
The iPhone 11 dimensions are 5.94-inches (H), by 2.98-inches (W), by 0.33-inches (D) and the device weighs in at 6.84 ounces. For an iPhone 11 size comparison, some may recognize these as the exact same measurements as last year's iPhone XR.
iPhone 11: Display
Keeping with the similarities, the iPhone 11 retains the same display technology as compared to the iPhone XR. That means the display on the iPhone 11 is a 6.1-inch Liquid Retina HD display with a resolution 1792 x 828 and a PPI of 326. This is Apple's True Tone display with Haptic Touch and the now-familiar notch across the top center.
iPhone 11: Features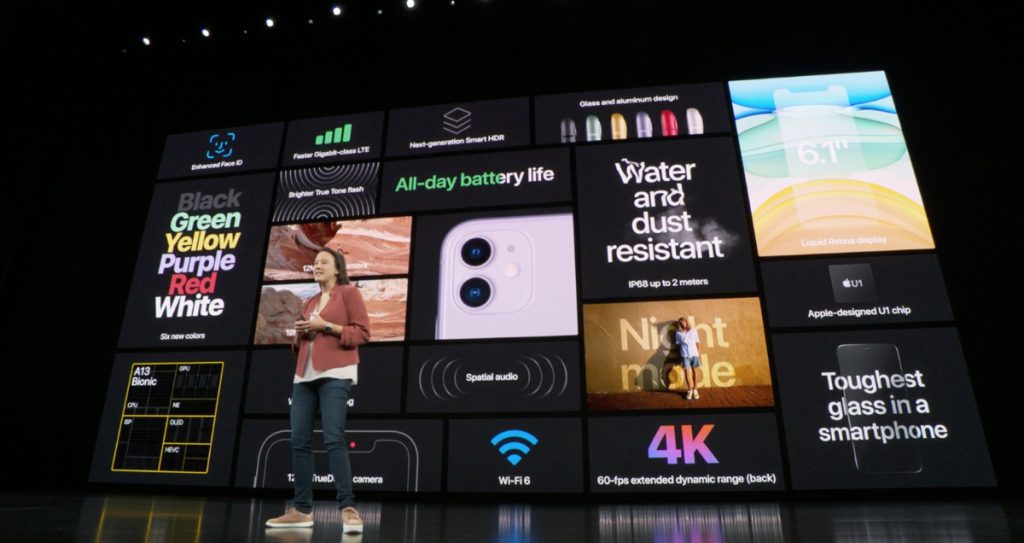 A13 Bionic Chip with third-generation Neural Engine: The A13 was the new processor that made its debut with the iPhone 11. Apple touted the A13 as being powerful and power-efficient.
U1 chip that allows for Ultra-Wideband technology for spatial awareness: This means your phone will be able to share its precise location (as relative to other U1-equipped devices).
Face ID: Allowing you to securely unlock your phone with facial authentication. Face ID is touted as being more secure as compared to Touch ID, and it also allows you to easily access other apps and functionality such as Apple Pay.
Apple Pay: This allows you to make fast, secure, contactless payments using your phone.
Siri: Included as part of iOS, Siri allows you to activate your phone hands-free by saying Hey Siri. You can also use your voice to send messages, set reminders, run shortcuts from your favorite apps, and more.
Some of the other new hardware additions that arrived with the iPhone 11 include Gigabit Class LTE (up to 30 LTE bands), 802.11ax WiFi 6 with MIMO, spatial audio to simulate surround sound, and Dolby Atmos support.
Is the iPhone 11 waterproof?
The iPhone 11 is not waterproof, but the design does provide some protection against water. The iPhone 11 is IP68 rated, which essentially means it is splash, water, and dust resistant. Apple states that the IP68 rating for the iPhone 11 means it can be submerged to a maximum depth of 2 meters for up to 30 minutes. Of course, Apple also says that you should avoid swimming or bathing with your iPhone, that it shouldn't be taken into a sauna or steam room, and that it should never be exposed to pressurized or high-velocity water, such as when showering.
Does the iPhone 11 come with AirPods?
The iPhone 11 does not ship with AirPods. Instead, the iPhone 11 ships with EarPods included in the box. The EarPods are wired and make use of the Lightning Connector on the iPhone. They can be used for listening to music and video, and also to make (or take) phone calls. But while iPhone 11 does not ship with AirPods, the iPhone 11 is compatible with AirPods or AirPods Pro.
iPhone 11: Camera
A popular feature for many smartphone users is the camera, and this is one of the key new features of the iPhone 11. Users will find dual 12MP Ultra Wide (f/2.4) and Wide (f/1.8) cameras on the rear — a step up from the single 12MP Wide (f/1.8) rear camera on the iPhone XR.
Night mode
A key new camera feature is Night Mode, which will not be available on older iPhone models. Apple will allow for some experimentation with Night Mode, but in many cases, this will simply be automatically detected. The iPhone 11 will automatically turn on Night Mode when the camera detects a low-light situation. Users will be able to see this feature is activated when the Night Mode icon turns yellow, and the number you see next to the yellow icon will tell you how long the shot will take.
Additional new iPhone 11 rear camera features:
Auto-Adjustments
2x optical zoom out
Brighter True Tone flash
Three additional Portrait Lighting effects: Stage, Stage Mono, and High-Key Mono
Next-generation Smart HDR for images
New iPhone 11 video features:
Extended dynamic range for video at up to 60fps (up from 30fps)
2x digital zoom out>
Audio zoom>
QuickTake video
New iPhone 11 front camera features:
12MP photos (up from 7MP)
Next-generation Smart HDR for images
Cinematic video stabilization at 4K
4K video recording at 24 fps, 30 fps, or 60 fps
Slo-mo video support for 1080p at 120fps
Slofie: Slow motion selfie
That last bullet point is where the "slofie" comes in. Apple not only coined this term during the announcement event, but they also applied for a US trademark on the term. Those looking to capture a slofie will only need to launch the front-facing camera and scroll over to the Slo-Mo mode. Once you have your slofie recorded, it can then be found and shared from the Photos app.
Deep Fusion
Apple also released Deep Fusion support for the iPhone 11 with the release of iOS 13.2. Deep Fusion makes use of the A13 Bionic Neural Engine, and Apple describes it as being an advanced image processing system that allows you to capture "dramatically better texture, detail, and reduced noise in lower light."
In addition, the iPhone 11 has support for Portrait Mode with advanced bokeh and Depth Control on the front and rear-facing cameras.
iPhone 11: Battery Life
The iPhone 11 has a 3,110 mAh (3.83V 11.91Wh) battery and supports fast charging and wireless charging. The iPhone 11 wireless charging uses the Qi standard. The fast-charge requires an additional 18W fast charger purchase, but it will bring a 50 percent charge in just 30 minutes.
Officially speaking, Apple has said the iPhone 11 offers up to an extra hour of battery life as compared to the iPhone XR. Following this claim down the chain, we then learn the iPhone XR has a battery that lasts up to 1.5 hours longer than the iPhone 8 Plus. Going a bit further back, we learn that Apple had touted the iPhone 8 Plus as offering up to 21 hours of talk time and up to 13 hours of internet use.
Essentially, this means you could expect an iPhone 11 talk time of up to 23.5 hours, and internet use of up to 15.5 hours. Other battery life estimates for the iPhone 11 include up to 17 hours of video playback, up to 10 hours of streaming video playback, and up to 65 hours of audio playback.
iPhone 11: Carrier models
The iPhone 11 is available in three models, the A2111 for North America (the United States and Canada), the A2223 for mainland China, Hong Kong, Macao, and the A2221 for other countries and regions.
iPhone 11 Model A2111 band support includes:
GSM/EDGE: 850, 900, 1800, 1900 MHz
CDMA EV‑DO Rev. A: 800, 1900 MHz
UMTS/HSPA+/DC‑HSDPA: 850, 900, 1700/2100, 1900, 2100 MHz
TD‑LTE: Bands 34, 38, 39, 40, 41, 42, 46, 48
FDD‑LTE: Bands 1, 2, 3, 4, 5, 7, 8, 12, 13, 14, 17, 18, 19, 20, 25, 26, 29, 30, 66, 71
The A2111 model offers the widest range of support for US carriers, however, the A2221 will also be compatible with most US carrier networks. The one exception for US carrier support with the A2221 is that it does not offer support for LTE FDD Band 71 on T-Mobile.
iPhone 11: Pricing
Retail pricing begins at $699 for the 64GB model and goes to $749 and $849 for the 128GB and 256GB models, respectively. For comparison, the iPhone XR originally launched in late-2018 with a starting price of $749.
That new, slightly lower price should make you feel a bit better spending $699 to get an iPhone 11. But you can save even more by picking up a gently used iPhone 11. Prices are lower than ever, which means it's the perfect time to buy!
Keep in mind that prices on Swappa will vary based on several factors, such as the condition, the amount of internal storage, and market demand. But if you've already convinced yourself that you want to buy a brand-new iPhone direct from Apple — we have just the place to sell your current iPhone. Selling your current iPhone on Swappa means you get more money than you would with the Apple Trade-In Program.
Read more about how the iPhone 11 compares to other models of the iPhone in our iPhone 11 comparison guide.
---
Snag the best deals on used iPhones wherever you go. Download the Swappa App today!

---