---
Looking for the safest and easiest way to sell your used iPhone? If you have an older iPhone gathering dust or just want to get rid of your current phone to fund an upgrade, selling your used iPhone is a great way to make some extra cash. But with so many options out there, finding the right place to sell can get a bit overwhelming.
We already know that iPhones hold their value extremely well on the used market. Picking the right place to sell makes sure that this ends up in your wallet. Read on to learn how to get the most money for your used iPhone.
Table of Contents: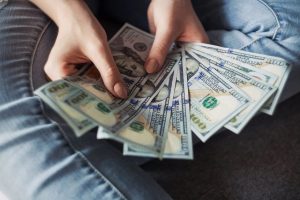 Selling vs trade-in programs
The first thing you have to figure out is whether you want to trade in your iPhone or sell it directly to a buyer. When deciding whether to sell or trade, you have to ask yourself if you want cash or if you're willing to settle for store credit.
Trading in your used iPhone
The Apple Trade-In Program is a tempting option for many because it's simple, safe, and easy. All you have to do is bring in your device, have it appraised, and you're done. However, a major downfall with all trade-in programs is that you get paid in store credit rather than cash. As a result, the Apple Trade-In Program really only makes sense if you're already planning on spending more money at the Apple Store.
Alternatives such as the Amazon Trade-in Program work the same way, meaning that you get paid with an Amazon gift card rather than cash. And even if you're fine with store credit, you could still earn substantially more by selling your iPhone directly rather than trading it in.
How can I sell my iPhone for cash?
Gift cards are nice and all, but most of us would rather have cash in our pockets than inconvenient gift cards we may never use. Selling your used iPhone directly to a buyer is more practical since you get paid in actual money instead of a gift card. This means that you can use your money however you'd like, and you aren't tied down to any particular store.
In addition, selling your phone directly to a buyer means that you typically get much more for your used iPhone than you would by trading it in. But with so many online marketplaces, how do you find the best place to sell your iPhone for cash?
Best places to sell your used iPhone for cash
Now that we've gone over why selling your used iPhone for cash is better than trading it in for store credit, it's time to find the best place to sell. There are quite a few options when it comes to selling your used iPhone, so it can get a bit overwhelming trying to find the right one. Although sites like Craigslist, Facebook Marketplace, and eBay let you sell your used iPhone for cash, they are often full of scams and hidden fees. This is where Swappa comes in.
Swappa is the best place to sell your used iPhone. At Swappa, you can sell your used iPhone for cash, rather than gift cards or store credit. Since you are selling directly to buyers, you get paid exactly what your iPhone is worth, without any greedy middlemen. And thanks to our expert moderation and support team, all transactions are safe and streamlined.
Where can I get the best price for my iPhone
Swappa is different from other online marketplaces because it gives you the best of both worlds: You make more money by selling direct to buyers, but with safety and convenience like trade-in programs. We've already taken a closer look at this and found that selling on Swappa gets you nearly double what you would get selling elsewhere!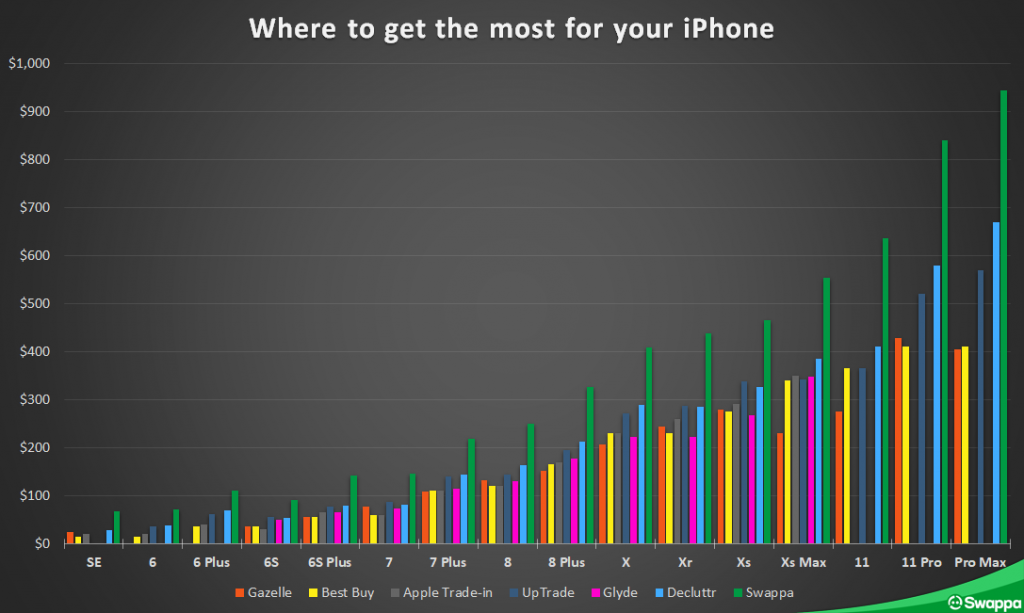 Swappa connects buyers and sellers directly, meaning that there are no greedy middlemen to take a percentage of your sale. And since sellers pay fair fees, you keep as much cash as possible when selling your used phone on Swappa.
What to do before selling
Before selling your device, you should back up your iPhone and perform a factory reset. Don't worry; modern iPhones make this process fairly easy, and we'll walk you through all the steps.
Back up your iPhone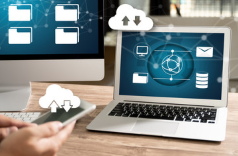 Before you wipe your iPhone, you should first back up all your important documents, photos, and videos. Here's how to manually back up your iPhone to your computer:
Connect your iPhone to your computer and open iTunes on your PC or Finder on macOS 10.15 or later.
Locate your iPhone on your computer and enter your device passcode if necessary.
Navigate to the "Backups" section within Finder or iTunes and click "Back Up Now." We recommend encrypting all of your local backups for increased data security.
Once your backup is complete, a message will appear in the "Backups" section stating when you last backed up your iPhone.
Factory reset your iPhone
After you've backed up your iPhone and verified that all your important photos and videos have been saved, it's time to perform a factory reset. This will erase all content and settings from your device, and keep your personal information safe. Follow these steps to perform a factory reset on your iPhone:
Open the Settings app on your iPhone
Scroll down to General > Reset
Select "Erase All Content and Settings"
If you are using iCloud automatic backups, your iPhone will ask if you would like to update your backup. Click yes, and wait for this to complete.
Enter your passcode when prompted, and confirm that you want to clear your iPhone.
After a few minutes, your device will be wiped and ready to sell on Swappa.
********
Although Apple devices generally hold on to their value better than other smartphones, used prices still drop over time. This means that if your old iPhone is getting long in the tooth or you simply want to make some extra cash, the best time to sell your used iPhone is now! Swappa is here to help you get the most money for your used iPhone. If you have a fully functional iPhone that you're not using, sell it on Swappa today.
So what are you waiting for? Check out our guides on creating a listing and shipping on Swappa, and then click the button below to get started!
SELL YOUR USED IPHONE ON SWAPPA
---
Snag the best deals on used iPhones wherever you go. Download the Swappa App today!

---