---
With many of us now working from home, many people are asking — how can you be proactive about your health while staying indoors?
In addition to telling the time and alerting you with important news and social notifications, a smartwatch can be an important tool for managing and monitoring your health. Most of us go to the doctor 1-2 times a year for a checkup, but with a smartwatch, you can monitor your day-to-day health activities more closely.
Here are 5 ways you can use a smartwatch to improve your health.
Fitness tracking
Popular smartwatches — such as an Apple Watch or Samsung Galaxy watch — offer powerful tools for fitness tracking. Most wearables have built-in pedometers, so you can track your steps.
When you're spending a lot of time at home, it is easy to sink back onto the couch and binge-watch Netflix. With step tracking, you might be surprised how often (or how little) you remember to keep moving. If you're working from home, don't forget to get up and stretch, take a walk over lunch, or pace around during calls.
For many people, being notified of their step count can offer the instant gratification and encouragement needed to climb higher. Having a pedometer on your wrist can gamify your workout experience and increase self-competition. If you're having a lazy day, you'll see the drop in the data. Use that to motivate you tomorrow.
Most smartwatches also include tracking for heart rate, pace, and calories burned. If you're looking for apps, Strava is a popular platform for both its fitness tracking and its community. Whether you're running, biking, or walking, Strava's got you covered with all the important metrics you'll need. And if you're able to make it outside, Strava uses GPS technology for accurate tracking, allowing users to save their favorite routes. You can also set personal records and share them with a community.
Many other apps do similar things, and it's important to make sure you find one that's compatible with your device. If you have a Fitbit device, that comes with a fitness tracking app. For Samsung watches, check out Samsung Heath, and for Apple devices, you can go with Apple Health.
Nutrition
If your favorite gym is closed and your workout routine disrupted, focusing on nutrition is an easy way to be proactive about your health — right in the comfort of your own kitchen.
Many smartphone apps allow for meal tracking and calorie counting, but not all of these have smartwatch support. Available on both Apple and Android devices, My Plate is a great nutrition tracking option with smartwatch integration. The app allows you to create your own meal plan, or it can suggest one for you based on your nutritional goals. The meal tracker technology can build a menu out for you and give meal suggestions — from basic everyday items to creative recipes. You can track water consumption, track calories, and view metrics that break down your intake into protein, fats, carbohydrates.
If you're looking for other similar options, MyFitnessPal is a great choice. Available on both Android and Apple, Noom is another popular app that includes meal logging and meal planning, as well as some fitness tracking tools.
Sleep
Have you been getting enough sleep? You can use a smartwatch to both track the longevity of sleep and sleep quality. Of course, smartwatches are also great for setting important alarms so you can maintain a regular sleep schedule.
Apps like Sleeprate (available on Apple and Android devices) track your sleep cycles while encouraging you to improve your sleep habits. The app monitors your current sleep habits by tracking sleep stages, night time stress, heart rate tracking, and more. In addition, the app recommends personalized rehabilitation plans and offers valuable sleep data to help you wake up feeling refreshed.
Hand washing
Hygiene is a very important aspect of health that mustn't be overlooked. If you need help ensuring you've done a thorough enough job washing your hands, there's an app for that.
For Android devices, the app Hand Wash allows you to track your handwashing habits. You can set customizable hand wash reminders, a 25-second timer to encourage hand wash quality with vibration feedback, and view a dashboard of hand wash frequency. The app is based on the World Health Organization (WHO)'s recommended best practices.
If you're looking for an app for the Apple Watch, try Sickweather. This app also includes a hand washing timer, as well as a SickScore — an algorithm that lets users know their level of risk for contagious illnesses in their current location. The app also will allow you to be alerted of illnesses in the area.
Goal setting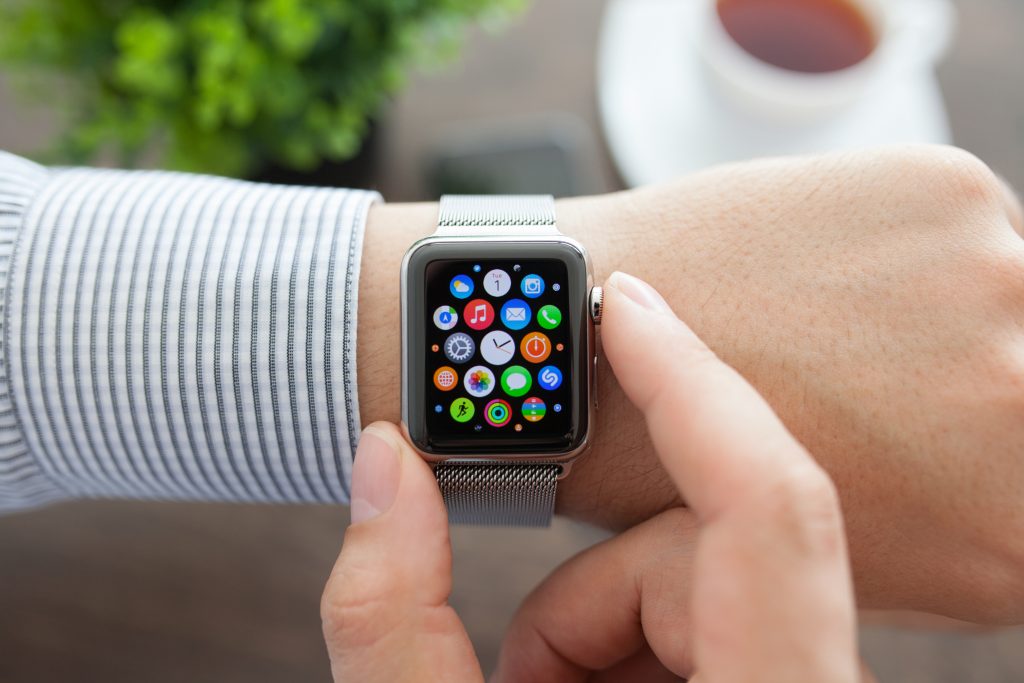 In addition to your physical health goals, you may also be looking to track your emotional, mental, and spiritual health goals. There are many smartwatch apps available that will let you track your progress in creating new healthy habits, such as journaling, meditation, or reading.
For Android devices, we recommend HabitHub — a goal and habit tracker app with smartwatch integration. You can set reminders, create notes, and view graphs of your progress to motivate yourself to build long streaks of days.
For Apple, get Streaks. With a similar concept, this app allows you to track habits and view statistics. This app is extremely customizable and is built to motivate users to increase their streaks of healthy habits.
You can get a smartwatch on Swappa for as cheap as $65 — now that's a bargain.
Our most popular smartwatch device sold on Swappa in March 2020 was the Apple Watch Series 5 44mm (186), valued at an average of $393. There are several Apple Watch models to choose from on Swappa, and even the earliest model — Apple Watch Series 0 — is still worth it to many in 2020.
Android lover? You may be interested in the Samsung Galaxy Watch Active2 44mm (55), valued at roughly $203 on Swappa. Both Apple Watches and Galaxy Watches offer many of the same features (such as GPS and step counting). However, the devices do have some differences that may impact you. For example, if you are a swimmer you may prefer an Apple Watch Series 3 over a Samsung Gear 3, due to the device's improved water resistance. Also, Apple Watches aren't compatible with Android phones, whereas the Galaxy Watch is compatible with both Android and iOS.
At Swappa, we're all about saving you money. Our people-powered, user-focused marketplace is built to provide you the best deals on newish technology. Whichever smartwatch you decide to buy, you'll surely encounter a better find on Swappa than buying retail.
To shop our entire selection of smartwatches — click the buttons below to get started.