---
With the growing rise of internet, working from home is a new job opportunity people are now finding available to them. Whether you're working remotely full-time, or freelancing on the side, there's no question that working from home has its perks (let's be real, nobody is going to miss their daily commute), but that doesn't mean it's all roses. Like most anything in life, there are some unique challenges you'll quickly discover when it comes time to work from home.
Established in 2010, Swappa currently employs more than 40 remote staff all around the US, some who even work in other parts of the world. A big part of what makes Swappa so successful is that our remote workforce has been doing this for a long time, so we know a thing or two about what works and maybe more importantly — what doesn't.
From management, to developers, support and marketing, in this post, we'll be sharing the best tips, tricks and advice straight from our staff. This way you'll be better equipped to tackle the brave new world of working from home.
Invest in fast, reliable internet 📶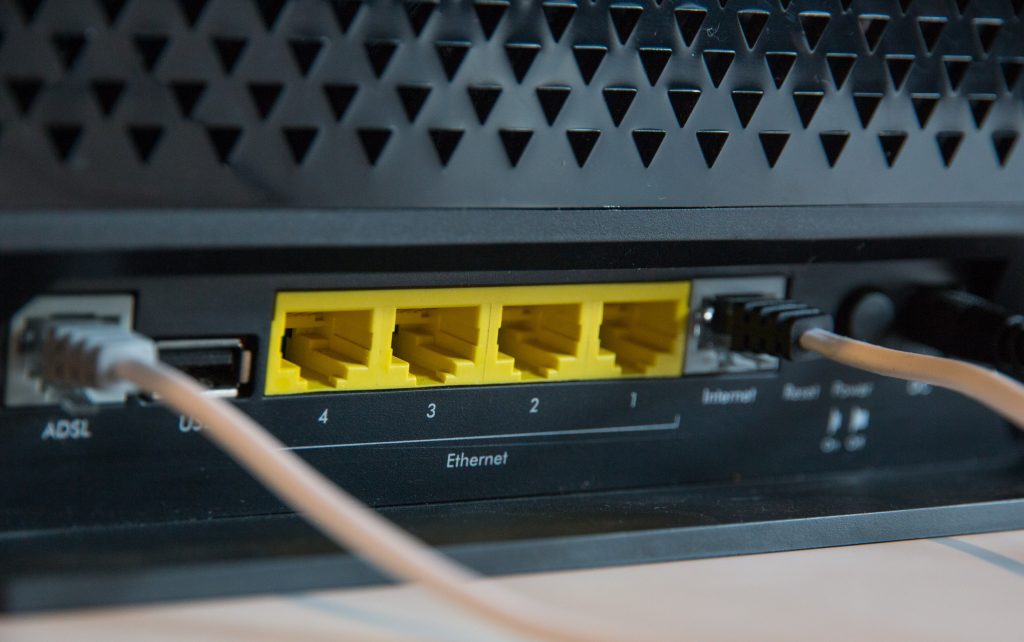 From sending large files, to conference calls, and the like, having good, reliable, and fast internet isn't just a good idea — it's a vital part of working from home. So, avoid the cheap DSL connections if possible, and look for broadband service where available. Another area to consider is your cellular provider. For instance, having a phone plan that gives you the flexibility of using your phone's hotspot to connect a laptop and share your data can be a lifesaver during emergencies. Whether it's the in-laws dropping by for an unexpected visit, a power outage, or any of life's other unexpected mishaps, being mobile is your greatest strength when working remotely, and being able to stay connected will help you hit those deadlines and remain on schedule.
Communication is key 🗣
Whether you're checking in at the beginning of your workday, or starting the morning off with a video call or responding to emails, communication with your boss, team lead, colleagues, or all the above is absolutely critical when working from home. Here are a few of Swappa's favorite tools to help our team stay connected while working from home.
Slack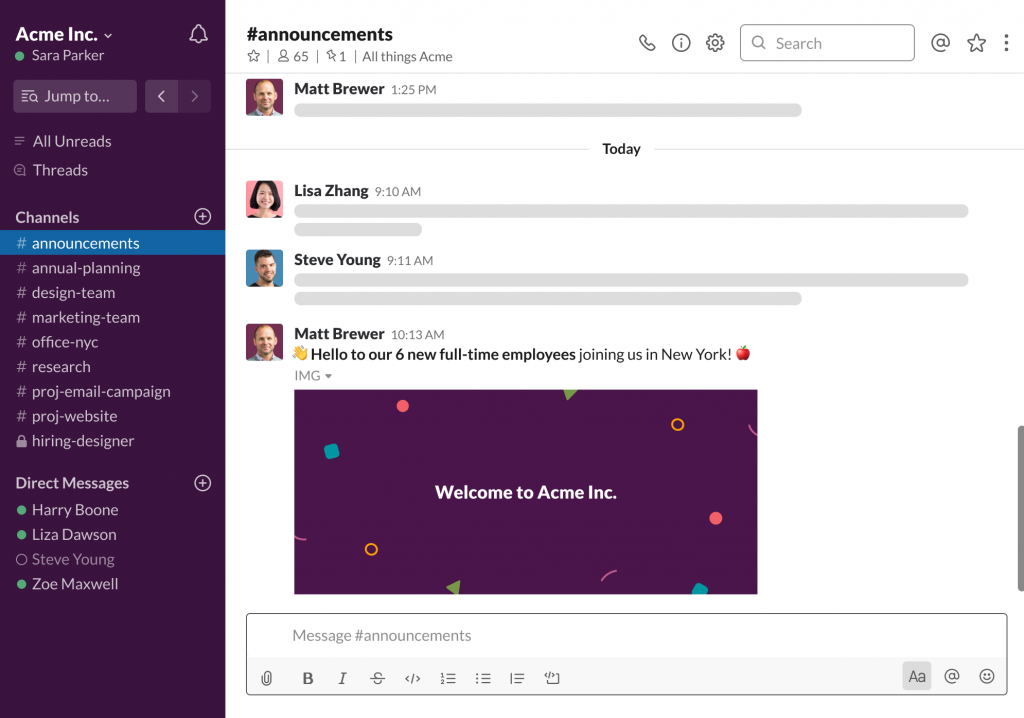 Email is great, but in today's digital age, it can feel more like snail mail, especially when you're waiting for timely response. For quick information or general discussions, instant messaging is definitely king. We've found that Slack has proven itself the best chat tool to help our team communicate in real time. With the ability to set up different channels (chat rooms) for different groups, direct messages, voice calls, and even plug-ins with other productivity apps and services (Google Docs for instance), Slack is the best way we keep Team Swappa connected and communicating.
Email
While not as quick as instant messaging, emails are still a vital component in workplace communication. Whereas instant messaging is great for prompt communication, email can be a great way to track specific tasks or address items that may need following up. For instance, Gmail is great at indexing your entire inbox, making it easy to search for a specific piece of mail for followup, especially if you don't want important information to get buried in a Slack chat. Incorporating email into your workflow is still an important piece of the communication puzzle and shouldn't be overlooked.
Google Meet
Another great way for team Swappa to stay connected is with face-to-face meetings. Since our team is located all over the country, the best way to recreate office interactions is through video calls. In our use, Google Meet is the easiest and most effective service for our teams to communicate face-to-face, no pants required. Google Meet also allows you to share your screen, which makes it easy for everyone to collaborate or offer input on a project in real time. Our advice? Always make sure you have a pair of headphones and/or microphone handy to avoid unnecessary audio feedback, as well as a solid internet connection (i.e., home internet vs public WiFi). You'll also probably want to save that Cup O' Noodle until after the meeting (I'm looking at you, Kevin).
Video calls (Google Meet) are a big part of feeling connected as a team when you aren't in the same office. In a video call with more than a few attendees it's a good practice to mute when you aren't speaking to minimize background noise.

– Ward Johnsmeyer
Swappa Chief Business Development Officer
Trello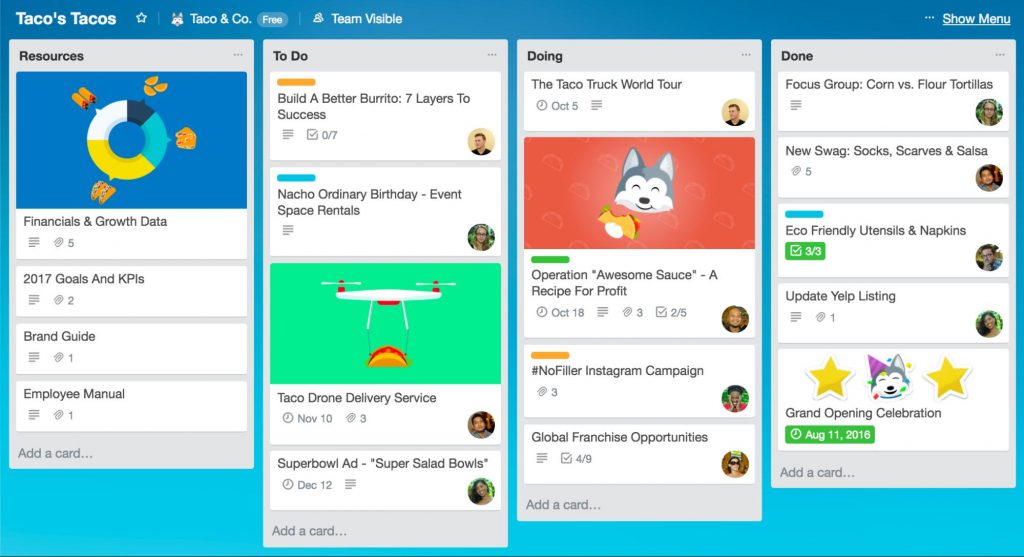 A big part of communicating with your team involves assigning tasks and keeping everyone in the loop on current projects and duties. When it comes to managing projects, Trello is the Swappa marketing team's go-to service to keep everything organized and accessible. Trello eliminates the need to ping each team member for a daily status update when it's all laid out in a simple, easy to read list format. This makes it easy to set goals for the week, collaborate on projects, and helps keep everyone accountable for their duties. Trello is available on the web, desktop, or mobile app, and although it's free to use, there's also a paid version that unlocks additional functionality. For us, Trello has been absolutely indispensable and helps the Swappa marketing team get things done.
G Suite

As the name suggests, G Suite is a suite of productivity software developed by Google. It's great as an alternative to Microsoft Office 365 and allows your organization to create a shared calendar, and collaborate on everything from email (Gmail), to documents (Google Docs), spreadsheets (Google Sheets), and cloud storage (Google Drive).
Even if you're working as an individual, it's easy for anyone to create a free Google account and start collaborating with others on documents, slides, or spreadsheets, in real-time. When working remotely, it's hard to think of better productivity software that's as user-friendly, or makes it easier to collaborate with others than Google's online apps. For individuals, you can get started with Google Docs here. For businesses, get started with G Suite for your team here.
Set up a daily routine ✅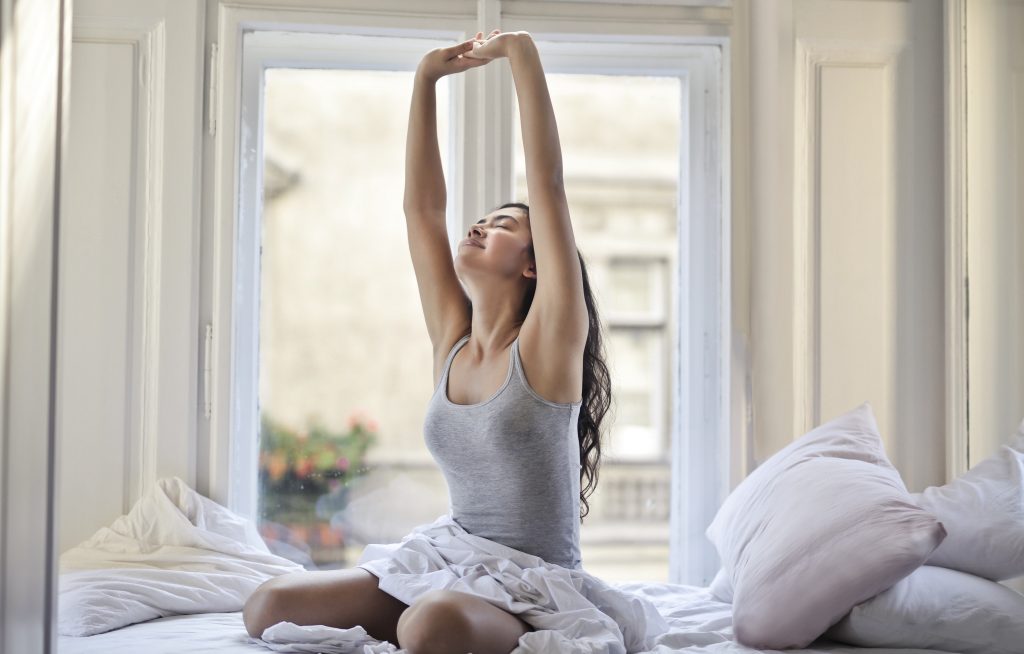 One of the biggest benefits to working from home is that it provides you lots of flexibility when it comes to structuring your day. While it may be tempting to wing it, mixing work and your personal life as each day comes, you may find it much more beneficial to set up a daily routine. Whether it's waking up at a set time, taking a shower, or even getting fully dressed (as opposed to your pajamas), a strict schedule can be a great way to get your mind focused on work.
"Create a solid morning routine to help you transition from waking up to work mode. I try to give myself an hour in the morning to clean up a bit, light a candle, do some yoga, meditate and journal in order to get in a good head-space for the day. Cleaning first thing in the morning also makes me feel productive, and eliminates distractions throughout the day."

– Meghan Lavota
Swappa Social Media
You'll find lots of opinions on this, but depending on your own personal workflow, you'll either want to duck your head down and chip away at current projects, or you can spread things out a bit, taking frequent breaks. Personally, I find setting aside a few hours of hard, distraction-free work time, breaking things up with a snack, a few minutes outside in the sun, or even a quick chore is a great way to give your mind a break and refocus when it's time to work again.
"Be regimented about the work time, but also take advantage of the flexibility. For instance, be at your home office, ready to work, at the same time each day. Have a normal routine for when you take breaks, eat lunch, etc. But also try to work in some healthy activities into that routine, such as late morning job, lunch-time yoga, or afternoon workout at the gym a few days a week. And if you have dogs, making walking them a more regular part of that routine."

– Ben Edwards
Swappa founder, CEO
Although working from home gives you the flexibility of working your own hours, ideally, you'll want to spend a good chunk of your day working while the rest of your team is available online. This can be difficult depending on your location/time zone, but I've found it definitely helps whenever issues arise, or I have a question that needs answering. It also makes it much easier to collaborate on whatever project I'm currently working on, without having to wait until the next day to receive input.
Avoid distractions 📵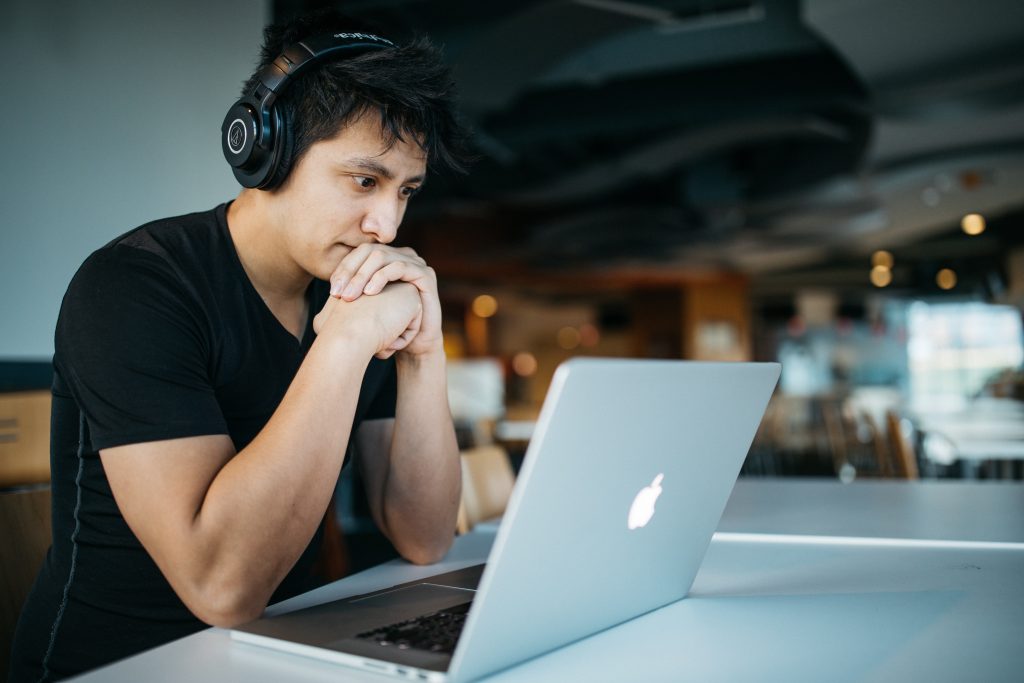 You'd think that by working from home and ditching the traditional office setting would result in fewer distractions — but this isn't always the case. With great power comes great responsibility and with the lure of social media, the kids coming home from school, a grandparent watching Maury Povich in the next room, or your phone constantly pinging you with new notifications — you'll need to get these distractions and more under control in order to remain productive. Here are some quick and easy tips to avoid distractions while working from home:
Create a separate user account on your computer exclusively for work
Use a dedicated web browser that doesn't have all your social media logins
Keep your phone in another room or more than an arm-lengths away.
Take advantage of Apple's "Do not disturb" feature on the Mac when you're on a deadline
Avoid watching TV or Netflix shows while working
Have a To-Do list handy of things you want to do when you're off work
Sign up for Postmates/Uber Eats or meal prep to avoid long lunches
Invest in a good pair of noise-cancelling headphones
My best tip: create or utilize a work-only space, free from distractions such as loud noises, television, and social media.

– Wesley Thurston
Swappa Business Development Manager
Set boundaries 🙅‍♂️
Setting boundaries while working from home is extremely important and while that can mean a variety of things, there are some best practices our team has found to be beneficial through the years.
A good rule of thumb is to avoid working in bed. The brain is a funny thing and the last thing you want is for it to associate your bed with work when it comes time to wind down. Best case scenario is to have a dedicated room, office, or workstation that you are able to physically walk away from at the end of the day.
"Make yourself comfortable, just not too comfortable. Working from the couch sounds great, but it can lead to a slippery slope of wanting to take a nap or turn on the television. Work at a desk with a comfortable chair, or if your remote time will be temporary and a regular desk is not available, work at your kitchen table."

– Robert Nelson
Swappa Content Specialist, Senior Admin
Another boundary you'll want to consider making is with friends/family. You'll quickly learn that when people find out you work from home, they'll have their own assumptions about what that entails. Often times they'll think you have all the free time in the world and may ask you to bring them lunch, pick up clothes from the cleaners, or run various other errands that (ironically), they themselves can't do because they're stuck at work.
It can be extremely important to let friends/loved ones know that while you do have some flexibility in your schedule, your work life is equally important and disciplined. Setting boundaries, not only with yourself but with others, will allow you to unwind at the end of the day without stressing that you may not have been as productive as you would have liked.
Know when to sign off for the day 🕔
Unfortunately, working from home makes it all too easy to lose track of time and spend 12 hours+ working to hit those deadlines. Sometimes it can be difficult to know when to put the work away, but giving yourself a set schedule is a great way to keep your sanity allow you to completely shift your attention to your family or a loved one. Part of this might involve signing off Slack for the day, or muting notifications from your work email. Knowing when to put your work down isn't just good for your own mental health, but it will allow you to start fresh and be more productive the following day.
Change up your location 👨‍💻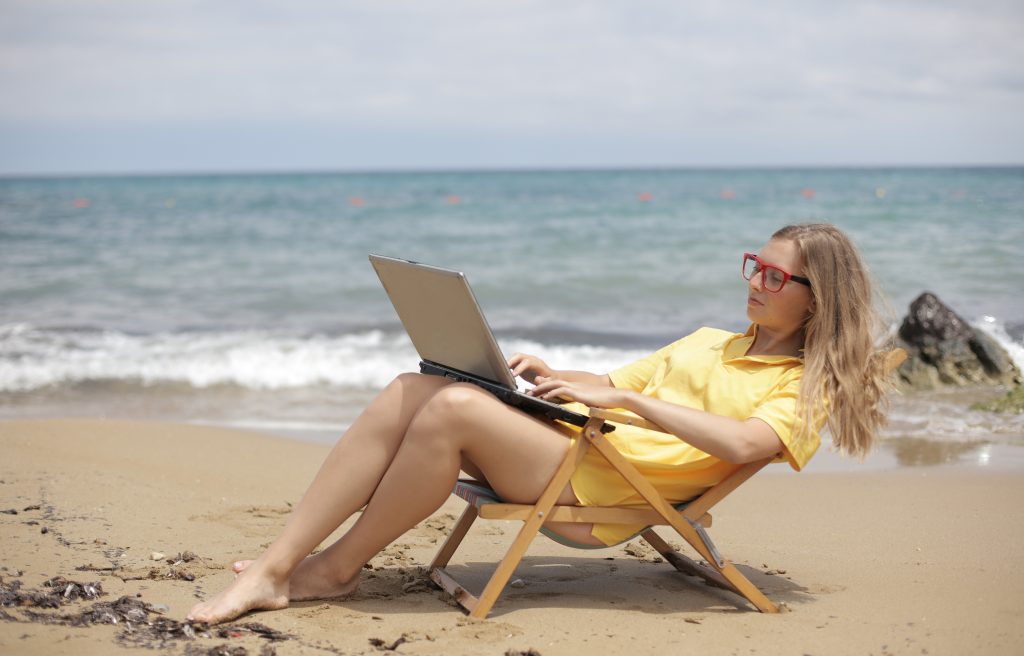 Of course, a huge benefit to working from home is your mobility. While we don't advocate running excessive errands, sometimes having a portable laptop and internet access can still work to your advantage. For instance, when it came time to have my car worked on at my local dealership, I checked ahead of time to ensure there was a lobby with WiFi access where I could work while I wait. Of course, the complimentary coffee and donuts were a nice bonus 😉.
You may also find it beneficial to set a day or two during the week were you visit your local coffee shop, library, or park (having a phone plan with hotspot can also be helpful here). Just remember that when working in public, noise-cancelling headphones can really help here, and under no circumstances should you ever leave your laptop unattended. Even if you find you can't leave the house, sometimes moving from your desk, to kitchen table, to the patio can also make a world of difference. Heck, if it's a beautiful day outside, you may even want to pop open the garage, pull out a beach chair and crack open a cold one.
Probably the best way to take advantage of your mobility is by planning a short trip to visit friends or family out of the city/state. Nothing can be more exciting than working from a completely new location, but as long as you remember some of the best practices in this post, you can still manage your work life while using your downtime to establish better relationships, or even make a few new ones.
Working from home with kids 👨‍👩‍👧‍👦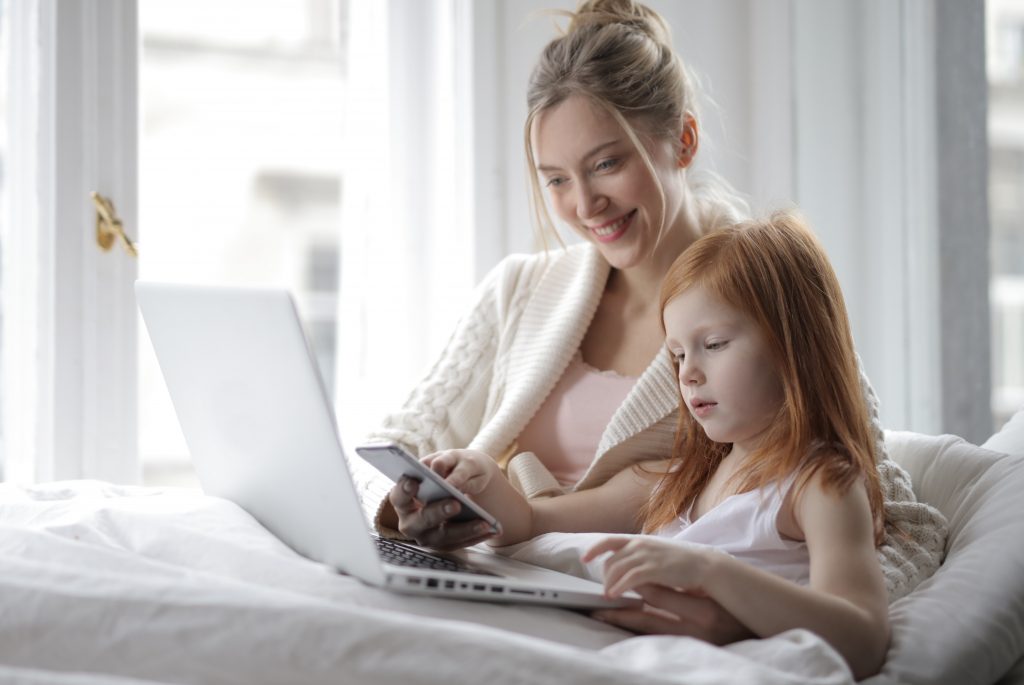 It's one thing to work from home with another adult, and an entirely different situation when it's a house full of kids. When the children are home, you'll quickly discover a new set of challenges as you attempt to juggle your work and family life simultaneously.
Let's face, kids aren't always the best when it comes to boundaries. This can make it especially difficult to avoid disruptions, especially when you're in the middle of an important meeting. To help with this, our team has put together some quick tips on managing your remote workplace while the kids are home.
Remind your kids that you have a set work time, even if they happen to be home from school.
Let your kids know that they should refrain from distracting you during the work day.
Give them a physical sign that you're "Do Not Disturb Mode," like when the door is closed or when your headphones are on.
Share your schedule with them so that they will know when you will be taking a lunch break, when you're off for the day, or appropriate times to ask for things.
If they are on break from school, keep their minds engaged with online school courses like Scholastic's newly launched "Learn from Home" website.
Enlist their help with chores around the house or dinner prep.
If you have younger children at home, ask your high school students to help with childcare duties while you're working.
Other tips:
For those without kids, have empathy for those that do. No matter how disciplined, disruptions are a simple reality of working from home with kids around.
All video meetings have a mute button — use them liberally when the house gets unexpectedly noisy.
Play dates over Zoom or FaceTime – arrange for your children to have play dates with other kids using via Zoom or FaceTime to help them stay in touch (and social) in interim.
A Disney+ subscription can go a long way, but don't forget spouse trade-offs and plenty of communication will go even further.
Chromebooks are an affordable way to give kids their own workstation for school activities (and keep them from wanting to use yours). With prices starting at $77, it's easy to find something that's easy on the wallet.
Tech and home products to help you work from home
Apple MacBook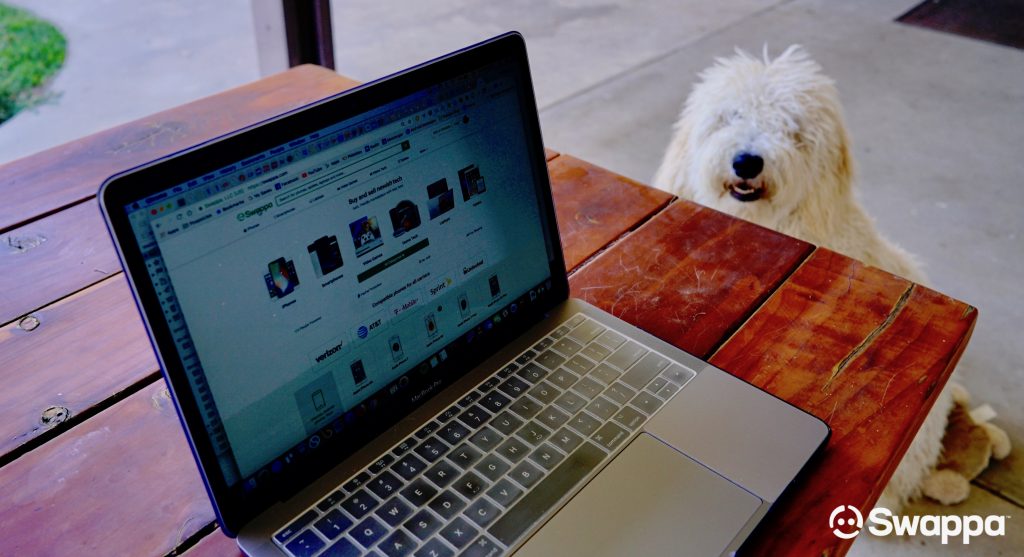 When it comes to on-the-go computing, few companies are doing it better — or with more style — than Apple. Whether you're looking for an ultra portable (MacBook Air), something in between (13-inch MacBook Pro), or a portable workstation (15-inch MacBook Pro), MacBooks come in a variety of hardware configurations to suit your needs and budget. Of course, you can find the best deals on MacBooks when you shop for gently used models on Swappa, so shop around and see just how much you can save.
iPhone 8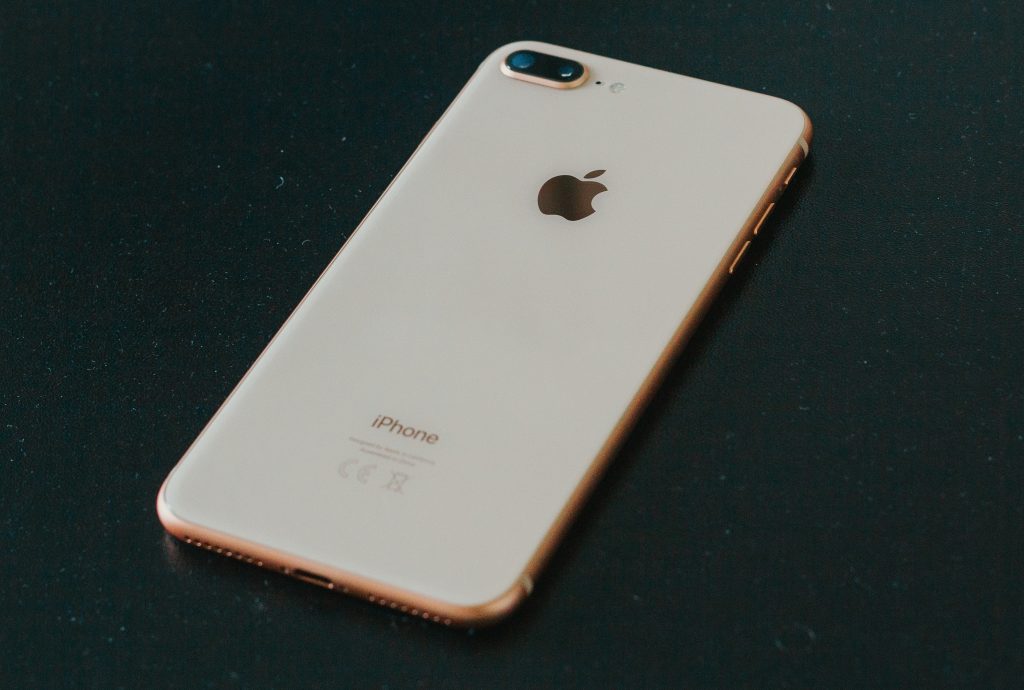 I know what you're thinking, "If I already have a laptop, how can an iPhone help me work from home?" Well, Apple has clever ways of locking you into their ecosystem and a big part of this is how their devices communicate with one another.
Having an iPhone makes it easy to open links on your computer, images, copy/paste to and from your iPhone to your MacBook (Universal Clipboard), or even receive calls on your MacBook. This allows you to leave your phone across the room — where you won't be tempted to pick it up for every notification — but still receive important calls/texts on your MacBook.
So, why the iPhone 8 (or iPhone 8 Plus)? Well, it recently became one of the Top Selling Phones on Swappa thanks to its affordable price and premium hardware. With prices starting at $200, the iPhone 8 is an incredible value. Hit the button below to start shopping today.
Portable charger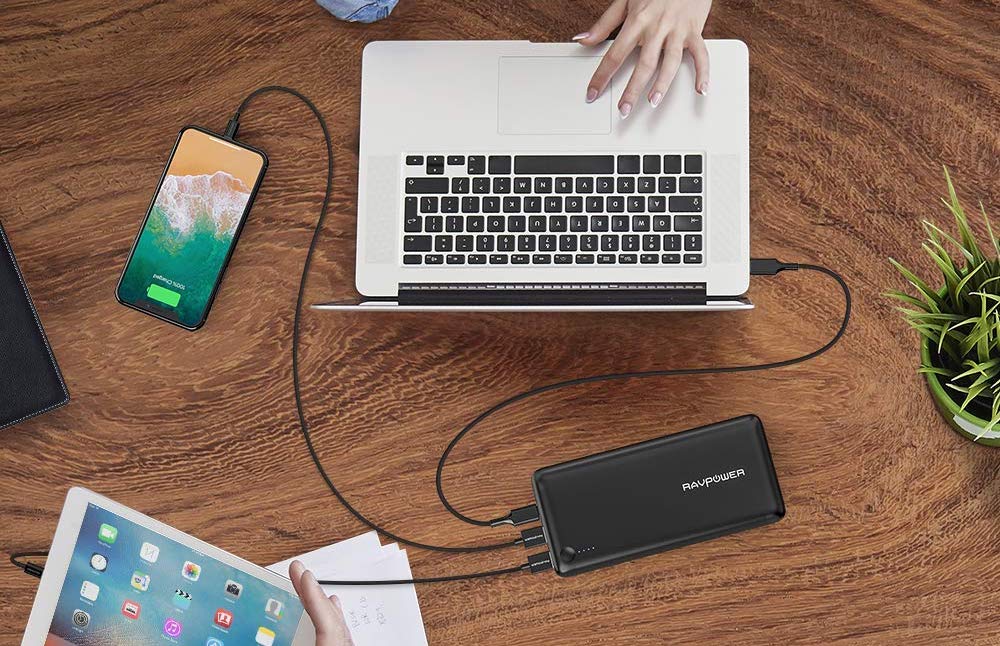 One of the best parts about working from home is the mobility. Because you're not stuck in an office somewhere, you have the ability to change your environment on a whim. We've already discussed how coffee shops, the park, or even the beach can be a fun way to mix up your work week, but being unable to power up your laptop, phone, or other devices can land you in a sticky situation. This is where a portable charger can be a lifesaver.
Should you find yourself away from the outlet (or when one is currently occupied), a portable charger can help keep you working without stressing about battery life. There are countless portable chargers you can find on Amazon for your MacBook, many of which are surprisingly affordable. Just make sure it's got enough juice to either fill up your laptop, or keep it running for a few more hours.
A good office chair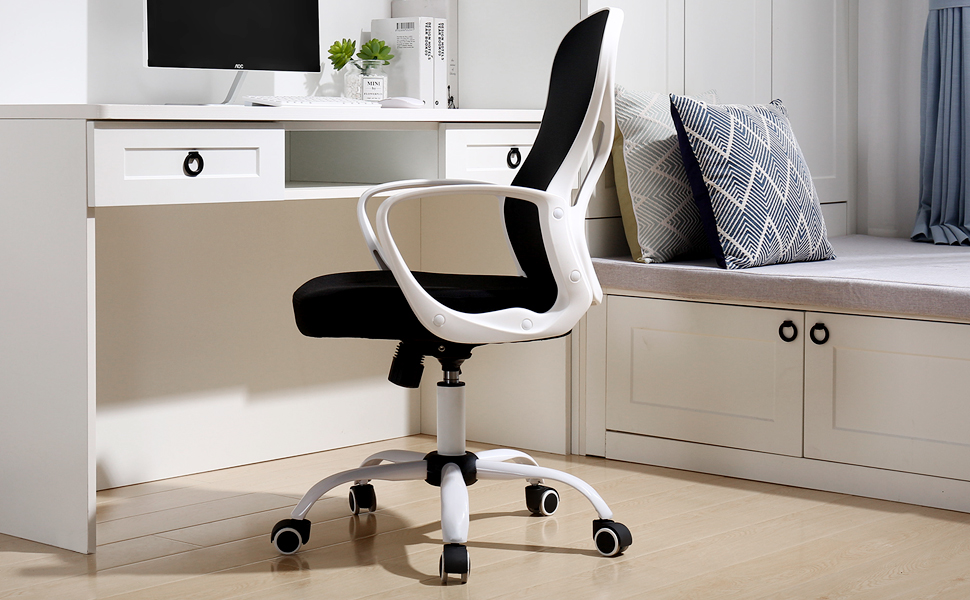 I know, this one sounds obvious but investing money in a good, no… a great office chair can make a world of difference when working from home. The problem is they don't often come cheap, so you'll want to shop around and see which have the best reviews (spoiler: they also aren't always the best looking). But if you want to save a few bucks, you can also augment an existing chair with extra lumbar support and/or seat cushion for all-day relief. Who knows, your office chair might soon become your favorite seat in the house.
Standing desk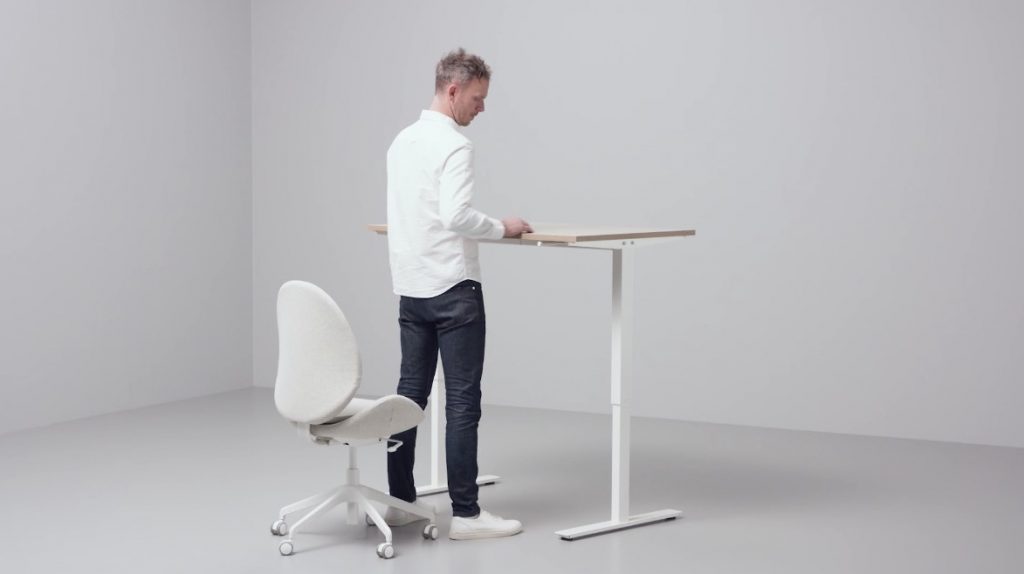 These were a big office trend a few years back, and while health benefits are up in the air (heh), standing desks do help people remain more productive. In fact, some people — like Swappa Moderator Tiff Chen — absolutely swear by them. The good news is you don't have to spend a lot of money. Sure, you'll find more expensive motorized desks where you can adjust the height with the press of a button, but more affordable crank versions also exists (like the SKARSTA at IKEA), that are both functional and stylish.
♻️📱💻📷🎮
We hope the tips and advice provided in this post were beneficial and will not only help you work more efficiently from home, but more productively as well. As you can see, with a little bit of planning and discipline, working from home can be great and in many ways, beats the traditional daily grind. If you suddenly found yourself leading a remote team of workers, make sure you check out our blog post, "Leading a work from home team during the time of the coronavirus," for more on the management side of working from home.