---
Today marks the beginning of a new month, November, which means we can take a few minutes to look back and see which phones made the best-selling list for October 2022. As we've seen in past months, Apple is holding the majority of the ten slots for best-selling phones. Continue scrolling to check out the best-selling used phones for the month of October.
Top selling used phones from October 2022
We have another month where the top-selling phones are mostly Apple. There are nine iPhones and one Android smartphone on the list. And, of those nine iPhones, four of them are Pro or Pro Max. The lonely Android smartphone is the Samsung Galaxy S22 Ultra.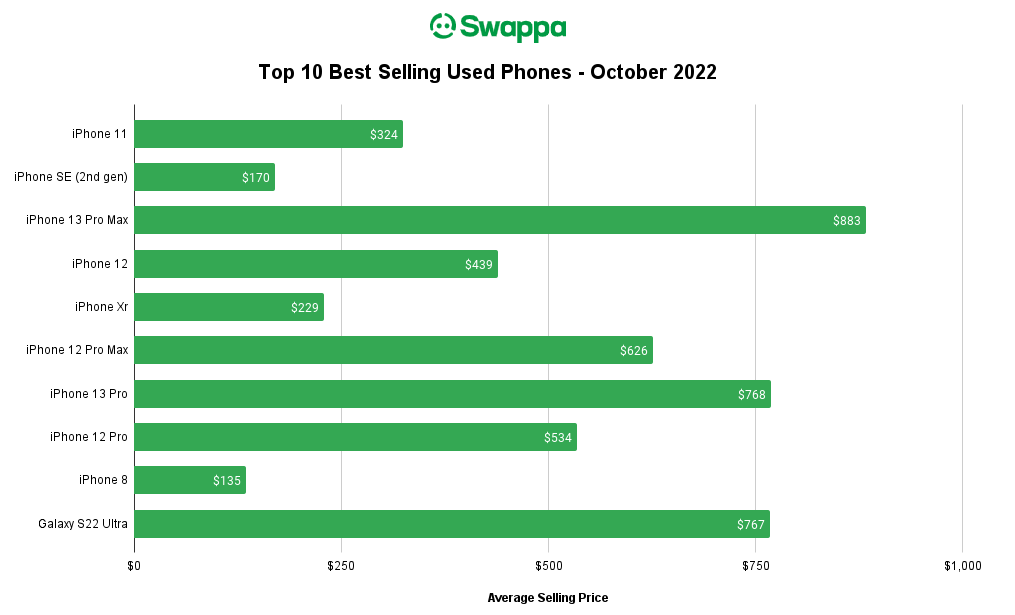 It is also interesting to see the wide range of iPhone models, ranging from the iPhone 8, which was released in 2017 to models from most generations of the iPhone. The iPhone 8 was the 11th generation in the iPhone lineup. This month's list also included the iPhone Xr, from the 12th generation, the iPhone 11 from the 13th generation, the iPhone 12 from the 14th generation, and the iPhone 13 Pro and iPhone 13 Pro Max from the 15th generation. The iPhone SE (2020) also remains a best-selling smartphone on Swappa. Essentially, this is just to say there is strong demand for a wide range of gently used iPhones.
Buy and sell your gently used phone on Swappa
The top ten lists are fun and interesting, but in this case, these lists also help buyers and sellers. Buyers can use this list to get an estimate in terms of what they can expect to pay for each of these smartphones.
And, this list allows sellers to see which models are in the highest demand, which is perfect if you already flip gently used tech, or are looking to start flipping to make a little extra spending money.
While this list highlights the best-selling smartphones on Swappa, we'll also throw in a reminder that Swappa has much more than just smartphones. The Swappa marketplace is also great when it comes to buying or selling laptops, tablets, smartwatches, video games, game consoles, and much more — including graphics cards, Mac Mini, and iMac desktop computers.
Shop safe and save BIG on Swappa
The Swappa marketplace is the safest marketplace for used tech. And, it is easy to use, and a great place to shop if you want to save money. After all, you're always spending less if you buy gently used instead of brand new. A few other key perks of using Swappa include:
In addition to reviewing listings and keeping the junk out of the Swappa marketplace, our support team also actively works to ensure you won't have to deal with any jerks. But…any marketplace can claim to be safe and to have happy users — so we encourage you to review some of our Trustpilot reviews.