---
TLDR: Is the first-generation Apple Watch (Series 0) worth buying in 2021? No, not for most people. But it could be worth it provided you only want an Apple Watch for the basics, or you are only willing or able to pay a bargain-basement price.
The Apple Watch is a great smartwatch for anyone looking for a device to complement their iPhone. By far the best smartwatch on the market, the Apple Watch offers a great mix of style, sizes for both men and women, and features everyone can enjoy, whether you live a mostly sedentary lifestyle or an active one.
As of November 2021, you can only buy the Apple Watch Series 7, Apple Watch SE, and the Apple Watch Series 3 from Apple, but for those that can't quite fit a brand new Apple Watch into their budget, or for those who simply don't want to pay retail prices — shopping for a gently used Apple Watch on Swappa is your best bet. The Swappa marketplace has hundreds of Apple Watch listings dating all the way back to the first-generation Apple Watch.
The first-generation Apple Watch is the Series 0 Apple Watch
The above statement is simple enough to understand, but Apple made things somewhat confusing when the Apple Watch was originally getting started. The original Apple Watch launched in April 2015, and it was simply referred to as the first-generation Apple Watch.
Apple then launched the second-generation Apple Watch in September 2016, and this generation included the Series 1 and Series 2 models. This is when most people start referring to the first-generation Apple Watch as the Series 0.
Moving forward from the Series 1 and Series 2 Apple Watches, Apple announced the Series 3 in September 2017, the Series 4 in September 2018, the Series 5 in September 2019, the Series 6 in September 2020, and the Series 7 in September 2021.
This is what you should know about the Apple Watch Series 0
When it comes to buying an affordable Apple Watch, some people will simply look to the oldest and cheapest model available. But is the original first-generation Apple Watch from 2015 still worth buying in 2021? Most people should probably look towards a newer model, but there may be a few good reasons to buy a Series 0 Apple Watch now.
Style and build quality: The Apple Watch has changed slightly over the years, and the newer models do look better, particularly, when the display is on. But overall, regardless of the specific model you choose, you're looking at a rectangular watch with a crown and button on the side.
Accessories: One good thing about the Apple Watch is the accessories remain largely compatible with all of the different models. The Apple Watch has changed from 38mm and 42mm (first-generation through Series 3) to 40mm and 44mm (Series 4 through Series 6) to 41mm and 45mm (Series 7), but the bands and charging cable remain compatible throughout.
Waterproof: The Series 0 and Series 1 Apple Watch are splash-resistant, and beginning with the Series 2, the Apple Watch became water-resistant to 50 meters. Apple also introduced the option to do a swimming workout with the Series 2.
Phone calls & Messaging: All models of the Apple Watch will receive notifications for key items such as phone calls and messages, which can be handled directly from your Apple Watch.
Notifications: All models of the Apple Watch will receive notifications (mirrored from your iPhone), which means you can use your watch to manage and triage important notifications. Ultimately, this means your phone can stay in your pocket or bag a little more often.
Apple Pay: Mobile payments are convenient from your phone, and even more convenient when you can make a payment with the watch on your wrist. Apple Pay was introduced in September 2014 and was supported on the Apple Watch right from the start.
One drawback of choosing a Series 0 Apple Watch in 2021 is battery life. Over time, and with regular use, a rechargeable battery degrades. If you are using a Series 0 Apple Watch in 2021 — you will likely need to top-off your battery at some point during the day.
What's missing in the 1st generation Apple Watch?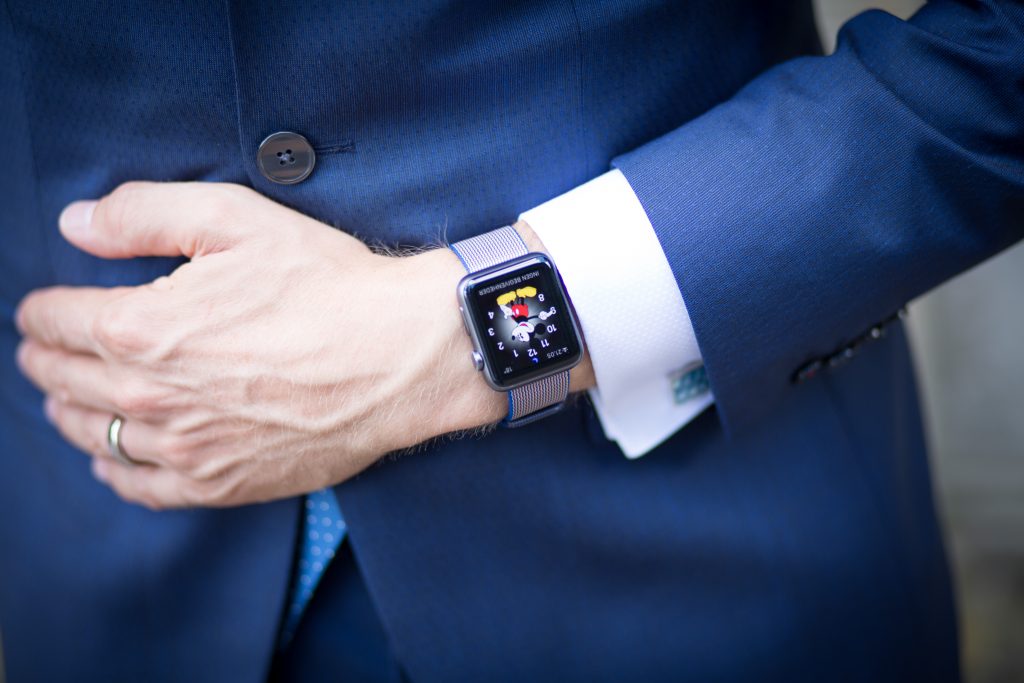 A commonly asked question regarding the Apple Watch Series 0 is: What version of watchOS software is it running? This is actually another drawback because the Apple Watch Series 0 is no longer being updated by Apple, and is currently stuck at watchOS 4.
Seeing as how the first-generation Apple Watch is stuck on watchOS 4, this means it is missing a few newer features that were introduced with newer models and newer versions of watchOS. The first-generation Apple Watch does not have 50m water resistance (introduced in Series 2), GPS tracking for outdoorsy types (also Series 2), a built-in altimeter (Series 3), 4G LTE cellular connectivity (also Series 3), larger display and ECG (Series 4), an always-on display (Series 5), a blood oxygen sensor (Series 6), or the faster charging that was introduced with the Series 7.
For reference, the current version (as of November 2021) is watchOS 8, which is available for Series 3 and later versions.
Let's be clear: nobody is saying the first-generation Apple Watch is the whole package, we're only making a case that it could still be a great entry-level smartwatch for anyone who already owns an iPhone, and just wants a cheap smartwatch for the basics.
Apple Watch Series 0 price
The 1st generation Apple Watch is usually priced under $75 — that is when you can find one available for sale. And with Swappa listings for this particular model dwindling, you're better off looking for a newer model.
Is the 1st generation Apple Watch worth it in 2021?
Although most people will be better served with a newer watch, the Apple Watch Series 0 can still handle the basics. We'd also suggest skipping the Series 1 and Series 2 and picking up a Series 3 or later for watchOS 8 compatibility.
Our bottom-line advice is to try to get a more recent model, such as the Apple Watch SE or Series 4, or even a newer model such as the Apple Watch Series 5 or Series 6.
After you've picked your next Apple Watch, be sure to check out our iPhone Buyer's Guide to find the perfect used iPhone to pair it with.
Swappa makes stepping up to newer Apple Watch models even easier with Buy Now, Pay Later. Get the tech you want today, and pay for it in 4 easy installments spread over time.