Every year Apple unveils a new iPhone with all the latest bells and whistles, and every year fans line up outside their stores for a chance to pick one up.
While most diehard fans clamoring for the new model, it doesn't mean the older model is immediately discontinued. It remains in the iPhone lineup as a slightly more affordable option for those on a budget.
Because of this consistency, it's easy to predict when an iPhone's price will drop (both new and used). We know as soon as a new iPhone is announced — always in September — the outgoing model's retail price drops a cool $100. That also means the worst time to buy a new iPhone is in the months leading up to a new iPhone announcement (July – September).
Okay, but what about a newly released model? How quickly does the latest iPhone depreciate? Whether you're looking for the best time to buy or sell a new iPhone, the answer may surprise you.
iPhone 7 price drop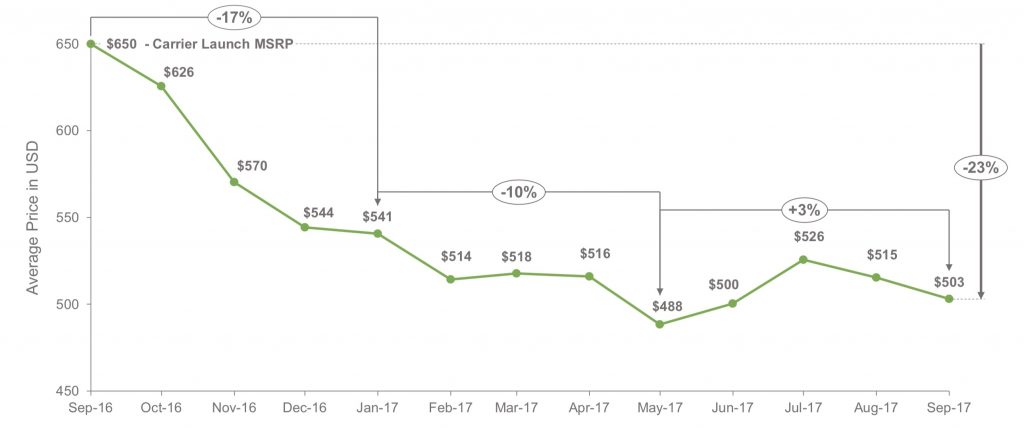 (Data showing iPhone 7 32GB average across all carrier models)
Although the price of a new model holds steady for a full calendar year, we do see a steady decline when it comes to used iPhone pricing.
Looking over the data from the Swappa marketplace, you'll notice a few interesting points. For one, the biggest drop in pricing occurs during the first few months following an iPhone's initial release, accounting for nearly 74% of the iPhone's total depreciation for the year.
That means if you're dying to get your hands on a current gen iPhone as soon as possible, you don't have to wait long to save bundles on a used iPhone. By simply waiting until November or December to make the jump, you can reap some serious savings.
Best time to buy the iPhone 7
It's tough to say when the absolute "best time" to buy the iPhone would be. Of course, waiting until after a new iPhone is announced would see the biggest savings, but some people don't want to wait around that long. If we look at the data, the used price doesn't change much after February (not until September), so this could be the best time for you to buy a current gen iPhone. This gives you a good 7 months to enjoy the phone before a new one is announced in September and the cycle repeats itself all over again.
Worst time to buy the iPhone 7
After February things slow down quite a bit, with the used price even seeing a strange spike in July. This marks the worst time to buy as it's probably best to wait until Apple announces a new iPhone in September so the previous gen's official retail price can drop $100 (and used prices can follow suit).
Using this data we can not only predict when an iPhone price drop will occur, but by how much and the length of time before used pricing takes another dip. It's a great resource and one we hope will help you make a more informed buying decision.
No matter which iPhone you have your eye on, Swappa is the perfect place to find the best deal on a used iPhone. Simply hit up the link below to start browsing our entire iPhone selection. With just about every model to fit your budget, we're sure you'll find something you love.