---
People often begin their search for a new smartphone by deciding whether to get an iPhone or Android. But even then, you still have quite a few models to choose between. Pricing also plays a big factor, and with many current-generation smartphones sitting at or around the $1,000 mark, it is understandable that you may be looking for something less expensive. If you're looking for something that is affordable and can also handle your day-to-day needs, you may want to consider a cheap iPhone 7.
Table of contents:
Read our iPhone 7 Buyer's Guide and our iPhone 7 Upgrade/Comparison Guide
---
When was the iPhone 7 released?
Apple released the iPhone 7 in September 2016. The iPhone 7 is part of the 10th generation of the iPhone lineup, and it was introduced alongside the iPhone 7 Plus. Apple stopped selling the iPhone 7 three years after its release, in September 2019. But while the phone is no longer available from Apple, it is still getting software updates, and it is currently running the latest version of iOS, which is iOS 14. The iPhone 7 is also consistently among the top ten best-selling smartphones on Swappa. And since it's been around a few years, the iPhone 7 price has dropped to a small fraction of its original retail price.
iPhone 7 specifications
When Apple released the iPhone 7 and 7 Plus the main purchase decision was the size. If you wanted a bigger phone with a bigger display, you went with the Plus model. But otherwise, the regular-sized iPhone 7 was the model to go with. We'll be taking a deeper look at the iPhone 7 features throughout this post, but as a starting point, let's outline the overall specs.
4.7-inch Retina HD display
Home button with Touch ID
Apple A10 Fusion chip
2GB of RAM
32GB, 128GB or 256GB of storage
1960 mAh battery
IP67 (Maximum depth of 1 meter for up to 30 minutes)
4G LTE cellular
WiFi 802.11ac
Bluetooth 4.2
GPS/GNSS
Front camera: 7MP FaceTime HD
Rear camera: Single 12MP wide
The iPhone 7 featured a new static (capacitive) home button, which was a change from the physical home button on the previous years iPhone 6S and 6S Plus. Notably, the iPhone 7 was the first iPhone to ship without a 3.5mm headphone jack. Apple included a set of EarPods with Lightning Connector headphones in the box, but otherwise, a dongle is needed if you want to use a set of standard 3.5mm headphones. The iPhone 7 also supports VoLTE (voice over LTE), WiFi calling, and has NFC with support for Apple Pay.
What size is the iPhone 7 display?
The iPhone 7 has a 4.7-inch Retina HD display with a resolution of 1334 x 750. Other key display highlights include the following:
326 ppi
1400:1 contrast ratio
Wide color display (P3)
625 nits max brightness (typical)
If you look at iPhone 7 you'll notice that it looks a bit different as compared to newer models of the iPhone. The display on the iPhone 7 isn't edge-to-edge like newer models of the iPhone, which is due to the capacitive home button that is centered just under the display.
Overall, the display size and resolution on the iPhone 7 will work great for average day-to-day usage. In fact, the display remained much the same as the iPhone 8. The main difference between the display on the iPhone 7 and iPhone 8 was the addition of True Tone, which allows the iPhone display to automatically adjust the color temperature based on the surrounding light.

iPhone 7 size and colors
The size of an iPhone is a factor that is often considered. And, if you are the type of person who prefers a smaller phone — the iPhone 7 is certainly worth considering. The iPhone 7 measures in at 5.44 (H) x 2.64 (W) x 0.28 (D) inches, and weighs 4.87 ounces.
Apple released the iPhone 7 in a variety of colors, including silver, gold, and rose gold, as well as black. The black iPhone 7 was available with two finishes — matte black and jet black. The jet black model was a deep-dark shade, and it has a high-gloss look. Apple also released a (PRODUCT)RED version of the iPhone 7.
What camera does the iPhone 7 have?
At the time of release, Apple touted the iPhone 7 as featuring an "advanced" camera system. There have certainly been numerous improvements in iPhone camera hardware (and software) since the iPhone 7 was released in 2016, but the iPhone 7 will still be able to capture great images and videos to share with friends and family. For example, the iPhone 7 rear camera offers HDR (high dynamic range) for photos, and can record 4k video.
iPhone 7 rear camera features
12MP wide camera
f/1.8 aperture
Optical image stabilization
Up to 5x digital zoom
True Tone flash
HDR for photos
iPhone 7 rear camera video recording
4k video recording at 25 or 30 frames per second
1080p HD video recording at 25, 30 or 60 frames per second
Slo-mo video at 1080p at 120 frames per second
Slo-mo video at 720p at 240 frames per second
Time-lapse video with stabilization
Optical image stabilization
Digital zoom up to 3x
iPhone 7 front camera features
7MP FaceTime HD camera
f/2.2 aperture
Retina Flash
HDR for photos
iPhone 7 front camera video recording
1080p HD video recording at 25 or 30 frames per second
iPhone 7 battery life
The iPhone 7 features a 1,960 mAh battery, and the phone is charged using a Lightning cable. Unfortunately, wireless charging was not available on the iPhone 7. Support for Qi wireless charging arrived on the iPhone a year later, in 2017, with the introduction of the iPhone 8.
Apple rates the iPhone 7 battery as being able to provide up to 13 hours of video playback and up to 40 hours of audio playback. Of course, it is important to keep in mind that these estimates are based on a new iPhone. Rechargeable batteries, including the lithium-ion battery found in the iPhone 7 are subject to degrade over time due to regular usage and the number of charge cycles.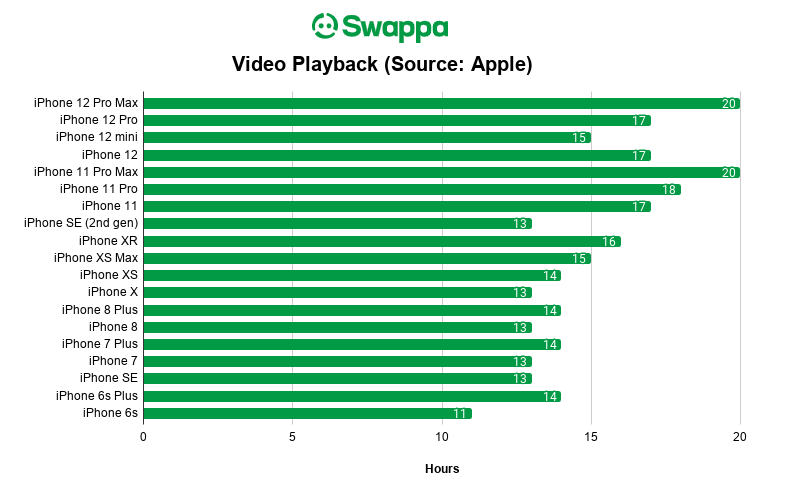 Is the iPhone 7 waterproof?
The iPhone 7 is not waterproof. However, it is splash, water, and dust resistant with an IP67 rating under IEC standard 60529. The IP67 rating on the iPhone 7 will allow the phone to be submerged in a maximum depth of 1 meter of water for up to 30 minutes.
The iPhone 7 was the first iPhone to carry an official rating for water resistance. But despite the official rating, Apple warned that the splash, water, and dust resistance was not a permanent condition, and the "resistance might decrease as a result of normal wear."
Essentially, if you are using an iPhone 7 in 2021, you can probably take some comfort in knowing your iPhone should be ok if you get caught in a heavy downpour of rain, or if you accidentally spill some water. But on the other hand, you probably shouldn't intentionally submerge it in water.
Is the iPhone 7 worth it in 2022?
Yes, the iPhone 7 is worth buying in 2022. Plenty of people are looking for smaller phones, and for a phone that uses Touch ID instead of Face ID, which are two positive points for the iPhone 7. Not to mention, the iPhone 7 is still getting iOS software updates from Apple. Here's how the iPhone 7 stacks up to other iPhones.
The iPhone 7 can also be found at a great (read: low) price. And if you don't want to take our word for it, you can look towards other Swappa users, who buy the iPhone 7 often enough to keep it in the top ten best-selling list month after month.
Should I get the iPhone 7 or the iPhone 8?
The iPhone 7 and the iPhone 8 both have a similar overall style. But you can pick up a cheap iPhone 8 for only a little more, and get a few new features that weren't available on the iPhone 7. For example, the iPhone 8 display added support for True Tone, and the iPhone 8 had the newer Apple A11 processor.
The iPhone 8 also arrived with support for Qi wireless charging and was fast-charge capable using the Lightning cable. The fast-charge capability on the iPhone 8 allows means the ability to provide a 50% charge in 30 minutes (using an Apple 20W power adapter). Aside from the addition of these new features, the iPhone 8 is also a year newer, which means it will likely get iOS updates from Apple a little longer into the future.
---
Snag the best deals on used iPhones wherever you go. Download the Swappa App today!

---