---
The past few weeks (and months) have been busy in the tech space. Apple introduced the iPhone 13 and MacBook Pro lineups, Google introduced the Pixel 6 and Pixel 6 Pro, and Samsung announced the Bespoke Edition Galaxy Z Flip 3. But today is November 1st, and as we always do on the first of the month — we take a few minutes to relax and look back to see which phones made the best selling list for the previous month.
Top selling used phones from October 2021
Swappa began as a marketplace to buy and sell gently used Android smartphones. Our device categories have grown tremendously since, and naturally, that includes the Apple iPhone. In fact, the iPhone tends to dominate the best-selling list each month. But Android smartphones seem to have gained their little stronghold, which fairly consistently, means three models per month on the best selling list.
Last month the three Android smartphones were the Galaxy S9, Galaxy S10 Plus, and the Galaxy S10e. This time around the Android smartphones include the Galaxy S9, Galaxy S10, and the Galaxy S10e, which for those keeping track — means two of the three remained the same.
On the other hand, the iPhone models were also fairly similar when compared from September to October. In fact, the top four remained the same with the iPhone 11, iPhone Xr, iPhone 8, and the iPhone SE (2020). The iPhone 12 Pro Max and iPhone 7 were also on the list for both months, though their positions did change. Otherwise, the one new iPhone addition this month was the iPhone 12 Pro, which arrived in ninth.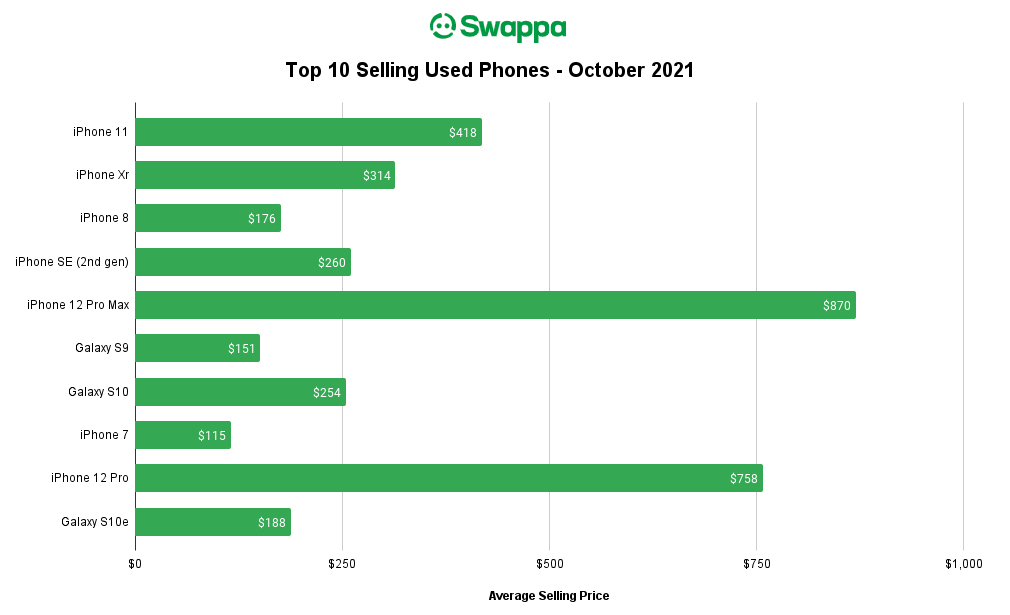 Buy and sell your gently used tech on Swappa
We enjoy taking this time to look back and see the top-selling phones each month, but the truth is, this list is also beneficial to buyers and sellers. Sellers learn which models are the most popular amongst Swappa buyers, and buyers get an estimate in terms of what they can expect to pay (should they choose any of the top ten phones).
With the holiday season quickly approaching — now is also a great time to buy and sell on Swappa. If you're buying you will surely find lots of great deals and low prices. And, if you're selling you'll be able to get some extra cash to help keep your bank account from going in the red.
Shop safe and save BIG
The Swappa marketplace is easy to use, and most importantly, it is the safest marketplace for used tech.
Any site can claim to be safe and secure and to have happy users — but Swappa can back that claim with a Trustpilot rating of Excellent.