---
Today is October 1st, and that means we get to take a few minutes to look back and see which phones were in high demand for the previous month, September 2021. Of course, now that we've reached October 1st, it also means the most recent Apple event is in the past and that generally causes some interesting changes in the top ten list. Keep reaching to learn which phones made the top-ten best-selling used phones list for September.
Top selling used phones from September 2021
Similar to the past few months, you'll find three Android smartphones. This time around the three include the Samsung Galaxy S9 (5th), Galaxy S10 Plus (9th), and the Galaxy S10e (10th). But perhaps the most interesting is the Apple iPhone 12 Pro Max, which is sitting in the sixth spot. The iPhone 12 Pro Max marks the first time any of the models in the iPhone 12 family have made the list.
On the flip side, there are quite a few smartphones that we've come to expect to see. For example, the iPhone 7, iPhone 8, iPhone 8 Plus, and the iPhone SE (2020) all remain on the list. Some of the other commonly found models include the iPhone Xr and the iPhone 11 — both of which are excellent options to consider if you're looking for a quality phone at a fair price.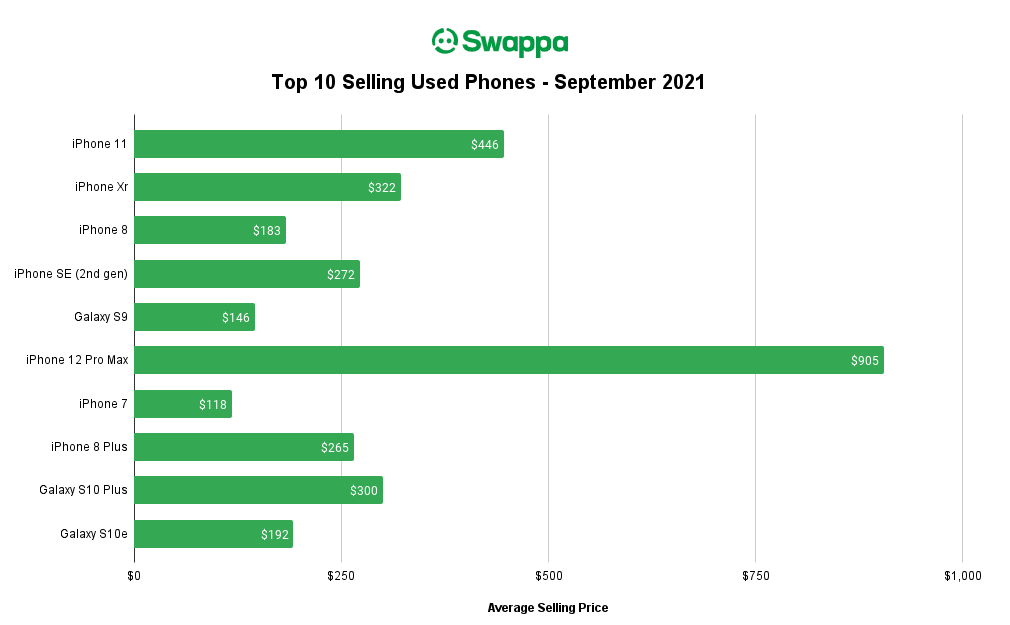 Buy and sell your used phone with Swappa
It is always fun taking a little time to see which smartphones are the most popular on Swappa. But this list is also beneficial to buyers and sellers. The list allows buyers to get an estimate in terms of what they can expect to pay for any of these models. And, the list allows sellers to see which items are in the highest demand — which is great if they are looking to sell a phone (to get some extra money to put towards the upcoming holiday season).
Swappa has long been known as a great (the safest) marketplace to buy and sell gently used tech, specifically smartphones. But Swappa has much more in the marketplace these days. We recently added categories for desktop computers including the Mac Mini and iMac, along with Nvidia GeForce and AMD Radeon graphics cards.
Shop safe and save BIG
The Swappa marketplace is easy to use, and most importantly, it is safe and secure.
Any site can claim to be safe and secure and to have happy users — but Swappa can back that claim with a Trustpilot rating of Excellent.