---
Today is April 1, 2021, but you won't find any April Fools Day joke in this post. Instead, we're doing what we do on the first day of every month — looking back to see which phones made the top-selling used phones list for the previous month, which in this case, is March 2021. And, as you will soon see, we have another list that is dominated by the iPhone.
Top selling used phones from March 2021
The top-selling used phones for March 2021 include nine different iPhone models and one single Android smartphone. Through, the single Android smartphone appears to have some staying power. The phone is the Samsung Galaxy S9, which has also been in the top ten in January and February.
There was some place shifting, but overall, the list will look familiar. The iPhone 7 and iPhone 8 are consistently amongst the top ten, and this month we are seeing the iPhone 8 sitting in the first position with the iPhone 7 sitting in fourth.
Otherwise, the list includes models dating back to 2016 when the 10th generation iPhone was released. This time around we are also seeing models from the 11th, 12th, and 13th generations of the iPhone. Along with the specific models, you can also see the average selling price for each model. And as we often see — the average selling price tends to drop a few dollars each month, which is to say — right now is always going to be the best time to sell.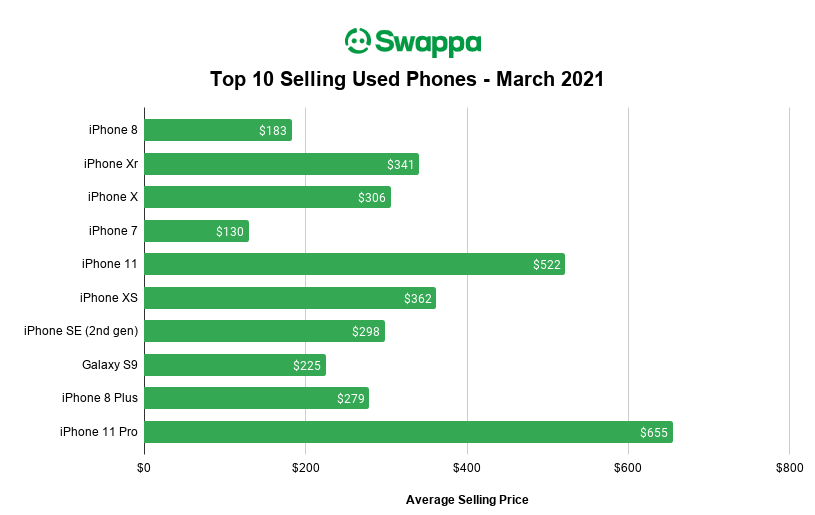 Buy and sell your used phone with Swappa
We enjoy sharing the top-selling phones every month, but this list will also be helpful for buyers and sellers. Buyers will be able to see which models are popular, and can get an estimate in terms of what they can expect to pay. Sellers will be able to see what devices are being purchased, and also get an estimate of how much buyers are willing to pay for each model. That said, these are average prices, and the exact pricing will vary depending on the condition of the phone, and the specs, such as the amount of internal storage.
The Swappa marketplace is a great place to buy or sell your gently used smartphone, but don't forget that phones are just one aspect of Swappa. The marketplace also has tablets, smartwatches, and fitness trackers, along with laptop computers, video game consoles, video games, home tech, cameras, and camera lenses.
Shop safe and save BIG
The Swappa marketplace is easy-to-use, and most importantly, it is safe and secure.
Any site can claim to be safe and secure and to have happy users — but Swappa can back that claim with a Trustpilot rating of Excellent.