---
Today is March 1, 2021, which marks the start of a new month — and that means we take a bit of time to look back and see which phones made the top-selling used phones list for February 2021. The list, as we've come to expect, is dominated by the Apple iPhone, and there was just a single Android smartphone, the Samsung Galaxy S9.
Top selling used phones from February 2021
The Galaxy S9 was also on the January top-selling list. In January, the Galaxy S9 was in the second position, but it dropped to ninth for the February top-selling list. We also saw a different iPhone enter the list this month. The second-generation iPhone SE entered the list in the eighth position.
Otherwise, we're seeing some familiar models such as the iPhone 8 and iPhone 7, which are consistently on the list. The iPhone 8 was the best-selling model in February, and the iPhone 7 was the fifth best-selling model in February.
The other models that were on the January list, and now on the February list include the iPhone Xr, iPhone X, iPhone 11, iPhone 8 Plus, iPhone XS Max, and the iPhone XS. Of course, while these seven iPhone models were on the January and February lists — there was one expected change, which is related to the average selling price. The prices dropped a few dollars from January to February, which is really just our way of saying that right now is always the best time to sell.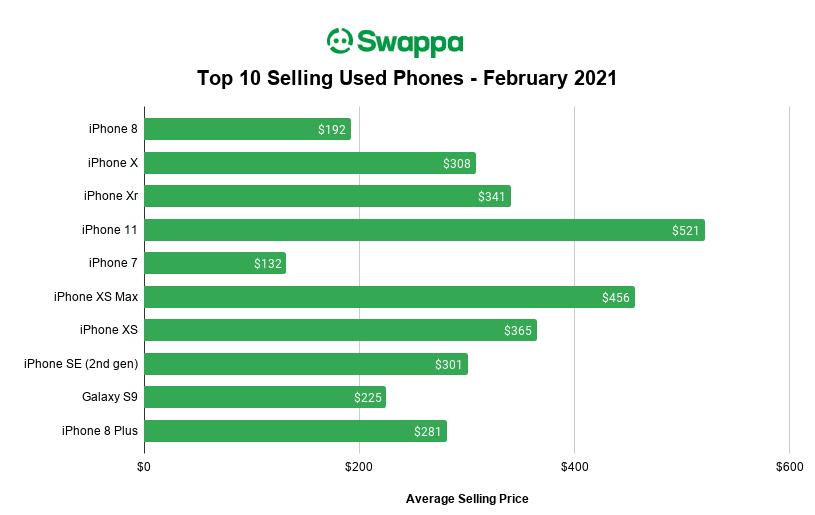 Buy and sell your used phone with Swappa
Looking back to see the top-selling phones is always fun and interesting. But the top-selling list is also helpful to buyers and sellers. It allows buyers to get an estimate on what they can expect to pay if they are planning to buy any of these models. And, it allows sellers to get an idea of what buyers are buying and an estimate in terms of what they are willing to pay. Of course, it should be clarified that these are average selling prices, and prices will vary based on factors such as the condition, specs such as the internal storage, and the market demand.
The Swappa marketplace is a great place to buy or sell your gently used smartphone, but don't forget that phones are just one aspect of Swappa. The marketplace also has tablets, smartwatches, and fitness trackers, along with laptop computers, video game consoles, video games, home tech, cameras, and camera lenses.
Shop safe and save BIG
The Swappa marketplace is easy-to-use, and most importantly, it is safe and secure.
Any site can claim to be safe and secure and to have happy users — but Swappa can back that claim with a Trustpilot rating of Excellent.