---
August has begun, which means we're now halfway through 2021. But more importantly at the moment, it means July has ended and we can now take a few minutes to see which phones are selling the best in the Swappa marketplace. Continue reading to learn more about the top ten best-selling used phones for July 2021.
Top selling used phones from July 2021
Swappa's top ten best-selling list is generally dominated by the iPhone, and that still applies this month, but the number of Android smartphones is slowly increasing. Back in April and May the Galaxy S9 was the sole Android smartphone to break into the top ten.
Then in June, that number increased to two with the Galaxy S9 and Galaxy S10 — and now we're up to three for the month of July. The three Android smartphones on the July 2021 best-selling list are the Galaxy S9, Galaxy S10, and Galaxy S10 Plus.
Aside from the increasing number of Android smartphones, there were quite a few similarities between June and July. For example, the top four models remained the same month over month, with the Apple iPhone 8, iPhone Xr, iPhone 11, and the iPhone SE (2nd gen) sitting in spots one through four.
Some people prefer to only buy brand new smartphones, and then sell that phone to help fund their next smartphone purchase. Essentially, this means Swappa always has a large selection of gently used smartphones in the marketplace — and what better way to spend less money — buying a gently used phone instead of a brand new phone. Here on Swappa, we tend to refer to them as newish.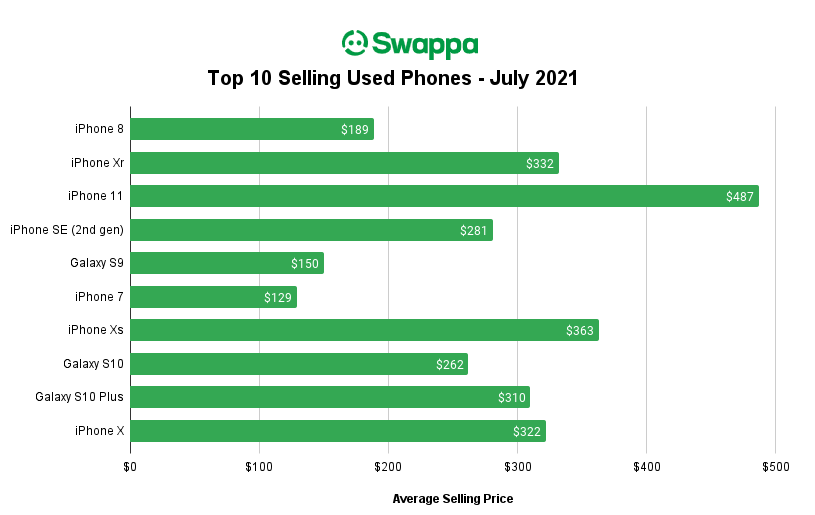 Buy and sell your used phone with Swappa
It is always fun to look back and see which phones are selling the best. But aside from the fun aspect, this list gives sellers a good idea of what models are in top demand and it also gives buyers a good estimate in terms of what they can expect to pay. Of course, it is important to remember that prices for newish smartphones tend to drop slightly from month to month. For example, the iPhone Xr went from $335 in June to $332 in July, and the iPhone 11 went from $501 in June to $487 in July. Basically, this is to say that right now is the best time to sell.
You can also find a wide variety of other technology in the Swappa marketplace. Swappa has categories for tablets, smartwatches, video games, game consoles, home tech, cameras, and more. Swappa also recently added a few new Personal Computing categories.
Shop safe and save BIG
The Swappa marketplace is easy to use, and most importantly, it is safe and secure.
Any site can claim to be safe and secure and to have happy users — but Swappa can back that claim with a Trustpilot rating of Excellent.