---
Today marks the start of a new month, June 2021. With it being the beginning of June, some of you are likely starting to think about the upcoming summer season. Here at Swappa, we currently have smartphones on our minds. But more specifically, we're taking a look back to see which smartphones made the top ten best-selling list for the month of May 2021.
Top selling used phones from May 2021
In what has become a familiar pattern, the best-selling smartphones list for May 2021 is dominated by the iPhone with a single Android smartphone landing in the top ten. The sole Android smartphone is the Samsung Galaxy S9 and it has landed in sixth place. Otherwise, the iPhone X remains on the list for the month of May, but it has slipped a few places and landed in seventh place. The iPhone X was in third place for the month of April. Rounding out the top three best-selling used smartphones for the month of May 2021 is the iPhone 8, iPhone Xr, and iPhone SE (2020).
People often talk about buying the most recent iPhone, but for lots of people — buying a model that is a generation or two older is probably a better way to go. Buying a gently used smartphone means keeping the phone in use for longer, and it also means you will be spending less of your hard-earned money.
For reference, the current generation iPhone is the iPhone 12 family, which is the 14th generation. The iPhone 11, from the 13th generation, sits in fifth place for May 2021. And otherwise, all three models from the 11th generation (iPhone 8, 8 Plus, and X), and all three models from the 12 generation (iPhone Xr, XS, and XS Max) are present on the list.
If you happen to be in the bunch that likes to upgrade to the brand new model — you should list your current iPhone for sale on Swappa as a way to fund your upgrade or to just get some extra spending model. Several factors affect the price of a used smartphone, such as market demand, specs, and condition. But overall, the value of a used iPhone generally drops a little from month to month so right now is the best time to sell.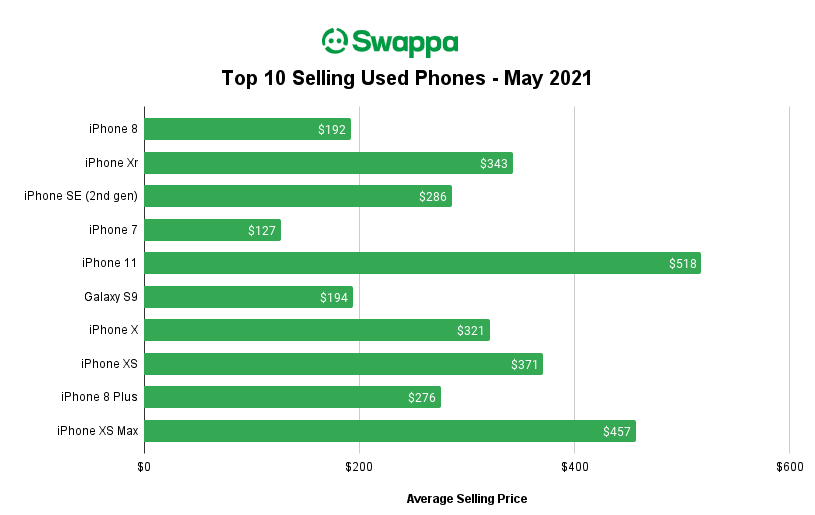 Buy and sell your used phone with Swappa
It is always fun to look back and see which smartphones are the most popular amongst Swappa buyers (and sellers). Aside from the fun aspect, the best-selling used phone list should help buyers to get an estimate in terms of what they can expect to pay for these popular models. This list is also going to be helpful for sellers as it highlights the models that are in the most demand (which will be helpful if you are looking to flip some phones to get extra money for the summer months).
Of course, smartphones are only one portion of the Swappa marketplace. If you browse around you will also find listings for tablets, smartwatches, and fitness trackers, along with laptop computers, video games, game consoles, home tech, cameras, and camera lenses.
Shop safe and save BIG
The Swappa marketplace is easy to use, and most importantly, it is safe and secure.
Any site can claim to be safe and secure and to have happy users — but Swappa can back that claim with a Trustpilot rating of Excellent.