---
One of the main ways in which Swappa is different from all those other online marketplaces is that Swappa is people-powered. Our team is made up of real people, spread all around the world. And since we're real people, we like saving money just like you.
Over the past few months, we've started talking about wireless networks. Phone plans are relevant because not only are they necessary to actually use the newish tech you get from our Marketplace, but you could save quite a bit by switching to one of the best cheap phone plans.
Today, we're stepping away from the theoretical in order to see how this plays out in practice. Read on to follow my experiences as I switched to Mint Mobile — and how much I've saved in the process.
Jump to:
Breaking up with my old network
Before we talk about why Mint Mobile was the best choice for my family, let's talk about what pushed me to make a transition in the first place. Deciding that I wanted to break up with my old provider wasn't easy. I was a customer for many years and had no major complaints. Service was reliable, data was plentiful, speeds were generally great, and I was never hit with any surprise bills or outages. So just like ending any sort of relationship, I really didn't want to part ways with a wireless carrier that had previously seemed "good enough."
Did I know that there were better deals out there? Sure. And as a self-professed tech head, I was acutely aware that MVNOs could save me money while providing access to the same networks. But what finally pushed me over the edge was joining the Swappa team. Here, I've written several articles about some of the best MVNO carriers at various price points and how they can get you access to the same networks for less.
Why I chose Mint Mobile
Let's start off by being real for a second: My primary motivation for switching carriers was price. Regardless of who you are and how much money you make, it's always nice to save. So first and foremost, I wanted a cheap phone plan that would help me save money on my monthly wireless bill. With that said, I wasn't willing to sacrifice coverage and quality. Unlimited data was also a necessity since even though I'm not an extremely heavy data user, I don't like surprises on my bill.
After spending a bit of time looking at the different tables in our best cheap phone plans roundup, I realized that Mint Mobile was the one for me. Every plan they offer is unlimited (differing by how much of the unlimited data is at full speed), and they operate on the T-Mobile host network, which is quite strong in my area. And as we've mentioned in the past, independent testing by Tutela has shown that T-Mobile-based MVNOs are relatively unaffected by network deprioritization.
Picking a data plan
Thanks to their aggressive pricing model and reliable host network, deciding on Mint was the easy part. Picking how much of the unlimited data I wanted at high speed was a bit more tricky. We already covered in great detail how to get the best deals on Mint Mobile service, but here's a recap of their plans:
| Plan Duration | 3GB of 4G LTE | 8GB of 4G LTE | 12GB of 4G LTE |
| --- | --- | --- | --- |
| 3 Months | $25/month ($75 upfront) | $35/month ($105 upfront) | $45/month ($135 upfront) |
| 6 Months | $20/month ($120 upfront) | $25/month ($150 upfront) | $35/month ($175 upfront) |
| 12 Months | $15/month ($180 upfront) | $20/month ($240 upfront) | $25/month ($300 upfront) |
Since I work from home and have access to Wi-Fi all day, it was a no-brainer for me to go with 3GB of high-speed data (unlimited data at 2G speeds afterward). My wife, on the other hand, watches a lot of videos on the go, and doesn't always connect to Wi-Fi when doing so. So for her, we started on the 8GB plan, and will likely end up switching to the 12GB plan at some point.
Finally, while it's important to guesstimate how much data you'll actually need, try to avoid paralysis by analysis. Don't worry too much about feeling locked in. You can change your plan easily on the Mint website or mobile app at any time — within a billing cycle, or for when your cycle ends. More on this below.
Setting up my Mint Mobile service
After picking the right plan using our Mint Mobile plans breakdown above, the next step is to head over to our Mint Mobile landing page. Select the appropriate plan before clicking the buttons that take you over to the Mint site. Once there, confirm your plan choice, enter your personal information, and place your order. A couple days later, your Mint Mobile SIM kit will arrive. Once you've gotten it, simply visit Mint's activation page and get squared away. All things considered, the setup process couldn't have been easier.
PROTIP: For the absolute best savings, don't forget to pair your new service with a gently used iPhone or Android phone from Swappa. In addition to saving money on the phone purchase, you also get 3 free months of Mint service whenever you buy a Mint-ready phone on Swappa! As if that weren't enough, we've also compiled a list of current Mint Mobile deals, so be sure to head over there for coupon codes, promos, and more!
How to port your phone number
If you don't need to transfer your existing number, the steps above are all you need. However, keeping your existing number when switching carriers is a necessity for some. And while porting your number is certainly the most intimidating part about switching networks, I can honestly say that it's not that difficult.
On the Mint side, the porting process is effortless. You simply enter in your current network's account number and PIN, and they do all the heavy lifting for you. If you already have this information, GREAT! However, I will suspect that the vast majority of wireless customers (myself included) don't have this information memorized. Thankfully, the FCC has required that wireless networks let customers to port their numbers to new carriers ever since Wireless Local Network Portability was first implemented in 2003.
To get the required information for porting, simply call your existing carrier's support number (typically 611). Although it may feel a bit like pulling teeth, you'll be able to request your account number and PIN once you get a hold of a representative. From there, enter this newly obtained information in the appropriate boxes while finishing up the Mint Mobile activation process. After providing the information, Mint does the rest and you simply have to wait for the process to complete. In my case, the process took under an hour, though Mint states it can take up to a day or so.
Actually using Mint Mobile
Reliability and coverage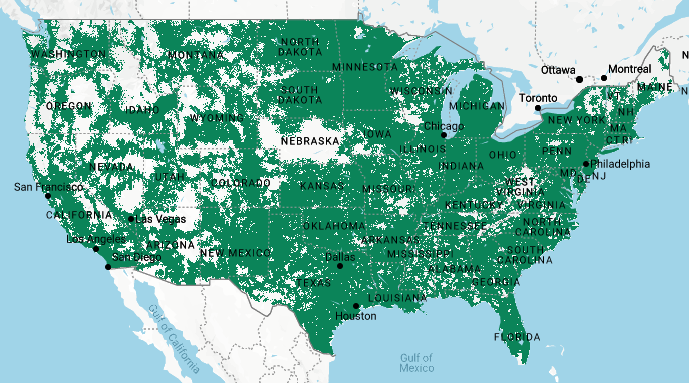 Mint Mobile operates on the T-Mobile network. As a result, it has the same coverage and reliability as its host provider. This means that you have access to the entire T-Mobile network, covering roughly 99% of Americans, as well as spotless reliability that will likely never let you down.
Data speeds and throttling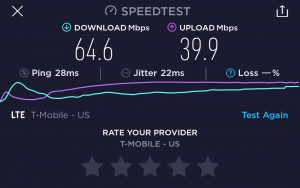 Just as you'd expect from a network that uses T-Mobile as its host, data speeds were great. They were inline with what you get when buying service from T-Mobile directly. And in my area (about thirty minutes outside of Washington, D.C.), this meant typical download speeds of over 50 Megabits, even passing 70 at times. Uploads were typically a little over half that, averaging around 40 Mbps in my testing. Speeds during periods of heavy congestion weren't bad either. During peak hours, I generally got between 10-20 Mbit both down and up.
And this brings us to our next topic: data throttling. Remember how I mentioned that all Mint plans are unlimited, but only a portion of that unlimited data is at full, 4G speed? After your soft cap has been reached, you continue to have unlimited data, but speeds are reduced. Unlike some other carriers, where your wireless service is basically useless at that point, my data-hungry wife found throttling to be reasonable at approximately 150-250 kilobit. This allowed her to freely send texts and Hangouts messages, and even send pics and view web pages throughout the day.
Changing your Mint settings and plans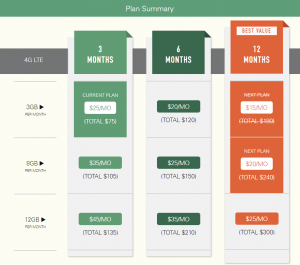 Now it's time to talk about one of the very best "hidden features" of the Mint Mobile experience. Not only does Mint have great prices, coverage, and network speed; they also have a very intuitive web interface and mobile app for whenever you want to check your account or make changes.
Immediately after logging in to either the website or mobile app, you're greeted with an account summary screen that gives you all the relevant information such as how much high-speed data you have left, when your cycle renews, and so on.
You can easily change any of your plan settings and auto-pay enrollment with just a couple clicks. What's more, when changing plans, you have the choice to change after your current cycle is over or change immediately.
How much can you save on Mint?
Last and certainly not least, we have price. As I mentioned earlier, saving money was one of the primary factors in my decision to go with Mint Mobile. So how does Mint fare when compared to the competition? With plans starting as low as $15/month for 3GB of high-speed data, you quite simply rake in the savings. But to make the savings a little more concrete, why don't we take a closer look at exactly how much you can save on Mint versus the cheapest unlimited plans from the big four wireless carriers.
Let's start with T-Mobile, since that is the network Mint operates on. The cheapest T-Mobile unlimited plan is T-Mobile Essentials. At $60/month, you get unlimited talk, text, and data. Data on the Essentials plan is truly unlimited, with no predefined throttle points, but data may be slowed in periods of heavy traffic. But honestly, how much data do you really use in a month? For a good majority of people, you could cut your bill down by $45/month, while still getting unlimited access to the exact same network. Just keep in mind that we're comparing a truly unlimited data plan to one with a 3GB soft cap, so the comparison isn't exactly 1:1 in all regards.
Moving on to other networks, let's check out AT&T. The Unlimited Starter plan is AT&T's cheapest unlimited offering at $65/month. It offers truly unlimited data, though speeds may be slowed during periods of heavy traffic. This plan is more than triple the cost of Mint's cheapest unlimited plan, though once again, you are able to have a higher amount of high-speed data. Next, we have Verizon and its cheapest unlimited plan Start Unlimited. At $70, it is far more expensive than any of Mint's plans, though once again we have truly unlimited high-speed data. Finally, we have Sprint with the Unlimited Kickstart plan. While this plan costs just $35/month and gives unlimited but deprioritized high-speed data, it is still more than double the cost of Mint's cheapest unlimited plan.
By now, it should be clear that regardless of which of the Big Four you compare to, Mint Mobile can save you a ton of money. Just think what an extra $45+/month of savings could do for you. This amounts to $540 per year of savings, which would make for a fantastic addition to your vacation fund, savings account, or whatever else you see fit.
Closing thoughts
Having been a paying customer for about 2 months, I don't exactly have the longest track record with Mint Mobile. However, I can say that my time on the network has been nothing short of a dream. From price to coverage, network speeds, and everything in between, I have nothing but good things to say about my move to Mint.
Had I not been working for Swappa, I would have remained stuck in the same wireless rut that I suspect many reading this article are — not even knowing that I could save money for the same service. I only discovered Mint after writing an article about them. Thankfully, I eventually learned and am now happily saving $45 every month.
Hopefully you all can benefit from my experiences and find the best cheap phone plan for you. And while you're at it, don't forget to pick up a gently used iPhone or Android phone from Swappa. Click the button below to check out the best Mint Mobile plans.