---
So you've set your sights on a new or gently used smartphone that ticks all the right boxes. Now, it's time to start looking for the right network and service plan to pair with your device. When looking for wireless service, the majority of consumers comparison shop between AT&T, Verizon, T-Mobile, and Sprint. However, the four largest carriers are not the only game in town.
A little known secret in the wireless industry is that there are actually more carriers to choose from. Armed with this knowledge, you can often save quite a bit of money, while still connecting to the same networks that you've grown to know and love. Mint Mobile is one popular option, offering great rates and speeds at a fraction of the price of some of its competitors. Read on to learn more about Mint Mobile, its plans, and to find out if Mint is a good fit for you.
What is an MVNO?
Once you look past the big four and you shop around for carriers such as Mint Mobile, you may see the acronym MVNO thrown around. MVNO stands for Mobile Virtual Network Operator. We recently covered the ins and outs of how you can save money using MVNO carriers on the Swappa blog, so if you haven't had a chance, you should go and check it out. But to make a long story short, an MVNO buys bulk network access from one (or more) of the four major US networks in order to re-sell it to consumers at a discounted rate.
What is Mint Mobile?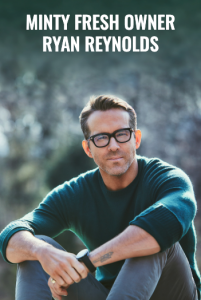 If you've been following the wireless industry this past month, you may have heard that the critically acclaimed actor and Deadpool star Ryan Reynolds recently purchased an ownership stake of Mint Mobile. So what exactly is this Mint Mobile and how does this relate to MVNO carriers? Mint Mobile is a prepaid MVNO carrier that is powered by the T-Mobile 4G LTE network. It offers low prices by buying network access in bulk and selling it to consumers in packages 3-months at a time.
Mint Mobile has been around since 2016, and its parent company Ultra Mobile has been around since 2012. Both Mint Mobile and Ultra Mobile strive to give users the best possible rates on cellular service — albeit with slightly different customer profiles. While Ultra Mobile is geared towards giving its users great prices on international calling, Mint Mobile is laser-focused on delivering the best prices on domestic calls and data. And as you'd expect from a carrier so intent on delivering what its customers are truly after, Mint has some excellent advertising and branding that reaffirm its disruptive influence on the industry.
What network does Mint Mobile use?
Since Mint Mobile is an MVNO, you may be wondering about its host network. Mint Mobile uses T-Mobile's 4G LTE network as its backbone. As a result, you can expect the same great coverage you've grown to expect from T-Mobile. Moreover, T-Mobile MVNOs tend to not be subject to the same traffic deprioritization as MVNOs on other host networks. This means that not only do Mint Mobile users experience the same network coverage as T-Mobile users, but they get to enjoy the same great speeds as well.
Does Mint Mobile have good coverage?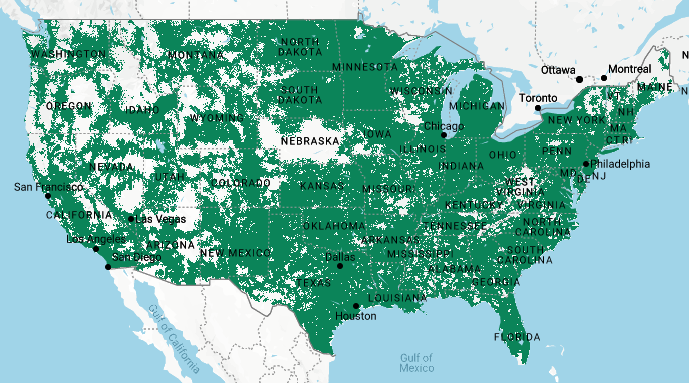 One of the main benefits of hopping onto an MVNO carrier instead of a smaller regional carrier is that you get to enjoy the nationwide network footprint provided by its host network. In the case of Mint Mobile, this means that you have access to the entire T-Mobile network, covering roughly 99% of Americans.
How much is Mint Mobile monthly?
Mint Mobile's service plans work a little differently than most other wireless carriers. Mint offers three basic service tiers — all of which feature unlimited talk, text, and data, as well as mobile hotspot support. The tiers only differ by how much of that unlimited data is at full, 4G LTE speed: 3GB, 8GB, or 12GB. In addition to selecting how much high-speed data you want before your rates are reduced, you can opt for rather significant discounts when buying multiple months in advance.
Mint Mobile Plan Breakdown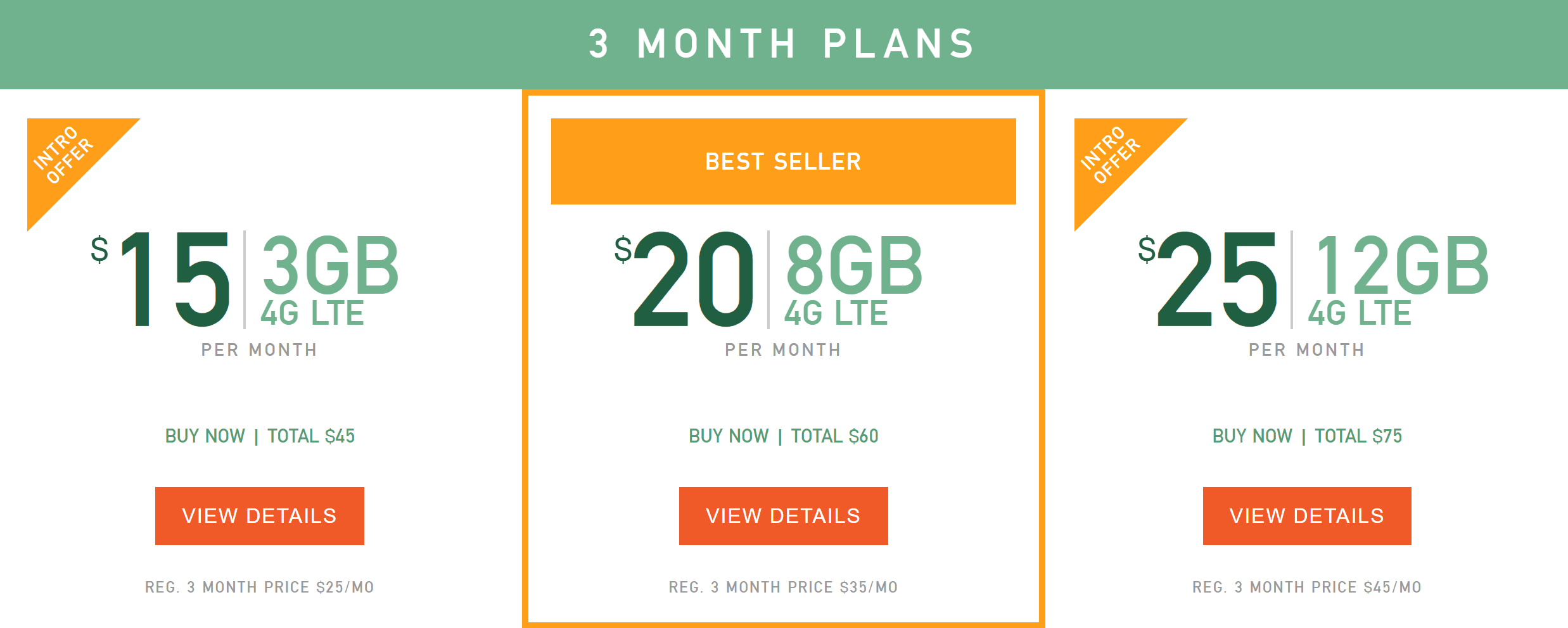 Mint is currently offering introductory pricing on your first three months of service. During your first three months of Mint Mobile service, you can purchase any of the packages below at their maximum discount pricing typically reserved for when you buy a year's worth of service in bulk. In other words this means that you can get the 3GB plan for $15/month ($45 upfront), the 8GB plan for $20/month ($60 upfront), and the 12GB plan for $25/month ($75 upfront).
After your first three months are up, you can opt to renew your service for another 3, 6, or 12 months. And as you'll see in the chart below, buying your service in bulk amounts to a ton of savings.
| Plan Duration | 3GB of 4G LTE | 8GB of 4G LTE | 12GB of 4G LTE |
| --- | --- | --- | --- |
| 3 Months | $25/month ($75 upfront) | $35/month ($105 upfront) | $45/month ($135 upfront) |
| 6 Months | $20/month ($120 upfront) | $25/month ($150 upfront) | $35/month ($175 upfront) |
| 12 Months | $15/month ($180 upfront) | $20/month ($240 upfront) | $25/month ($300 upfront) |
Does Mint Mobile have unlimited data?
All Mint Mobile plans feature unlimited data and mobile hotspot support — even the cheapest plan, at just $15/month — but speeds are reduced once you exceed your plan's 4G LTE data limit. So if you mainly use your phone where you can hop onto a WiFi signal, the 3GB plan will probably be enough. But if you're a heavy data user who doesn't have much access to free WiFi throughout the day, the higher tiers make sense.
COMPARE MINT MOBILE PHONE PLANS
Does Mint Mobile have international calling?
All Mint Mobile plans offer free calling to Mexico and Canada, as well as discounted rates to over 160 countries worldwide. And for those wondering, actually placing overseas calls is quite easy: Simply log into your online account, add funds to your Mint Mobile Wallet, and place a call as you would normally.
What phones work with Mint Mobile?
So after hearing about the incredibly aggressive pricing structure, you're probably wondering how you can pick up a compatible smartphone. Luckily, Mint Mobile makes it easy because they are a GSM carrier that works on the T-Mobile 4G LTE network. As such, you'll need an unlocked GSM phone that is compatible with T-Mobile's network bands. This means that you'll have a bunch of Mint-ready iPhones and Mint-ready Android phones to choose from on the Swappa Marketplace.
Mint and Swappa join forces to save you even more

Great rates and great coverage — what more could you want? Well, the fun doesn't stop there! Mint and Swappa have joined forces to bring you even more savings! If you buy any unlocked, Mint-compatible phone with the Mint Mobile badge on the Swappa Marketplace, you can score 3 free months of service with unlimited talk and text, and 12 GB of 4G LTE.
Is Mint Mobile any good?
Normally, we'd use this space to say things like "it depends," or that a particular carrier might be a good fit for certain people. However, with Mint Mobile, we can unequivocally say that the vast majority of shoppers will find a plan that fits their needs — and save money while doing so. Mint's aggressive pricing model, consumer-friendly plans, and use of the advanced T-Mobile 4G LTE network make it a top tier choice for anyone looking to save a few bucks on their wireless service. Plus, being a bit closer to Deadpool can't hurt. Looking for Mint Mobile customer service or tech support? Head on over to our Mint Mobile contact info page for more.