---
Let's face it — we all enjoy saving money. It doesn't matter if you're living on filet mignon, gravy, or ramen noodles; saving a few bucks here and there lets us devote more of our hard-earned cash to the things we truly want. Now since you're already browsing the Swappa Blog, chances are that you're a value-conscious buyer who's saved hundreds on smartphones, laptops, tablets, and more by shopping on the Swappa Marketplace.
Well, we don't want your savings to end when you buy your next smartphone. In our ongoing efforts to save you even more cash, we recently launched our phone plan comparison tool. But what if we told you there's a little-known secret in the wireless industry that can save you even more money? Read on to learn how you can save cash while staying on some of the same networks you've already grown to love.
How does an MVNO work?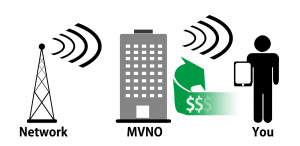 When most people think of wireless network providers, the four major US carriers usually spring to mind: AT&T, Verizon, T-Mobile, and Sprint. While these are certainly the four largest carriers in the US, they aren't your only options. This is where MVNO carriers come in.
MVNO stands for Mobile Virtual Network Operator. MVNOs are typically smaller carriers that lease access to a larger provider's network. They then parcel out and sell network access to their own customers. In other words, when you sign up with an MVNO, you get access to a major network that isn't actually owned by the company you just forked over your cash to.
Why are MVNOs cheaper?
So right about now, you may be thinking that MVNOs sound a bit complicated. You're also probably wondering how adding a middleman could ever result in lower prices. The answer boils down to two main reasons: 1. MVNOs keep operating expenses low by not having to deal with infrastructure maintenance and upkeep. 2. MVNOs purchase access to their host network in bulk, and are thus able to negotiate the best possible deals. These savings are then passed along to the consumer in the form of cheaper service plans.
In addition to cheaper plans, another way you can save money is through BYOD, or Bring Your Own Device. In other words, you bring your existing, unlocked smartphone and avoid having to pay your carrier a monthly installment on a new phone purchase. Although certainly not exclusive to MVNO carriers, BYOD is particularly important on smaller carriers that may not always carry the latest and greatest devices. So what better time than now to take a look at the Swappa Marketplace for great deals on your next smartphone or tablet.
How is an MVNO different from a major carrier?
So now that we've established how MVNO carriers and plans work, you're probably excited to sign up and connect to your favorite network at a substantial discount. Well, it's unfortunately not that simple. There are a few differences between using an MVNO versus its host network that may affect your overall experience.
For starters, traffic over an MVNO network is sometimes deprioritized compared to a traditional carrier plan. What this means is that although a given network may be capable of hitting high data speeds, MVNO users may not always see those same speeds — especially during peak hours. This depends on a variety of factors such as the underlying host network and which MVNO you choose, but the difference in performance between an MVNO and its host network can often be dramatic. Recent testing by Tutela indicated that MVNOs using the T-Mobile and Sprint networks generally performed similarly to their host network. On the other hand, networks using Verizon and AT&T were often found to perform somewhat slower than their host networks.
In addition to potential differences in transfer speed, MVNO users forfeit any carrier-specific benefits and perks. Remember that T-Mobile deal for a free year of Netflix? Users on MVNO carriers simply aren't eligible for offers like this.
*****
Although they're not perfect for everyone, MVNOs offer the potential for massive savings, without compromising on the excellent nationwide coverage you've already grown accustomed to. If you are interested in saving money by finding the best MVNO for your needs, please stay tuned to the Swappa Blog. This week, we will be taking an in-depth look at several of the most popular MVNOs. Until then, click on the buttons below to find out which MVNO carriers work on which networks.