---
On September 10th, Apple officially unveiled the latest iPhone models for 2019: the iPhone 11, iPhone 11 Pro, and iPhone 11 Pro Max. Along with the more affordable iPhone 11 and the larger iPhone 11 Pro Max (6.5-inch), the iPhone 11 Pro (5.8-inch) represents the 13th generation of Apple's iPhone line. Similar to the Apple MacBook Pro, iPad Pro, or the recently released Apple AirPods Pro, the new "Pro" designation is the first time it's been used on the iPhone and merely denotes the most premium, high-end version of the handset.
The iPhone 11 Pro was released on September 20th and it's the model we'll be exploring in this post. If you're looking for more information on the iPhone 11 Pro — including hardware, new features, and pricing information — then this post should cover everything you need to know about the iPhone 11 Pro.
iPhone 11 Pro colors and design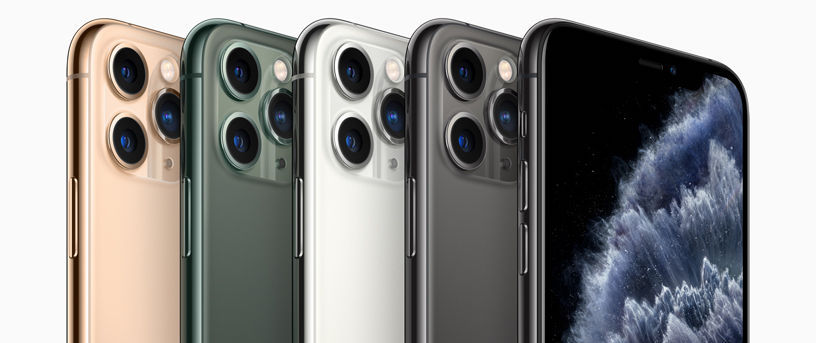 The iPhone 11 Pro comes in 2 sizes — 5.8-inch or the 6.5-inch Max model — and carries much of the same design principals as the iPhone X from 2017. You'll find the infamous "notch" at the top of the display, along with a shiny metal frame sandwiched between the screen and all-glass back. The overall aesthetic, while very similar to previous versions, has changed slightly for 2019.
For instance, the iPhone 11 Pro now features a frosted glass back and 3-lens camera hump that's part of the same glass panel. It's also the first time Apple has removed the "iPhone" text on the back, leaving only their trademark Apple logo (now positioned slightly lower) in its stead. This is something to keep in mind as you search for used models as the absence of the "iPhone" branding was usually a dead giveaway that the phone was counterfeit — this is no longer the case.
As for color options, the iPhone 11 Pro is available in silver, Space Gray (black), gold, and all new for 2019 is Midnight Green, a color never-before-seen on previous versions. The colors are fairly muted, with the lower-end iPhone 11 featuring much more bright and vibrant color schemes.
iPhone 11 Pro hardware
The iPhone 11 Pro features a veritable boatload of cutting edge technology, crammed inside a tiny handset that's capable of big things. As we mentioned before, the Apple's "Pro" line represents the best they have to offer, so Apple enthusiasts looking to stay on the bleeding edge of tech will find the iPhone 11 Pro brings the goods. Here's all the hardware you can find packed inside the iPhone 11 Pro.
iPhone 11 Pro specs
5.8-inch Super Retina XDR (2436 x 1125) OLED display
12MP wide-angle (f/1.8), ultra-wide-angle (f/2.4), telephoto zoom (f/2.0) cameras
12 MP (f/2.2) front facing camera

A13 Bionic processor

4G RAM
3,046 mAh battery
USB-C 18W fast charging
Stereo speakers
144.0 x 71.4 x 8.1 mm
188g
What's new in the iPhone 11 Pro?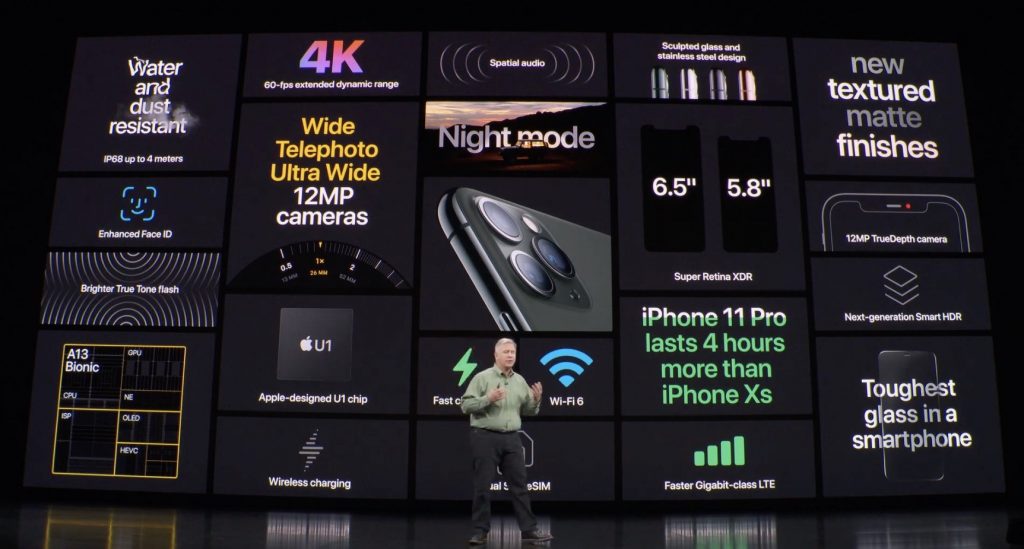 Without missing a beat, Apple launches a new iPhone model every year. It's hard to keep up and if even you consider yourself an Apple fan, you may not have time to scour through countless launch day articles pointing out specific new features. We don't blame you.
For those wondering how Apple's latest iPhone 11 Pro is different from the previous year's iPhone XS, here's a quick cheat sheet highlighting some of the most noteworthy additions.
New iPhone 11 Pro features
Shatter resistant matte glass finish (back)
Midnight Green color option
Super Retina XDR display with support for Dolby Vision and HDR10
Brighter display with 800 nits max brightness (up from 625 nits)
A13 processor is 20% faster than previous generation A12
Third, ultra wide-angle camera lens with 120-degree field of view
Night Mode with Deep Fusion feature available in iOS 13.2
True Tone flash is brighter
4K video in 24, 30, or 60fps
3D Touch removed (replaced with standard Haptic Touch)
Improved water resistance (IP68 vs previous IP67)
Improved 12MP front-facing TrueDepth camera (vs previous 8MP)
Front facing camera can shoot in 120 fps slo-mo video
Face ID now 30% faster
Battery life is 4 hours longer than the iPhone XS
18W fast charger with USB-C to Lightning cable in the box (50% battery in 30 minutes)
U1 Ultra Wideband chip with directionally aware suggestions for AirDrop
iPhone 11 Pro carrier models
There are three iPhone 11 Pro models specific to various regions. The iPhone 11 Pro A2160 is the North American model that you'll find sold in the Apple Store as "Unlocked and SIM free." This model works across all US carriers and specifically supports AT&T, Sprint, T-Mobile and Verizon frequency bands.
It's worth noting that while all iPhone models sold in the Apple Store are sold unlocked, there is an exception to this rule. An iPhone 11 Pro purchased with an AT&T Installment Plan is the only version locked down to AT&T. Of course, if the phone is purchased outright, it will also be sold unlocked.
iPhone 11 Pro (A2160) frequency bands
| Network type | Frequency / bands | Tech | Gen |
| --- | --- | --- | --- |
| GSM/EDGE | 850, 900, 1800, 1900 MHz | GSM | 2G |
| UMTS/HSPA+/DC-HSDPA | 850, 900, 1700/2100, 1900, 2100 MHz | GSM | 3G |
| CDMA EV-DO Rev. A | 800, 1900 MHz | CDMA | 1X/3G |
| LTE FDD | Bands 1, 2, 3, 4, 5, 7, 8, 12, 13, 14, 17, 18, 19, 20, 25, 26, 29, 30, 66, 71 | LTE | 4G |
| TD‑LTE | Bands 34, 38, 39, 40, 41, 42, 46, 48 | LTE | 4G |
Other region specific iPhone 11 Pro models include the iPhone 11 Pro A2215 for Europe and Asia — also known as the global/international model — and the iPhone 11 Pro A2217 for China and Hong Kong.
For more on iPhone 11 Pro network compatibility — including a full list of each network's specific frequencies and bands supported by the iPhone 11 Pro — head over here. There you can compare each networks frequencies and find out which network best supports the iPhone 11 Pro.
IPHONE 11 PRO WIRELESS NETWORK COMPATIBILITY
iPhone 11 Pro price and storage options
Prices for the all new iPhone 11 Pro aren't exactly what anyone would consider cheap. Current prices for a brand new iPhone 11 Pro from Apple is $999 (64GB), $1,149 (256GB), and $1,349 (512GB). While there is a more affordable model in Apple's 2019 iPhone lineup — the regular iPhone 11 — you'll have to sacrifice some hardware features and performance in order to save a few bucks. Our advice? Opt instead for a gently used iPhone 11 Pro in the Swappa marketplace.
On Swappa you'll find steep discounts on the iPhone 11 Pro and with prices constantly dropping, it's always a good time to buy. Right now the current used price for an iPhone 11 Pro on Swappa starts at $905 and varies depending on the model and storage size. Whether you're looking to upgrade or replace your existing device, you can find the best deals on an iPhone 11 Pro by hitting the button below. Happy shopping.