---
Apple has long offered previous generation iPhones as more affordable options for those on a budget, but in 2018 they officially flipped the script with the launch of iPhone XR.
The iPhone XR was Apple's more affordable version of the iPhone XS and iPhone XS Max that launched that same year (2018). The XR offered many of the current generation flagship iPhone features — including an all-screen front face, Face ID (no more home button), water resistance, and wireless charging — only with slightly cheaper hardware that's easier on the wallet. Needless to say, the iPhone XR was another huge success for Apple, showing the world there was a market for a cheaper iPhone with almost premium specs.
At the time, Apple's naming convention made sense. The iPhone XR wasn't considered a true Apple flagship (since it featured more mid-range hardware), but it was a big enough success that Apple officially brought it into the proper iPhone number lineup with the release of the iPhone 11 the following year (2019).
The iPhone 11 is a direct successor to the iPhone XR and continues the tradition of Apple's lower-priced flagship offering for 2019. In an alternate reality, had Apple stuck with their previous naming convention, the iPhone 11 might have been known the iPhone XR 2nd Generation, iPhone XR (2019), or even the iPhone 11R.
Whatever you want to call it today, the iPhone XR's success forced Apple to give the phone a proper place in their iPhone lineup with an official number title. With the iPhone 11, the what-could-have-been-the-iPhone-XR-2nd-Gen is now a proper Apple flagship. Keep reading for more on the iPhone 11 vs iPhone XR specs, including features and pricing differences.
iPhone XR vs iPhone 11 features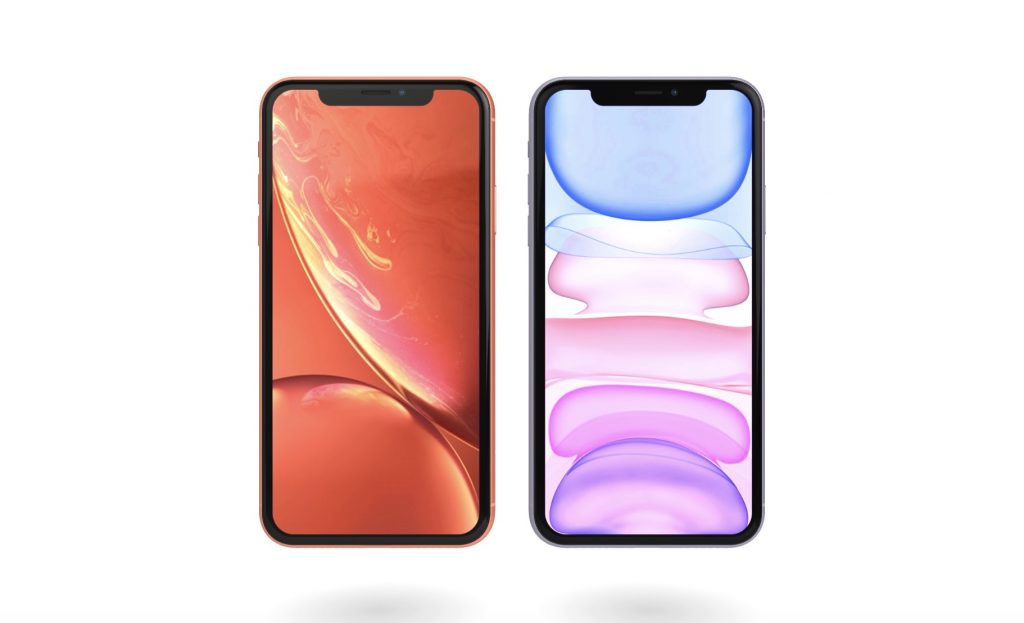 Looking at the two side-by-side, iPhone XR and iPhone 11 don't look any different from head-on. Both the iPhone XR and iPhone 11 use Face ID to unlock the phones, and the absence of a home button means you'll have to rely on Apple's gesture system to navigate the UI. It's only when you look at the spec sheet or flip them over that you'll find the biggest differences.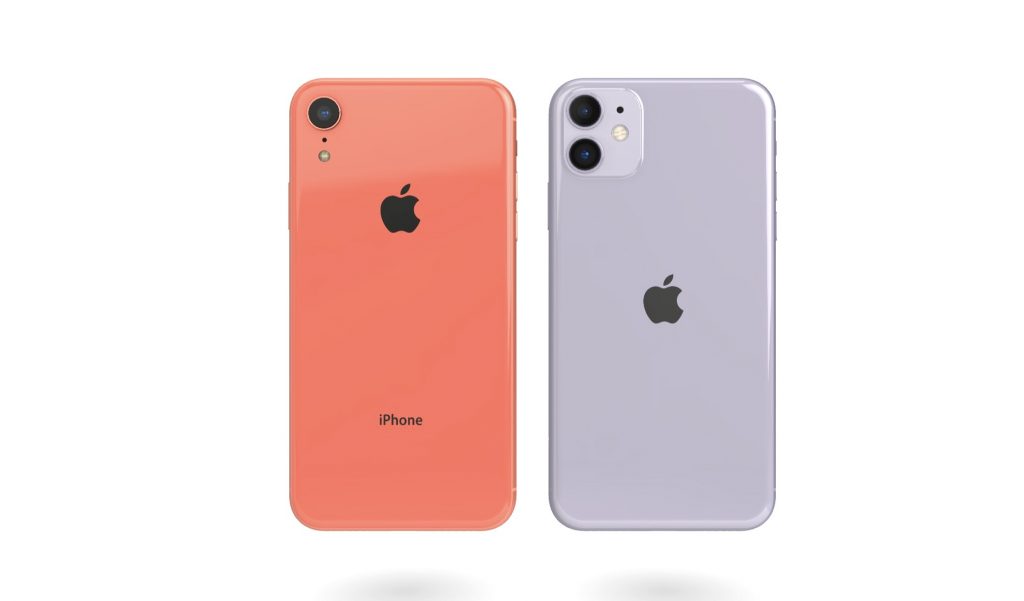 The most obvious is the addition of an extra camera lens on the iPhone 11, up from the iPhone XR's single lens. However, this isn't the only difference between the iPhone 11 and the iPhone XR, as there are lots more changes under the hood. Take a look at the spec sheet below to see for yourself.
| | iPhone XR (2018) | iPhone 11 (2019) |
| --- | --- | --- |
| Display | 6.1-inch 1,792 x 828 LCD (True Tone) | 6.1-inch 1,792 x 828 LCD (True Tone) |
| Camera | 12MP rear / 7MP front | 12MP wide angle, 12MP ultra wide / 12MP front |
| Chipset | A12 Bionic | A13 Bionic |
| RAM | 3GB | 4GB |
| Storage | 64GB / 128GB / 256GB | 64GB / 128GB / 256GB |
| Battery | 2,942 mAh | 3,110 mAh |
| Wireless charging | Yes | Yes |
| Water resistant | IP67 | IP68 |
| Colors | Blue, black, coral, red, white, yellow | Purple, yellow, green, black, white, red |
iPhone XR vs iPhone 11 performance
One of the most important specs from the above table is the processor. The iPhone XR comes equipped with Apple's A12 Bionic which was a big leap over the previous generation A11 in terms of energy efficiency, using 50% less power which results in long battery life (easily one of the iPhone XR's best features).
The iPhone 11 ups the ante with the A13 Bionic chip that's 20% faster than the A12, while using 30-40% less power than the A12. This means the A13 can deliver the same performance as the A12 while using less power, so you won't have to plug in as often, whether you're browsing social media or playing your favorite game.
A13 Bionic vs A12 Bionic: power savings
A13's high-performance CPU cores use 30% less power
A13's high-efficiency cores and GPU use 40% less power
A13's Neural Engine uses 15% less power
iPhone XR vs iPhone 11 multitasking
It's also worth noting that the iPhone 11 has 4GB of RAM, which is more than the 3GB found on the iPhone XR. It's not a spec most people pay attention to, but it really helps with multitasking. More RAM means more apps that can stay open in the background, resulting in fewer app reloads.
Let's say you're filling out a form inside your web browser and need to open another app to check on something. If your phone is running low on RAM, the web browser will close to make room for the newly opened app. Once you return to your web browser, all that information you entered will be gone, forcing you to start over from scratch.
Of course, that's a worst-case scenario, but waiting for an app to reload and losing your spot (whether that's Facebook, Instagram, or Reddit) can be a huge headache. 4GB of RAM is currently the highest amount you'll find on an iPhone, something that helps give the iPhone 11 an edge over the iPhone XR.
iPhone XR vs iPhone 11 size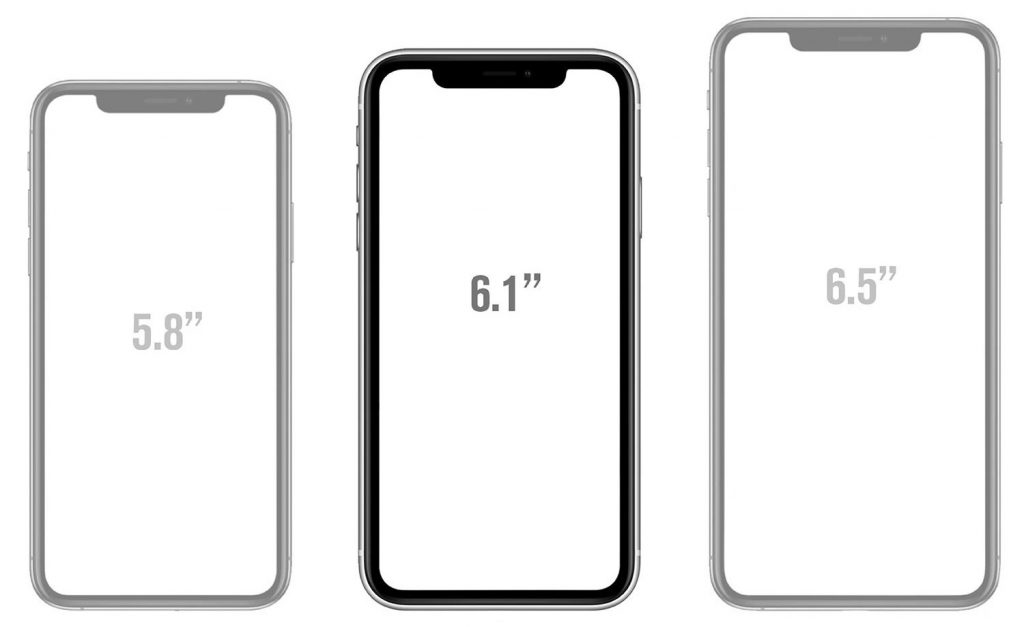 iPhone XS/11 Pro, iPhone XR/11, iPhone XS Max/11 Pro Max
The iPhone XR measures in at 150.9mm (tall) x 75.7mm (wide) x 8.3mm (thick). This means the iPhone XR is taller than the iPhone XS, but smaller than the iPhone XS Max which was released the same year. It's also thicker than both of these phones, with the XS and XS Max measuring in at 7.7 mm thick. At 194 grams, the XR is quite a bit heavier than the XS (177g), and only slightly lighter than the XS Max (208g).
The iPhone 11 has exactly the same dimensions of the iPhone XR (150.9mm x 75.7mm x 8.3mm), along with the same weight (194g). As we saw with the previous year's lineup, the iPhone 11 is larger than the iPhone 11 Pro (144mm x 71.4mm x 8.1mm), and smaller than the iPhone 11 Pro Max (158mm x 77.8mm x 8.1mm), while coming in at only a hair thicker. The weight of its siblings increased in 2019, so it's only a few grams heavier than the 11 Pro (188g), but much lighter than the 11 Pro Max (226g).
iPhone XR vs iPhone 11 screen size measures in at 6.1-inches from corner to corner, with slightly thicker black bezels surrounding the display when compared against OLED variants (iPhone X, iPhone XS, iPhone XS Max, iPhone 11 Pro, or iPhone 11 Pro Max). Because this is Apple's more affordable model, the screen technology and resolution take a hit as well. Both the iPhone XR and iPhone 11 feature a TFT 1,792 x 828 LCD panel, something Apple calls "Liquid Retina HD" in their marketing materials.
Compared to iPhone XS and 11 Pro (2,436 x 1,125), and the iPhone XS Max and 11 Pro Max (2,688 x 1,242), the iPhone XR and iPhone 11 are much lower resolution, but most folks will have trouble making out any differences in picture quality with the naked eye. The displays on both models look great — and at 625 nits, the screens are plenty bright.
iPhone XR vs iPhone 11 camera
Both the iPhone XR and iPhone 11 take advantage of Apple's Smart HDR for improved photo and video quality. Smart HDR is an evolution of standard HDR found on older iPhone models. It takes several photos at various exposures and combines them for a much sharper image with better dynamic range.
This also extends to video, where the iPhone XR and iPhone 11 can both record 4K HDR (high dynamic range). The only difference between the two is that the iPhone 11 adds 4K video stabilization and QuickTake video capture with subject tracking. And while the iPhone XR has only a single-lens camera on the back, both the XR and iPhone 11 are capable of capturing Portrait Mode photos with depth control and advanced virtual bokeh.
The difference is the iPhone 11 has a dual-camera system that features a secondary ultra-wide camera with a 120-degree field of view, as well as a higher resolution front-facing TrueDepth camera for more detailed selfies. The iPhone 11 also features Night Mode, Apple's all-new camera feature debuting on their 2019 lineup.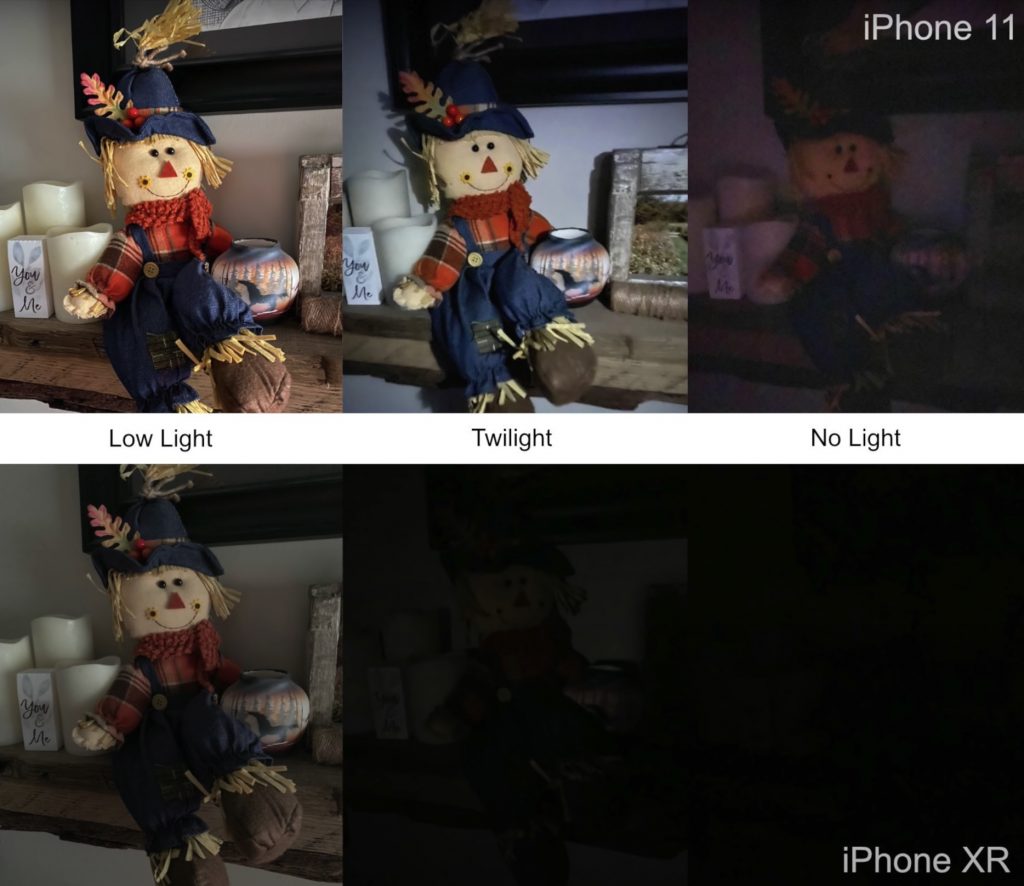 Night Mode leverages the power of the A13 Bionic chip to capture long exposure times and deliver low light shots that would be impossible on most cameras, let alone a camera found on a cell phone. Just take a look above for examples of extreme low light shots captured on the iPhone XR and iPhone 11. The difference is dramatic, to say the least.
iPhone XR vs iPhone 11 battery life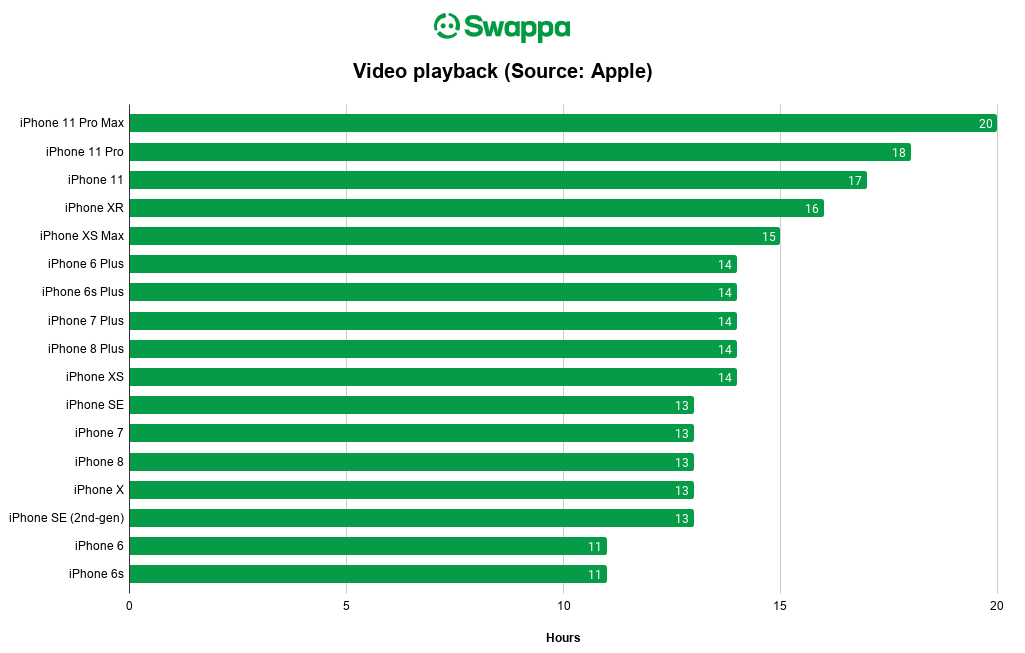 Battery life is one of those metrics that's incredibly difficult to measure. Thankfully, Apple tries to standardize this a bit by providing video playback scores for all their devices. It's a great way to rank their devices, even if the scores won't tell you how many hours of battery life you can expect with on/off usage (browsing social media apps, sending messages, watching videos).
In the case of the iPhone XR vs iPhone 11 battery life, both of the devices are pretty evenly matched. The iPhone 11's more advanced A13 processor does help it sip battery power, using 30% less power than the iPhone XR's A12. This provides roughly an extra hour of video playback on the iPhone 11, although it's not as dramatic of a leap as moving from the iPhone XR to the iPhone 11 Pro Max. The iPhone 11's ever so slightly higher-capacity battery may play a part in this as well.
Both the iPhone XR and iPhone 11 already deliver exceptional battery life, right up there with the best of them. But if you're looking to get the most out of your phone's battery, the iPhone 11 is probably the way to go.
iPhone XR vs iPhone 11 price
When trying to find out which iPhone model is right for you, price almost always plays a role in the decision-making process. When comparing the iPhone XR vs iPhone 11 prices, there's a pretty big difference.
On Swappa, the iPhone XR price starts at $290, while the iPhone 11 price starts at $440. That means you're looking at a $150 difference in price. While that may not be enough to buy another iPhone XR, is it enough money to make you think long and hard about those iPhone 11 upgrades (slightly improved battery life, ultra-wide camera, Night Mode).
The good news is that no matter which iPhone you decide to buy, you can rest assured knowing that you always find the best iPhone deals by shopping on Swappa. Our marketplace is free from junk, broken, and blacklisted devices, as well as all the other headaches you'd normally find on yard sale apps. With 24/7/365 support, help is never more than an email away. So don't want any longer and join the Swappa community today.