---
Broken phones suck. We use our phones to communicate with loved ones, play games, and even run businesses. But when they are dropped, cracked, or just plain don't work, we need a fast, reliable fix at a price that won't break the bank.
That's why we've created the Swappa Repair Network. The network brings together over 2,300 repair shops that can help you fix a broken screen, repair water damage, or whatever other shenanigans have befallen your phone. Search for local repair shops near you, compare pricing for common repairs and find out if it's worth it to repair your device. Or if it's more cost-effective to buy a new one.
We're also giving you the information you need to know before you start the repair process. For example, did you know you'll likely need to give the repair shop your PIN code or password so they can verify your device is functioning properly and perform a diagnostic?
Whether you're buying a newish device on Swappa or looking for a repair shop that can help you get your device in working order, our goal is to help you save money in the process. Think of Swappa as your guide to getting a phone safely and at the best price — whether it's a deal on a brand new phone, buying a newish device, or getting your current one repaired, we've got you covered.
How to get started using the Swappa Repair Network
Getting started with the Swappa Repair Network is pretty simple. If you know you want to repair your phone, there are a few paths you can take to find the right repair shop for you.
The quickest route to repair:
Navigate to the Swappa Repair Network and either enter your address to find a repair shop near you or search by metros in your state. Drill down to select the right location and see what services are offered, and the information to connect with that repair shop however you choose (things like a website link which often leads to an online scheduler, telephone number, or even via email). You'll find directions on how to get to the shop as well as helpful information like store photos, pricing, and additional information about the location.
Finding out how much repair costs:
We've done the work for you, pulling together common repair pricing across repair shops and even for places like the Apple Store. Visit the Swappa Repair Calculator to get a phone repair cost estimate and find out whether it's cheaper to fix it or get a cheap replacement on Swappa. Alternatively, if you have an iPhone simply navigate to our iPhone Repair page where you can find aggregated repair prices as well as on an individual device level. The same holds true for Samsung and Google.
Want to know what the average cost is to fix a broken screen for an iPhone 7? We've got that collected for you. Water damage? We won't ask what happened. But we can tell you the average cost to fix water damage for a Samsung Galaxy S9. These prices are collected and aggregated, so make sure you check out the prices for individual locations.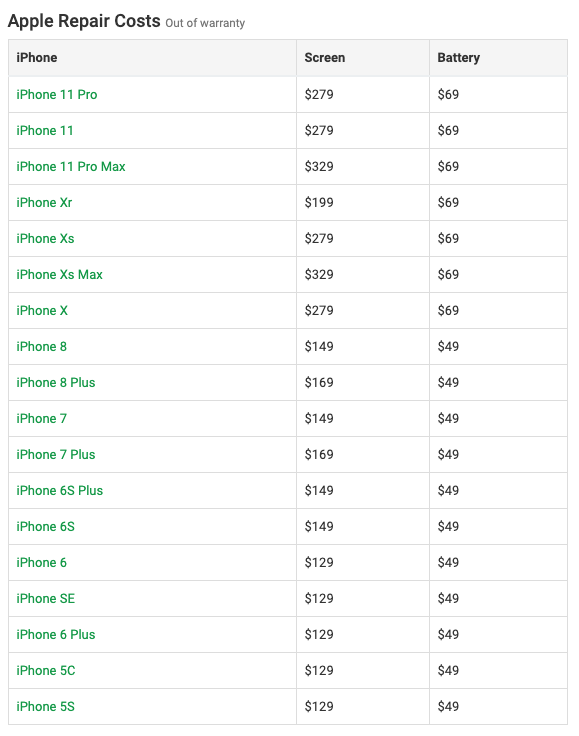 If you need to repair something other than a phone:
A majority of our listed locations repair more than just phones. Navigate to the location and check out if the repair shop offers that service.
If you're new to repair:
New to repair? No problem. Check out our helpful guide that answers common repair questions. We've also got specific repair guides for iPhones, Samsung, and Google.
If you've decided not to repair, but still need a replacement:
Repair is a cost-effective option to get your device working again. But sometimes it's too expensive or not an option you want to pursue.
Safety, simplicity, and the human factor make Swappa better than other marketplaces. We protect our sellers and buyers with no junk and PayPal protections. Our helpful staff reviews every listing to ensure it meets our strict quality standards and our support staff responds to any issues in less than an hour. 24/7/365. We're known for buying and selling mint, new and newish phones, tablets, laptops, gaming consoles, smartwatches, and other tech. We help users save money every day.
How do I pick a repair shop?
Location matters but make sure the shop offers what you need. Common repairs such as screen replacements and battery replacements will likely be found at any repair shop. But more specialized repairs may not always be available at every shop, check the services offered at each location, or when scheduling, be sure to ask the repair shop what's available.
Know before you go
You can also inquire about how the shop works. For example, many shops offer a free diagnostic check, which will be helpful if your device is acting up and you aren't sure of the reason.
Some other factors to consider when choosing a repair shop include what to expect in terms of the turnaround time, and what kind of parts they use (genuine from the manufacturer or third-party replacement). Any repair shop you find through the Swappa Repair Network is required to offer a minimum 30-day warranty on all repair work, but most offer longer warranties.
Want to know more about how to pick the right repair shop?
Check out our guides. We've collected common repair questions and answers so you can get your device fixed quickly, without doing the work to know what to ask.
What's required for a repair shop to join?
We always want you to have the best experience when you use Swappa, protecting you and your purchase is one of our highest priorities. That's why you'll see some of the same protections in our repair network such as manual reviews of repair shops that request to join our network.
Repair shop owners are responsible for filling out the business profiles you see in the Swappa Repair Network, and the details are verified by Swappa staff members. We also have some basic requirements that need to be met before a shop can be listed in the Swappa Repair Network. All repair shops must meet the following requirements:
Verifiable business name, address, phone number, and web presence
Minimum 30-day warranty on all repairs
Retail location. Repair shops cannot be listed if they operate out of a residence or other non-retail location
Swappa suggests shop owners get more in-depth and add images of their shops, as well as descriptions of the repair services they offer. Shop owners are also encouraged to include pricing details for common repairs, which should help to give you a better understanding of what the repair may cost.
*********
You can check out the repair network by visiting the Swappa Repair Network page on our website. Or, you can jump directly to the Store Locator page using the green button below.