---
Apple released iOS 15 on September 20, 2021. iOS 15, originally announced at WWDC 2021, is the next big firmware update for your iPhone. This new release brings loads of new features like iCloud+, Focus mode, a new notifications experience, Live Text for images, an advanced Spotlight search, new keys and state ID cards in Apple Wallet, new privacy features, and more. You'll also find improvements to apps like Messages, Notes, Weather, Maps, Safari, and Health.
---
When will Apple release iOS 15?
Apple fans can generally expect a few big announcements each year. One of these events is WWDC, which typically takes place in June. Another event is when Apple announces the new iPhone lineup, and this generally happens in September. The latest iPhone event, dubbed California Streaming, took place on September 14, and it included details on the iPhone 13 lineup along with the iOS 15 release date: September 20, 2021.
Which iPhones are getting iOS 15?
If you have a working iPhone, there's a good chance it's probably getting iOS 15. That's because Apple says they'll be pushing the iOS 15 update to iPhones dating all the way back to iPhone 6S and iPhone 6S Plus, which were released in September 2015. Below is the full list of iPhones that will be receiving the iOS 15, and the best part? You can find them all right here on Swappa.
iPhones that will get updated to iOS 15:
It's worth noting that although all iPhones dating back to 2015 will receive the iOS 15 update — every feature will not be available for every iPhone. A handful of specific iOS 15 features will be missing on older iPhones that lack the necessary hardware. For instance, some iOS 15 features are only available on iPhones equipped with the A12 Bionic and later. The A12 Bionic was released in October 2018 and includes the following iPhone models: XR, XS, and XS Max. And, some of the iOS 15 features, such as digital keys require support from third parties.
iOS 15 new features
Apple is releasing iOS 15 on September 20, 2021, however, not every iOS 15 feature will immediately be available. For example, one of the highlight features, SharePlay, will be arriving in Fall 2021. One available, SharePlay will allow FaceTime users to watch television and movies, listen to music and even share their screen with friends and family.
Privacy: New privacy highlights include an App Privacy Report, which allows you to see how the apps are using the permissions you granted them; Mail Privacy Protection, which hides your IP and prevents senders from seeing if you've opened their email; and on-device speech recognition for Siri
iCloud+: Adding an extra layer on top of iCloud. The iCloud+ highlights include iCloud Private Relate, Hide My Email, and additional support for HomeKit Secure Video
Focus: Apple is intending for Focus to be able to help you stay in the moment, such as when you are driving, or playing a game, or when you just want a little time not to be distracted. Another highlight of Focus includes being able to let others know your current status in Messages and other communication apps.
Notifications: Apple is giving notifications a new look in iOS 15. The redesigned notifications will get contact photos, and larger app icons. Apple is also rolling out an improved notification summary, which according to Apple, will be "intelligently ordered by priority."
Live Text in photos: This should be a fun new feature. Live Text in photos will allow you to select, copy, and directly use text from an image. For example, you can take a picture of a promotional flyer and select a phone number or email address for quick use.
Visual Look Up: This new feature means you will be able to quickly find more information and items and things in your photos.
Along with these new features, some of the default Apple apps that will be getting improvements with the release of iOS 15 include Maps, Safari, Wallet, Photos, and Health. But that's not all of it, so if you're looking for the entire list of new features, you can check them out on Apple's website here. It's a pretty robust list, so make sure you set aside some time to browse it over.
What's the cheapest iPhone with iOS 15?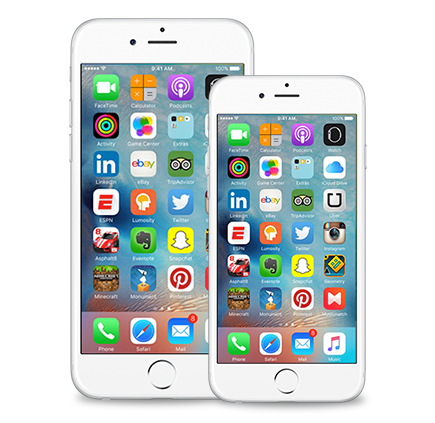 Unsurprisingly, the cheapest iPhone you can get with iOS 15 is also the oldest: the iPhone 6S. With a starting price of around $90, it truly is remarkable how Apple has managed to shoehorn their latest firmware into a phone that will soon be over 6 years old.
Aside from an obvious lack of modern hardware features, Apple also had to cut some corners from iOS 15. For instance, the iPhone 6S doesn't support iOS 15's spatial audio with dynamic head tracking (available on the iPhone 7 and above), Walking Steadiness (available on the iPhone 8 and above), and of course, improvements to 5G connectivity (available on iPhone 12 and above).
It's certainly not the best iPhone around, but iOS 15 could help breathe new life into the very affordable iPhone 6S. If you're looking for something affordable, and more capable, we'd suggest going with the iPhone SE (2020), which features a similar design but adds the more powerful A13 Bionic chip, while still keeping the home button and Touch ID.
The best cheap iPhones with iOS 15
If you're looking to get the best iOS 15 experience for the least amount of money, the iPhone XS may be your best bet. The iPhone XS offers premium hardware and is the oldest model that supports a wide range of iOS 15 features.
The iPhone XS features Apple's A12 Bionic chip, 4GB of RAM, and long battery life — the iPhone XS is the best iPhone with iOS 15 you can get for the money. The best part is you don't have to sacrifice any major iOS 15 features, and either phone will provide you with a great experience for years to come. On Swappa, the starting price for the iPhone XS is currently around $325.
Alternatively, if you can push your budget up a little bit, the iPhone 11 is another solid option, and with current prices starting around $390 you'll get a phone that was originally released in late 2019 and powered by Apple's A13 Bionic chip.
---
Shop safe with Swappa and save big
Why should you buy your next iPhone on Swappa? Well, other than having the best deals on this side of the internet, Swappa is also the safest marketplace to buy used tech. We don't allow junk to be sold, and our listings are verified by real people. This means you can shop with confidence. Here's why:
But don't take our word for it. Check out Swappa's near-perfect Trustpilot rating. So don't waste any more time, and start shopping safer today.