---
Americans are endlessly creative — in how we break our phones, as well as how we try to repair them.
For example, a man drops his phone while trying to take a selfie (amazingly, the cause of 5% of all cracked screens) and then tries to fix the problem by smearing it with toothpaste. A woman's cat knocks her phone off the bathroom counter and into the toilet. She tries to fix it by placing the wet phone in a bag of kitty litter for two days… Yes, these are true stories.
Of course, we're never going to stop breaking our phones, and we're always going to be on the hunt for creative, money-saving hacks. So to help you determine the best way to handle your broken phone, we've compiled some of our favorite frequently asked questions on cell phone repair.
Can I fix my broken phone myself?
You might be able to fix your own phone, but most people shouldn't attempt it. Modern iPhones and Android phones are incredibly complex machines that sandwich hundreds of delicate parts between two thin panes of glass. Most of the time, these components are glued together, making cell phone disassembly and repair difficult or impossible for the average user without the appropriate tools and training.
There are plenty of DIY kits and how-to videos that make phone repair seem pretty straightforward, but this doesn't save you much time or money in the long run. And depending on your device, the required cell phone repair kit may actually cost more than a professional repair service at your local repair shop.
In addition, failed repairs often result in additional damage, leading to a costlier repair bill when you take it to a professional. So trust the repair to a professional, and make sure your phone is fixed right the first time.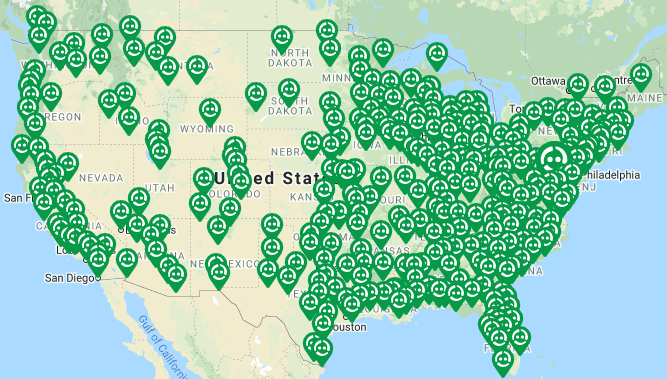 How much does phone repair cost?
Cell phone repair costs depend on your device and what's wrong with it. There are many different types of cell phone damage — ranging from cracked screens to water damage and everything in between — and prices will vary accordingly.
In general, volume and power button repair, battery replacement, and cracked rear glass replacement are simple and relatively inexpensive. Screen repair on older phones is usually pretty cheap, but often becomes more expensive on newer phones with laminated OLED or Super Retina XDR displays. Water damage repair costs are a bit harder to predict, as the complexity of repair depends on how much water got into your device and how long it stayed there.
To get a cell phone repair estimate for your phone and to find out how much it's worth once it's repaired, use the Swappa Phone Repair Calculator. After entering in your phone, storage size, and the type of repair you need, our handy tool tells you how much your phone is worth and whether it makes sense to get it repaired. After all, it may end up being cheaper to get a cheap replacement phone on Swappa instead.
In addition to the Swappa Repair Calculator, we have several guides where you can learn more about cell phone repair:
Once you're ready for repair, search the Swappa Repair Network for a reliable phone repair shop near you. Many of the shop profiles provide repair estimates for common issues, including cracked screens, dead batteries, water damage, diagnostic fees, and charging port repair.
I dropped my phone in water. Should I put it in a bag of rice?
The short answer is, "No."
There are many alleged online hacks for fixing smartphone water damage — including cat litter, oatmeal, couscous, and quinoa — but even the best outcomes are only temporary. (And do you really want your wet phone sitting in kitty litter for a few days?)
In fact, the so-called "rice trick" may do more harm than good. As explained by Dave Takushi, an industry veteran with over 20 years of experience:
"The short answer is the rice trick may, in fact, do more harm than good. Rice dust, grains, and pieces tend to end up in charge ports and headset jacks and can even end up inside the phone itself. It also can't fix anything that the water already damaged. Sometimes the water doesn't get very far and the phone is fine. Other times it reaches vital components and the phone is dead."

Dave Takushi, Managing Partner for Device Pro Solutions in Kansas City
These questionable hacks also take time, requiring you to wait at least 24-36 hours before testing the phone again. Our recommendation: Find a local repair shop and get it done right. Professional repair shops can also perform data recovery service on your water damaged phone. So rather than making things worse with pseudoscience, get your phone fixed by a professional.
I need my phone back! What's the fastest way to get my phone repaired?
Smartphones are no longer "optional," so we know you can't bear the thought of being without your phone for a few days. Fortunately, the majority of professional repair shops can handle most phone repair issues in just a matter of hours. So what are you waiting for? Find a local repair shop now and get your broken phone fixed today!
Is it even worth repairing? I'm probably just going to get a new phone.
Even if you're thinking about getting a cheap replacement phone, you should consider getting your broken phone fixed. Your phone has resale value, and you might even be surprised by how much your used iPhone is worth.
Find out how much it costs to repair your phone and what it's worth repaired with the Swappa Phone Repair Calculator. Then, click the button below to find a local repair shop near you.