---
You can protect your iPhone by putting it in a case, or by being extra careful, but regardless of how careful you may be — the battery life will degrade over time with regular usage. And, with smartphones getting more and more expensive, and Apple offering software updates for longer and longer, people are keeping their phones for longer. Lots of people are also buying newish iPhones as a way to save some money.
This means that more and more people will start looking to replace the battery in their iPhone. After all, assuming your iPhone otherwise meets your needs, replacing the battery is a great way to extend the life. Fortunately, it is relatively inexpensive to get the battery in your iPhone replaced — you just need to know where to find a repair shop to get your battery replaced for cheap.
---
Find a trusted local repair shop to install a new iPhone battery
Once you've decided to get your iPhone battery replaced, the next step is to find a repair shop. You will likely want to find a repair shop that is close to where you live or work, and you will also want to find one that you can trust. This is where the Swappa Repair Network comes in to assist.
iPhone battery replacement near you
Getting started on your search for a repair shop near you is easy — just navigate to the Swappa Repair Network, where you will find a network of over 2,400 trusted repair shops. Once on the Swappa Repair Network page, you enter your city or zip code in the "Search Phone Repair" box. Alternatively, you can also tap on the "iPhone Repair" link, which will let you begin your search based on the model iPhone you have.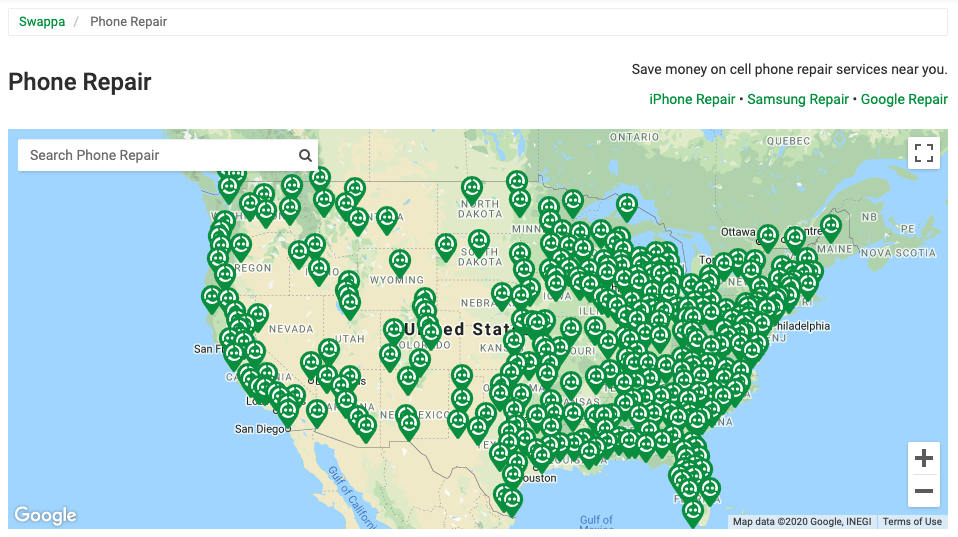 As soon as you have located a repair shop near where you live or work, you can tap on the shop name to bring up the profile page. The profile pages for the repair shops each have detailed information about the shop. Details on the profile pages will include the basics such as the name and address. You will also be able to get directions to the shop, or a link to their website, as well as contact information such as the email address and telephone number, just in case you have questions before moving forward with the battery replacement. Many shop owners also include additional information such as the hours of operation, pictures of their business, and details on the services they offer.
Find out how much it will cost to replace your iPhone battery
Pricing information for common repairs can be found in the "Repair Service Pricing" section of the shop profile pages. For battery-related price information, you would just need to look in the "Battery" column of the price list.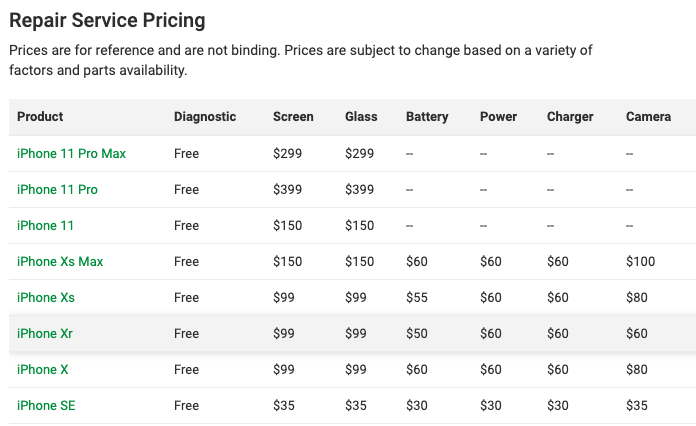 Having the price information listed will allow you to move forward knowing what you can expect to pay. Of course, we also recommend reaching out to the shop and confirming the exact cost of the battery replacement before you drop off your iPhone. Many shops found in the Swappa Repair Network will provide a free estimate should you reach out via email or telephone.
Alternatively, you can go directly to the Swappa Phone Repair Calculator to get an estimate of the cost to replace the battery.
Top reasons why you should use the Swappa Repair Network
The Swappa Repair Network is a great place to begin your search for a local repair shop. As a first point, the repair network has more than 2,400 shops listed, and that means you shouldn't have much trouble finding a shop that is close to where you live or work. But…finding a local shop is only half the battle — you also want to find a shop you can trust.
All of the repair shops listed in the Swappa Repair Network must follow certain guidelines in order to be listed. Those guidelines include the following;
Must have a verifiable business. This means each shop must have a verifiable business name, address, phone number, and web presence. These details are all checked and verified by Swappa staff members before the repair shop is approved.
Must have a retail location. This means each shop needs to be operating out of a regular retail location. Repair shops that operate out of a residence or other non-retail location cannot be listed in the Swappa Repair Network.
Must offer a minimum 30-day warranty on all repair work. Swappa requires each shop to offer a minimum 30-day warranty on all repair work, however, you'll find that many shops offer a longer warranty, with many being as long as 90-days.
Why should get a professional to replace your iPhone battery?
We outlined a few reasons why you should use the Swappa Repair Network, and one of those reasons partially carries over to answer the question of why you should use a professional, as opposed to attempting the repair on your own. The portion that carries over is the fact that you will get a warranty on the repair work, just in case something isn't quite right. But on a slightly simpler level, the professionals are trained to handle these kinds of repairs.
How to keep your new iPhone battery performing well
Now that you've replaced your battery — we should talk a bit about how to care for your battery so you can maximize the lifespan. Keeping in mind that battery degradation will be caused by a variety of factors that include more than just regular daily use. Some of the other items that will cause your iPhone battery to degrade over time include the age of the battery, the charging patterns, and even the temperature history.
Avoid extreme ambient temperatures: Apple recommends trying to avoid temperatures higher than 95 F (35 C). Charging your phone in this extreme temperature can damage your battery, and iOS may even limit charging to 80% capacity when the recommended battery temperatures are exceeded. Similarly, using your iPhone in extreme cold temperatures may also cause battery issues. Apple defines too cold as being below 32 F (0 C).
Temperature when charging: With temperature, your first thought may be the outside temperatures, such as being out on a hot sunny day. But you may also want to consider the case you have on your iPhone. Some cases may actually hold heat, which brings the potential for the device to overheat while charging.
Store your iPhone half-charged if not being used: If you aren't going to be using your phone for any length of time, Apple recommends charging the battery to around 50% and then powering it off. Also, make sure to keep it stored in cool place where the temperature does not exceed 90 F.
Some other tips to help keep your battery in good shape is to make sure you are running the latest version of iOS — and to take advantage of the features offered by iOS. This includes allowing the phone to use Low Power Mode, which will kick in when your battery gets to 20%, and then again when it gets to 10%. Another iOS feature to monitor is the Battery Usage information. You can find that by navigating to Settings -> Battery.
As part of iOS 13, Apple added a feature called Optimized Battery Charging. This was added to help improve the lifespan of the battery, and it is turned on by default. You can review this setting to make it is currently on by navigating to Settings -> Battery -> Battery Health -> Optimized Battery Charging on your iPhone.
**********
This particular post focused on getting your iPhone battery replaced, but the shops listed in the Swappa Repair Network all offer lots of additional repair services. You can also use the repair network to find a shop to replace your broken screen, fix your charging issues, fix any camera (or camera glass) issues, take care of water damage if your phone went for an accidental swim, and more. Getting started on your search for a repair shop is as quick and easy as tapping the green button below.