---
Things break — it's just a simple fact of life. But when a critical piece of tech like your iPhone goes out of commission, it can feel downright catastrophic. Fortunately, a cracked screen, dead battery, broken home button, and even water damage aren't the end for your device.
Breaking your phone isn't fun, but at times, a broken phone can be used as an excuse to upgrade. Tap the green button below if you're leaning towards this being your excuse.
Keep reading to learn how to fix your broken iPhone, how much iPhone repair costs, how to back up your iPhone prior to repair, and whether fixing your broken phone is worth it.
Can I fix my broken iPhone?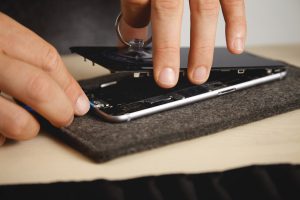 If your iPhone has taken a few too many drops, or if it simply won't power on, it's easy to think that it's done for. After all, modern iPhones are extremely complicated devices with hundreds of components sandwiched between two thin panes of glass. Although this makes DIY repair next to impossible without adequate experience and expensive tools; most common iPhone problems such as cracked screens, water damage, and a dead battery can be fixed by a skilled repair shop in just a few hours.
The bottom line is that, while it may be possible to repair your iPhone yourself – it is best to leave this to the professionals because they have the necessary tools and experience to get the job done without causing any further damage.
How much does it cost to fix my iPhone?
iPhone repair costs vary considerably depending on which iPhone model you own and what is wrong with it. Broken home buttons, stuck power buttons, loose charging ports, and dead batteries are generally cheap and easy for a skilled repair shop to fix.
On the other hand, cracked screen repair is often inexpensive on older iPhones with LCD screens — but it can get pretty pricey on newer iPhones due to greater component costs.
Average iPhone screen repair costs
iPhone screen repair prices and replacement prices, collected on January 3, 2023
As you've likely discovered from the prices listed above – iPhone screen replacement costs can be costly. Oftentimes, it may make more sense to pick up a cheap replacement iPhone on Swappa instead of fixing your cracked screen. This is particularly true for older or lower-priced phones such as the iPhone SE (2nd gen) and the iPhone Xr, where you can often get a replacement for around the price of an iPhone repair. Or, alternatively, you could use the damaged iPhone (and subsequent repair cost) as an excuse to upgrade to a newer model.
Average iPhone battery replacement costs
Aside from cracked screens, battery replacement is the next most common type of iPhone repair. In fact, batteries are considered a "wear item." This means that your battery won't last as long as it once did after a few years and a few thousand charge-discharge cycles. Fortunately, if your iPhone won't hold a charge, battery repair is one of the simplest types of repair — typically costing $99 or less.
iPhone battery replacement prices, collected on January 3, 2023
Similar to what we saw with screen repair, battery repair may not always be worth it. Although battery replacement is fairly affordable — and often cheaper than buying a replacement phone — it doesn't always make sense to fix an older phone, especially if you're already considering an upgrade in the near future.
If you have an iPhone Xr or newer, battery replacement makes sense, since these phones are still capable of handling modern applications and can run the latest version of iOS. On the other hand, if you own an older device such as an iPhone 8, iPhone 8 Plus, or a 1st generation iPhone SE, you're much better off upgrading to something newer instead.
Average iPhone repair costs
Screen repair and battery replacement may be the most common types of repair, but from time to time, other issues may arise. For example, issues can occur with the camera, power button, or charging port. And, while modern iPhones are water resistant, there still is the possibility of water damage. The table below outlines how much you can expect to pay to fix these other iPhone issues using a repair shop found in the Swappa Repair Network.
| | Diagnostic Service | Camera | Charging Port | Power Button | Water Damage | Speaker |
| --- | --- | --- | --- | --- | --- | --- |
| iPhone 12 | $15 | $109 | $132 | $129 | $68 | $95 |
| iPhone 12 mini | $23 | $19 | $129 | N/A | $62 | $95 |
| iPhone 12 Pro | $19 | N/A | $129 | N/A | $59 | $95 |
| iPhone 12 Pro Max | $19 | N/A | $132 | N/A | $59 | $99 |
| iPhone SE 2020 (2nd gen) | $15 | $92 | $83 | $85 | $65 | $73 |
| iPhone 11 | $15 | $117 | $85 | $90 | $91 | $80 |
| iPhone 11 Pro | $16 | $153 | $127 | $139 | $93 | $103 |
| iPhone 11 Pro Max | $16 | $160 | $129 | $104 | $64 | $86 |
| iPhone XS | $15 | $105 | $84 | $91 | $87 | $75 |
| iPhone XS Max | $15 | $114 | $88 | $93 | $86 | $78 |
| iPhone Xr | $15 | $96 | $82 | $87 | $83 | $71 |
| iPhone X | $15 | $101 | $85 | $95 | $81 | $73 |
| iPhone 8 | $14 | $85 | $81 | $79 | $74 | $64 |
| iPhone 8 Plus | $14 | $99 | $80 | $84 | $75 | $65 |
Common iPhone repair prices, collected on January 3, 2023
As you can see, repair costs vary considerably depending on which phone you have and what's wrong with it. Be sure to check out the Swappa Repair Calculator for a free iPhone repair cost estimate by tapping the button below.
Where can I get my broken iPhone fixed?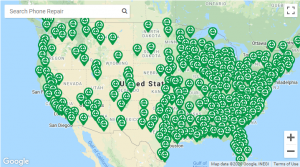 The first place many people turn to for iPhone repair is the Apple Store. But unless you paid extra for AppleCare+ when you originally bought your iPhone, be prepared to overpay for repairs. And with fewer than 300 Apple Stores spread across the entire nation, getting a same-day appointment at the Genius Bar can be next to impossible.
Independent repair shops often have faster turnaround times and typically perform similar repairs for a fraction of the price. However, finding a trustworthy repair shop can be complicated, since you're essentially handing over your most personal piece of tech. Fortunately, Swappa is here to help.
The Swappa Repair Network connects you with local, trustworthy repair shops near you. Our nationwide directory features several thousand cell phone repair shops spread across the country, meaning you're never far from iPhone repair. Rest assured knowing that all repair shops listed in the Swappa Repair Network are verified businesses, use quality replacement parts, and offer at least a 30-day guarantee on their work.
Getting ready for iPhone repair
Before you take your iPhone in for repair, you're going to want to take a few precautionary measures. Although most types of iPhone repair don't involve wiping your device's storage, it's never a bad idea to create a local iPhone backup in order to prevent data loss.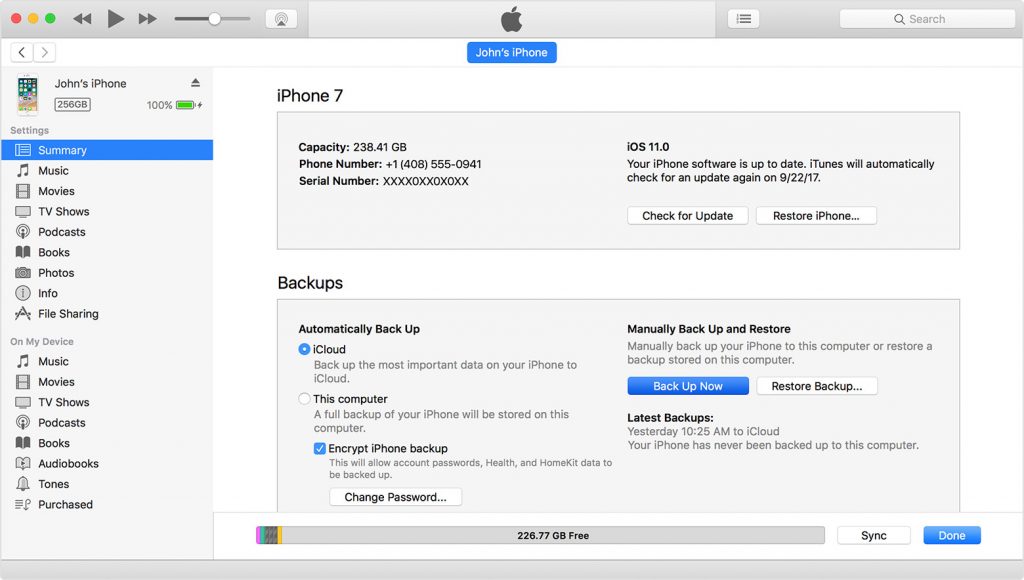 Here's how to manually back up your iPhone to your Mac or PC:
Connect your iPhone to your computer and open iTunes if you're on Windows, or Finder if you're running macOS 10.15 or later
Locate your iPhone on your computer and enter your passcode if necessary
Locate the "Backups" section within Finder or iTunes and click Back Up Now
Once your backup is complete, a message will appear in the "Backups" section stating when you last backed up your iPhone
If you are unable to perform a manual backup, let your repair shop know. They might be able to help you back up your data. Click below for everything you need to know about iPhone repair.
Is it worth it to fix my broken iPhone?
The final piece of the puzzle is figuring out whether it's better to repair or replace your broken iPhone. Deciding whether iPhone repair is worth it depends on a lot of factors, ranging from the age of your device to the type of damage it has sustained.
If you own a newer device such as an iPhone 11 or iPhone 12, repair makes sense as long as there's not too much wrong with your phone. Just keep in mind that modern phones are extremely complex, so there might be multiple points of failure on your damaged device.
On the other hand, if you have an older phone such as an iPhone 8, or below, you're better off getting a replacement or upgrade instead. Not only does this give you the opportunity to upgrade to a newer device, but used iPhone prices constantly fall as time goes on, meaning that you'll always find the best deals on Swappa.