---
We've all been there before. Maybe you were juggling one too many bags of groceries while simultaneously firing off a quick email, or perhaps you bumped into someone while walking around with your phone in hand. No matter what led up to it, the end result is the same: Your phone got up close and personal with the pavement, and now you're left with a cracked iPhone screen.
Luckily, a broken iPhone screen doesn't mean that your device is done for. There are a bunch of different options for screen replacement, and we're here to help you pick the right one. So grab your favorite beverage and keep reading, as we take a closer look at what to do when you have a broken iPhone screen.
Table of Contents:
Warranty Service at the Apple Store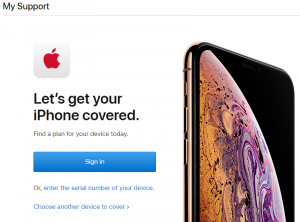 The first thing you want to do when dealing with a cracked iPhone screen is figure out whether you have AppleCare+ coverage. AppleCare+ is Apple's extended warranty plan, and it covers various types of damage that slip through the cracks of the standard warranty. AppleCare+ is only available with the purchase of brand-new iPhones, and you would have paid for it within the first 60 days of owning your device. If you are unsure whether you paid extra for AppleCare+, you can check by signing in to the iPhone Support website with your Apple ID or your device's serial number, which can be found in Settings -> General -> About -> Serial Number.
AppleCare+ covers cracked screens and other forms of accidental damage for the duration of the extended warranty agreement — typically 24 or 36 months. You can make up to two warranty claims every 24 months, and the out-of-pocket deductible is just $29. Sounds great, right? The only problem is that it's often difficult to get same-day appointments at the Genius Bar — and that's before they even start working on your iPhone. So if you've got a bunch of time on your hands and can live without your phone for a little while, AppleCare+ can get you back up and running at a relatively low cost.
What if you didn't pay extra for AppleCare+ when you bought your iPhone? Or what if you saved hundreds by buying gently used but forgot to add a Swappa Used Phone Protection Plan? Brand-new iPhones come with one year of warranty coverage starting on the original purchase date. But according to the terms and conditions of your iPhone's warranty, incidents of accidental damage are not covered in most states. In other words, if you dropped your phone and didn't pay extra for AppleCare+, you're on your own. So what do you do now?
Out-of-warranty iPhone screen repair
Don't worry if you didn't pay extra for AppleCare+ coverage; there are still plenty of good options to get back up and running. You can either attempt to fix your iPhone yourself, find a qualified repair shop to do it for you, or pick up a cheap replacement phone.
Can I fix my broken iPhone screen myself?
At first, you may be tempted to try and fix your cracked iPhone screen yourself. Although this is certainly possible, it's a pretty bad idea for most people — even those who consider themselves tech-savvy. Modern phones have become incredibly complicated pieces of technology with hundreds of tiny, fragile electronic components crammed in incredibly tight spaces.
So what does this mean for someone attempting home repair? For starters, damage from a failed repair job will likely make future repairs more costly. iPhone motherboards have hundreds of SMDs (surface-mount devices) such as capacitors, resistors, and transistors. These SMDs are extremely easy to damage or dislodge with an accidental slip of a screwdriver, requiring extensive work to replace and reattach.
The nightmare of home repair is compounded by how difficult it is to open modern phones without specialized tools due to the extensive use of glue rather than screws during assembly. And in order to perform home repair, you not only need to purchase the replacement parts, but you must also buy an expensive repair kit that you'll likely only ever use once. This means that you often end up paying as much or more than what it would cost to have a professional do the repair for you. Want proof? Check out the new Swappa Repair Calculator to see how much repair will cost, and compare that with the cost to buy replacement parts.
Finding an iPhone repair shop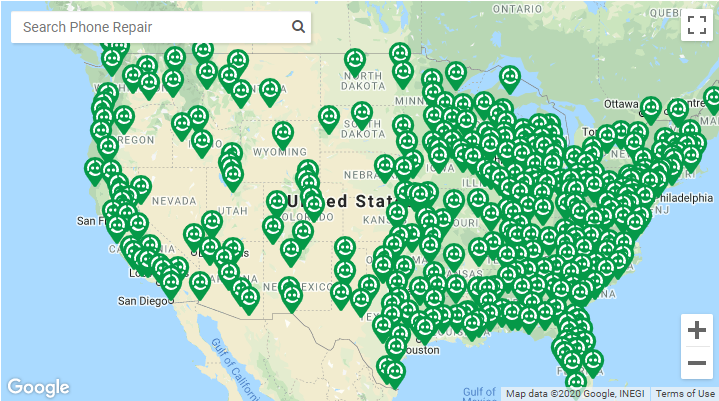 Now that we've established that home repair isn't the right choice for the vast majority of us, it's time to look into qualified iPhone repair shops near you. Finding a trustworthy repair shop isn't always easy, but that's where the Swappa Repair Network comes in. Our nationwide directory of over 2400 local repair shops across 270 metropolitan areas makes it easy to find a reputable store near you. And since every device listed on the Swappa Repair Network offers a 30-day warranty, you can rest assured that the work will be done right the first time.
How much does it cost to fix an iPhone screen?
iPhone screen repair typically ranges from as little as $50 to as much as $329, depending on a number of factors such as which specific iPhone you have. We recently launched an Android and iPhone repair cost calculator to help give you a better idea of how much all sorts of iPhone repairs will cost for your specific phone. But for those who'd prefer to see how repair stacks up in table format, here's a breakdown of how much Apple charges to fix your broken iPhone and how that stacks up to getting a cheap replacement iPhone on Swappa.
As you can see, older iPhone models cost a bit less to repair than newer models. This is for a number of reasons, including parts availability and a lower individual component cost. However, older iPhones are also much cheaper to replace — and in many cases, this ends up being less than what it would cost to fix your cracked screen. As a result, it's generally a better idea to get a replacement or upgrade rather than fix an older iPhone.
On the other hand, fixing a cracked screen on a newer iPhone is generally more costly due to the expensive components and how they're put together. That said, newer iPhones also cost a lot more to replace. So if you've got a newer device that still commands a high value on the used market, it's worth looking into repair instead.
Deciding whether to repair or replace your broken iPhone ultimately depends on which is cheaper in your particular situation. After all, screen repair only makes sense if it is cheaper than getting a replacement. Our advice would be to compare repair fees at local repair shops with the Swappa Repair Network, and then see how that stacks up to getting a cheap replacement iPhone on Swappa. The easiest way to do this is by visiting the new Swappa Repair Calculator to get a phone repair cost estimate and figure out whether it makes more sense to repair or replace your existing phone.
Getting ready for iPhone screen repair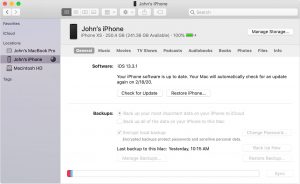 If you've determined that screen repair is the right course of action for your broken iPhone, there are just a few more steps to get your device ready for repair. Even though fixing a cracked iPhone screen doesn't typically result in data loss, it's always better to be safe than sorry. Because of this, we recommend performing a full backup of your iPhone prior to taking it in for screen repair. Don't worry; it's incredibly easy to perform a backup on iOS.
Here's how to manually back up your iPhone to your PC or Mac:
Connect your iPhone to your computer.
Open iTunes if you're using a PC or Finder if you're on macOS 10.15 or later.
Locate your iPhone on your computer and enter your device passcode if necessary.
Navigate to the "Backups" section within Finder or iTunes and click "Back Up Now." We recommend encrypting local backups for increased data security.
Once your backup is complete, a message will appear in the "Backups" section showing when you last backed up your iPhone.
Modern versions of iOS also support automatic backups to iCloud. Automatic backups can be enabled by navigating to iCloud from your Settings menu. From there, tap on "iCloud Backup" and enable automatic backups. Just be aware that since these backups rely on your personal iCloud account, you will be limited by your storage plan.
In the event that an iPhone frozen screen or blank screen prevents you from performing a manual backup, it is important to notify your repair shop and ask how best to proceed. Often times, it is still possible to perform a backup even if your iPhone touch screen is not working. Click the button below to learn more about iPhone repair and what to expect when taking your device in for service.
**********
A cracked iPhone screen is never fun, but we're here to help! The Swappa Repair Network connects you with over 2400 repair shops spread all across the country, so you're never far from a qualified repair technician. And since all repair shops listed in the Swappa Repair Network are required to offer at least a 30-day warranty on their work, you can be confident that the repairs will be done right.
Click the button below to find a local iPhone repair shop near you. If you decide to pick up a cheap replacement iPhone instead, don't forget to add a Swappa Used Phone Protection Plan this time! And if you're still on the fence about whether to repair or replace, check out the Swappa Repair Calculator to get a phone repair cost estimate!