---
Let's face it — today's smartphones aren't cheap. It has become commonplace for modern flagships like the iPhone 12 Pro to retail for well over $1000. But that doesn't mean that you have to pay more. iPhone and Android prices are influenced by a number of variables including time of year, time since release, how well it's selling, and occasionally even competitor devices. Keep reading to learn more about the best time to buy a cell phone, seasonal price drops, and other money-saving tips that can help you upgrade for less.
Table of Contents:
Are cell phone prices going down?
The short answer is yes! Like all forms of consumer electronics, smartphones are subject to depreciation. This means that cell phone prices inevitably fall over time. So how quickly do prices fall? And more importantly, how can you save money on your next cell phone?
Let's start with retail pricing since that has some influence on how much you'll pay, regardless of where you buy. Every year, when a newer model is released, smartphone manufacturers typically discount the older models by around $100. These price drops usually happen across the board, lowering prices on high-end flagships as well as budget and mid-range models.
When will Apple iPhone prices drop?
Let's use the iPhone 11 as an example. When Apple launched the iPhone 12 two months ago, they instantly discounted the iPhone 11 by $100. The base model iPhone 11 (one of our favorite iPhones of 2020) originally retailed for $699 for 64GB, $749 for 128GB, and $849 for 256GB. Retail prices remained relatively constant throughout the year — but right as the iPhone 12 was announced, previous-gen iPhone prices fell by $100 to $599 for 64GB, $649 for 128GB, and $749 for 256GB.
In all likelihood, Apple will offer similar $100 price drops across its entire lineup once the next iPhone is released in Fall 2021. This means that the current-generation iPhone 12 will likely go from $799 to $699 and the iPhone 12 mini will likely get a price cut from $699 to $599.
Although these retail discounts may seem decent enough, compare that to how much you can save buying an iPhone 11 on Swappa. You can get a gently used iPhone 11 in good condition starting at just $440. That's a whopping $159 cheaper than Apple's "discounted" retail prices and $259 less than the original MSRP! And right now, you can already purchase a gently used iPhone 12 starting at just $700 on Swappa. Since this is $100 off MSRP, you're essentially getting the most discount Apple will ever offer, but a year early.
When will Samsung phone prices drop?
This trend extends beyond iDevices. All smartphone prices (including Samsung phone prices) instantly drop whenever a new model comes out. For example, Samsung's last-generation flagship Galaxy S10 launched with a starting price of $899. When the Galaxy S20 released on March 6, 2020, retail prices on the S10 instantly fell by $110 to $789, where they remain today — over nine months later.
Just like our iPhone 11 example, this may sound like a decent discount. But once again, you can save even more money by shopping on Swappa. You can pick up a gently used Samsung Galaxy S10 in good condition starting at just $299! Crazy, right? This means that you're getting it for less than half of its current "discounted" price — or about a third of its original MSRP. What about the current-generation Galaxy S20? The S20 starts at just $475 on Swappa, making it cheaper than buying last year's S10 from Samsung or other electronics retailers.
Black Friday and Cyber Monday phone deals
Finally, seasonal holidays such as Black Friday and Cyber Monday also affect retail pricing. These events are well known for their sales — but in reality, most devices are typically only discounted about $50 or so. Going back to our previous example, the best Black Friday deal this year for a brand-new iPhone 11 was $549 at Walmart — $50 off, hardly anything to write home about.
Earlier, we mentioned that the iPhone 11 starts at just $464 on Swappa. This means that you're already saving quite a bit more with Swappa's 0% Off Sale than you would on any retail shopping holiday. On Swappa, you save money all year round — no stressful Black Friday lines or camping out required.
How to upgrade your phone without paying full price
It's pretty clear that even with sales and seasonal discounts, retail isn't the best way to buy. Instead, you can save hundreds by picking up a gently used iPhone or Android phone on Swappa. But how else can you save money?
When is the best time to buy a used cell iPhone or Android?
It's always cheaper to buy on Swappa — you already know this. But when exactly is the best time to buy? Here at Swappa, we're generally big fans of buying the previous generation. Truth be told, most yearly upgrades are incremental by nature. This means that you can pick up last year's model and still get most (or all) of the features of the newer device, but at a substantial discount.
Not too long ago, we took an in-depth look at how smartphone resale value changes over time. We found that after about a year, used iPhones in good condition could be found for about 60-70% of their original MSRP — and after two years, you could get a used iPhone for less than half of its original price.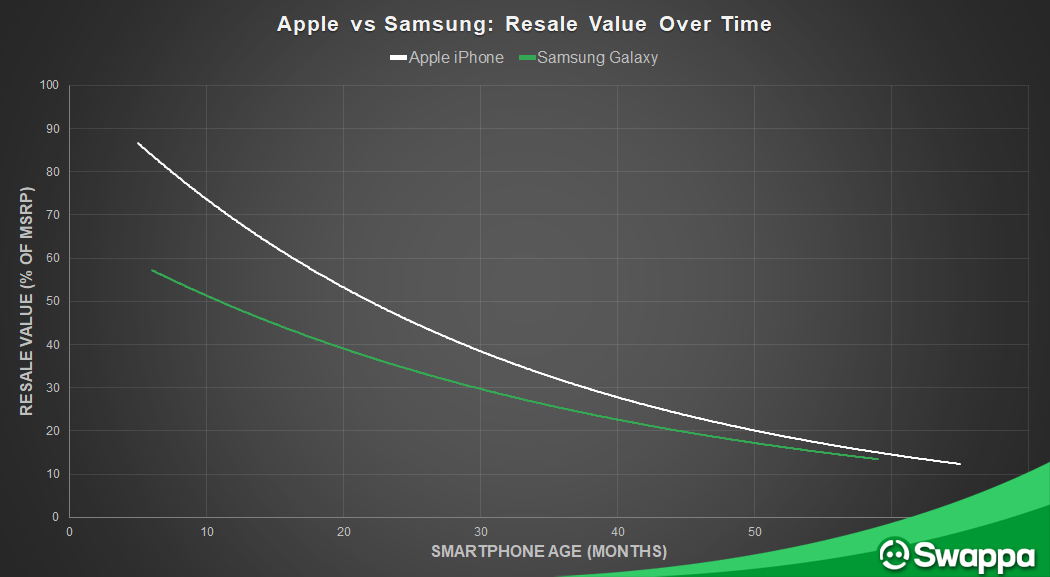 The savings are even more impressive on Samsung devices. Since used Samsung phone prices fall a bit more quickly, you can often pick up a current-generation device for about 60% of its original MSRP. Waiting a year means even lower prices — typically less than half of the original price (sometimes even a third of the price, as in our Galaxy S10 example above).
Sell your used phone to fund your upgrade
Now you know where and when to buy your next phone — but there's just one final piece of the puzzle. Although it may seem obvious, the best way to fund your cell phone upgrade is to sell your old phone.
There are plenty of places you can sell your existing phone — from Apple Trade-in to carrier buyback programs and more. But these are not created equal. Choosing the right place is important because where you sell determines how much money you'll get.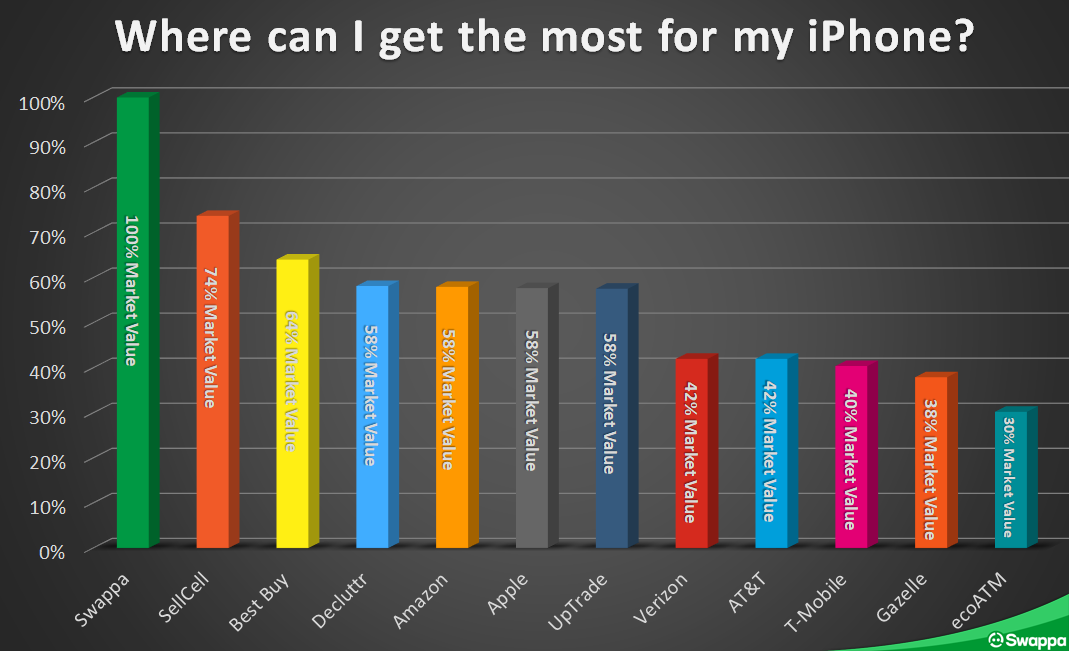 Trade-in and buyback programs pay you less. It's in their best interest to give you less than your phone is worth, so they can turn around and sell your phone for a profit. On average, we've found that you get about half of a phone's true market value when using a trade-in program.
Adding insult to injury, trade-in and buyback programs usually don't even give you cash for your used phone. Instead, you get a gift card that you may not ever use.
The choice is clear. Sell on Swappa to get the most for your used phone. Sellers never pay any fees, and you'll make about twice as much as you would with a trade-in program.
---
Swappa makes it safe and easy to buy and sell used tech. We cut out the middlemen by directly connecting buyers and sellers across the country. This means that whether you're buying or selling, you'll always get the best deal on Swappa. We don't just help you save — our expert moderation team works around the clock to keep out scams and junk devices.
So what are you waiting for? Click the button below to start saving on your next phone upgrade!
---
Snag the best deals on used iPhones wherever you go. Download the Swappa App today!
---