---
During this time of social distancing, many of us have begun feeling isolated from our friends, loved ones, and coworkers. We are often left searching for alternate means of social interaction, and as such, many aspects of everyday life have transitioned over to the digital realm. Businesses and classrooms have migrated over to virtual workspaces such as Slack and Zoom, and online concerts are now held in virtual venues; but we're not here to talk about any of that right now. Instead, we're here to talk about video games and how they've evolved into another domain of social interaction. Join us as we take a closer look at gaming, its recent meteoric rise, and how it keeps us connected in an era of social distancing.
People are buying and selling more video games
It's no secret that gaming has been on the rise for some time. Video games have been a part of our shared culture since the inception of the electronic computer. And with each passing generation, more and more people are making gaming one of their primary modes of entertainment. When combined with a global pandemic forcing everyone to stay indoors, it's unsurprising that online gaming is as strong as it's ever been.
Increased traffic
While the rise of gaming sounds plausible in theory, we at Swappa wanted to see how this actually plays out in practice. Sure enough, we first noticed that the status quo was changing last month. Starting around the middle of March, we observed a 140% increase in clicks resulting from Google searches for video games and game consoles. This resulted in a 25% increase in pageviews for these categories. And by the end of the month, pageviews were up by 41%, with Nintendo Switch listings seeing nearly double their usual traffic! This trend has continued into early April, with no signs of slowing.
More listings
In addition to an increase in traffic, we've seen a jump in the number of listings created for game consoles and accessories. So in other words, people aren't just browsing and buying more; they're also selling more. These increases were primarily seen in our most popular devices, which were the following in March:
Last month, Nintendo Switch listings doubled compared with what we've seen in previous months. In addition, Switch Lite listings increased 16%, Xbox One listings were up 13%, and PlayStation 4 listings increased only slightly by 3%.
Spike in sales
With more listings, come more sales. To examine this, we looked at how weekly game console sales have increased since the beginning of the year: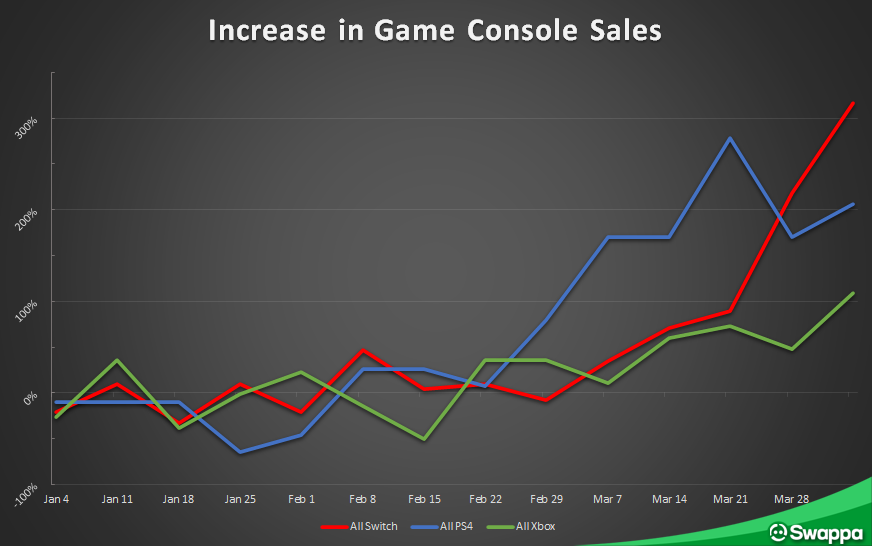 Sales of all three game console families started to rise in March, and they've kept going up ever since. And as you can see above, the biggest gains came from the Nintendo Switch and Switch Lite. Last week alone, both Nintendo Switch consoles sold over four times as many units as we see in a typical week. The PlayStation 4, the PlayStation 4 Pro, and PlayStation 4 Slim weren't too far behind, selling three times their weekly rate last week. And not to be forgotten, the Xbox One showed strong growth last week too, with a little over double the typical weekly sales.
Increased demand leads to higher prices and shortages
Looking closer at two of our bestsellers that have seen the greatest rise in sales, the Nintendo Switch and Switch Lite, we are presented with a valuable lesson in supply and demand. Unsurprisingly, the quick rise in popularity of the Nintendo Switch also led to an increase in average sales price. This rise was particularly evident in the standard model Switch, which went from an average sales price of $261 before the pandemic to $328 in March. This trend has continued into April, with prices now starting at $380.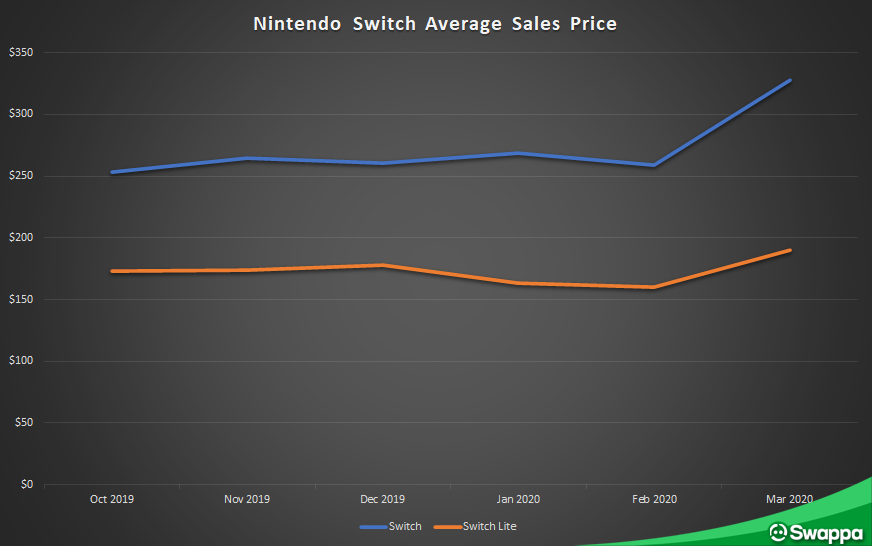 This effect was compounded by widespread retail shortages for the console that have made obtaining a new unit difficult. Luckily, there are still plenty of Switches available on Swappa for those still looking to play some of the hottest new games like Animal Crossing: New Horizons. What's more, you can even click the Subscribe button at the top of each product page to be notified whenever there are new listings that meet your criteria.
Massively multiplayer
So we've established that people are buying and selling more used game consoles than ever, but what does this mean for those actually playing the games? Online gaming mega-hub Steam and its parent company Valve recently hit a few milestones. According to third-party tracker website SteamDB, Steam hit an all-time high of 24.5 million concurrent online users on April 4. In contrast, Steam was hovering around 15 million users during the same time period last year.
In addition, parent company Valve's 2012 hit Counter-Strike: Global Offensive recently topped 1.23 million concurrent players this past weekend, another all-time high. But what about a social game that's a bit more family-friendly? Undoubtedly one of the most popular is Roblox, which has seen nearly double the average concurrent users in the past couple weeks.
The rise of streaming
Not only are people playing these online multiplayer games more frequently, but the number of people watching others play has skyrocketed. Twitch.tv exploded onto the scene in 2011 as a gaming-centric spin-off of founder Justin Kan's earlier general purpose streaming site Justin.tv. It has since become the go-to site for video game streaming. And just like the meteoric rise in video game play time, TwitchTracker reports a massive increase in Twitch viewership. This month, there have been nearly double the maximum concurrent viewers and streaming channels compared to previous months. And all this increased gaming and streaming means increased network traffic, with Verizon CEO Hans Vestberg citing a 75% increase in gaming traffic on their network.
Swappa keeps you and your squad-mates geared up
Now that we're forced to spend more time apart from one another, millions of people are turning to gaming as a way to stay connected. More than ever, online games are keeping us connected with our real life and virtual friends, battle forging our social bonds with each frag. Here at Swappa, we've seen a dramatic increase in people buying and selling used video game consoles, and this increase has translated to higher player counts, streaming time, and network usage. Perhaps it's a sign that we've all taken the World Health Organization's advice to #PlayApartTogether.
Whether you're looking to upgrade your iPhone, pick up an iPad, or buy a video game console, Swappa is the first place you should look for the best deals on gently used tech. And we're not the only ones who think so — several recent articles have named Swappa the best place for all your tech buying and selling needs. So what are you waiting for? Save hundreds on a newish game console by heading to the button below.