---
Today marks the beginning of a new month, December. Of course, as we always do here on the Swappa blog, the start of a new month means we take a few minutes to look back and see which phones made the top-selling list for the previous month, November 2021. Keep reading to see which phones made the top ten best-selling list this time around.
Top selling used phones from November 2021
We're seeing quite a few similarities between October and November. In fact, the overall top four places are the same with the iPhone 11, iPhone Xr, iPhone 8, and the 2nd generation iPhone SE. These four are all solid options due to the mix of price and ability. The iPhone 11 and iPhone Xr each use Face ID, whereas the iPhone 8 and the 2nd generation iPhone SE each have a home button and use Touch ID. Overall, we'd say this is a nice mix.
The iPhone 12 Pro Max and the iPhone 7 both carry over from last month, and the iPhone 12 seems to have booted the iPhone 12 Pro off the list this time around. The iPhone 12 is a great phone, and with prices starting at around $585 — that is a hard deal to pass up.
Another noticeable difference is the Android smartphones. We had been seeing three models included on the list, but one has dropped off this time around. The top-ten list for November includes the Galaxy S10 and the Galaxy S10e, which means the Galaxy S9 is the missing model for this month. Of course, with prices for the Galaxy S9 starting around $140 — it would still be a solid buy.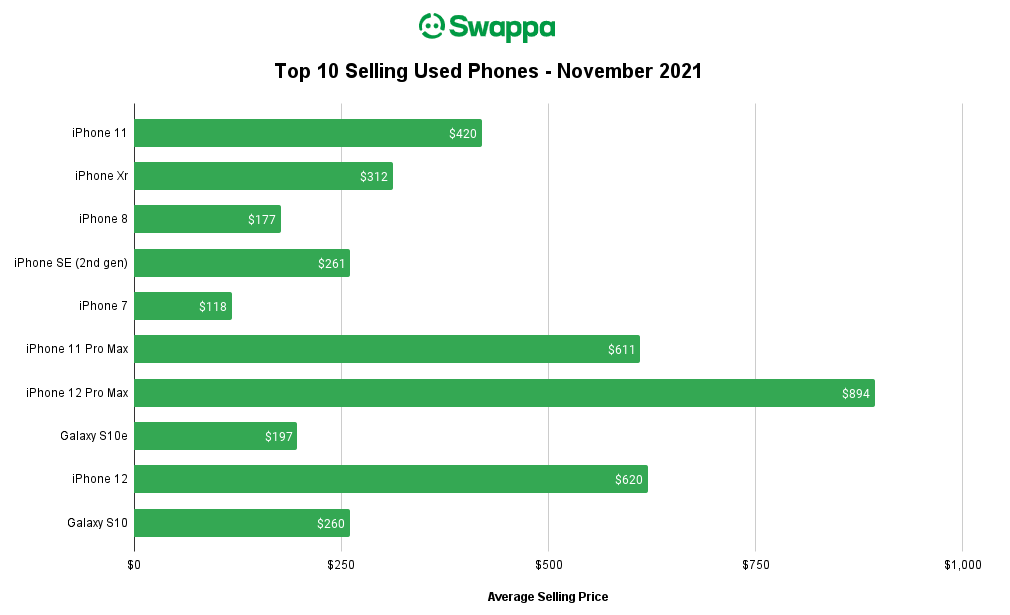 Buy and sell your used gently used tech with Swappa
We really enjoy seeing which models are the most popular (best selling) each month, but this post is also helpful for buyers and sellers. It'll allow sellers to see which models are in the highest demand, and it'll allow buyers to get an estimate in terms of what they can expect to pay.
There is also plenty of activity on Swappa right now due to the upcoming holiday shopping season. And, with the holiday (shipping) season getting busier and busier as we get closer to the holidays — right now is a great time to buy without having to worry about late deliveries. And on the flip side, right now is also a great time to sell any phones you may have sitting around the house. A sale right now could help to offset your holiday spending.
Shop safe and save BIG
The Swappa marketplace is the safest marketplace for used tech. And, it is easy to use, and a great place to shop if you want to save money. After all, you're always spending less if you buy gently used instead of brand new. A few other key perks of using Swappa include:
In addition to reviewing listings and keeping the junk out of the Swappa marketplace, our support team also actively works to ensure you won't have to deal with any jerks. But…any marketplace can claim to be safe and to have happy users — so we encourage you to review some of our Trustpilot reviews.