---
Now that the holidays have come and gone, you may find that your wallet's feeling a little bit lighter. Never fear, as we at Swappa are here to help you get back in the groove of saving money. As you probably already know, you can save a ton of cash by picking up a gently used phone on the Swappa Marketplace. However, another great way to start saving is by slimming down your wireless bill. You may have noticed that we recently launched our new Smartphone Plan Comparison Tool. In the time since then, we've been hard at work compiling data on all the best wireless plans in order to save you more money.
You're probably quite familiar with the nation's four largest carriers: AT&T, Verizon, T-Mobile, and Sprint. However, there are many other carrier choices available such as Net10 Wireless that can help you cut down your wireless bill while still delivering the same great service you've grown accustomed to. Interested in learning more about what makes Net10 tick? Read on to figure out if it's the right choice for you.
What is Net10 Wireless?
Net10 Wireless is an MVNO carrier that offers prepaid wireless service at a discounted rate. The company has been around since 1996, making Net10 one of the oldest alternative carriers around. Named after its earliest plans that offered voice calling at just 10 cents per minute, Net10's service has since evolved to offer a wide variety of unlimited plans that fit the needs of almost any consumer.
Owned by Tracfone Wireless, Net10 sits alongside several other popular MVNO carriers such as Straight Talk, Simple Mobile, US Mobile, and more. Since Net 10 is a prepaid carrier, it doesn't do contracts, credit checks, or activation fees. And just like other MVNO carriers, Net10 gives you access to some of the nation's largest and most reliable networks.
What is an MVNO?
Earlier, we mentioned that Net10 is an MVNO carrier. You'll also see the term thrown around when looking for the best deals on wireless service plans. MVNO stands for Mobile Virtual Network Operator. We've already covered what MVNO carriers are and how they can save you money, but as a quick refresher, an MVNO carrier buys bulk network access from one or more of the four major US carriers (AT&T, Verizon, T-Mobile, and Sprint) in order to re-sell it to consumers at a discounted rate.
While this sounds great, it is important to keep in mind that in some instances, MVNO users experience what is known as network deprioritization. Put simply, this means that MVNO users may experience slower data transfer speeds than users signed up directly through the host network — especially during peak hours. The extent of this depends on a variety of factors such as which host network is being used, time of day, and congestion in your area. Independent testing by Tutela showed that MVNOs using the T-Mobile and Sprint networks generally performed similarly to their host network, but MVNOs using Verizon and AT&T sometimes performed slower than native network access. Check out our MVNO overview to learn more.
What networks does Net10 Wireless use?
Most MVNO carriers use either one or two host networks. Net10 sets itself apart by offering users their choice of access to all four major US carriers. This means that as a Net10 customer, you are able to choose between the Verizon, T-Mobile, AT&T, and Sprint networks depending on the service in your area and the device you wish to purchase.
Protip: Although Net10 does not do service contracts, it isn't easy to switch between host networks. After checking Net10's coverage in your area and purchasing a compatible smartphone on the Swappa Marketplace, you can select between Verizon, AT&T, and T-Mobile when purchasing your SIM card. If you wish to connect to the Sprint network, simply contact Net10 customer service with your device's MEID, and they will get you set up on their end.
Is Net10 Wireless a GSM network?
Since Net10 lets users connect to their choice of all four major US carriers, Net10 uses both GSM and CDMA host networks. As a result, Net10 is compatible with GSM and CDMA phones.
How good is Net10 Wireless coverage?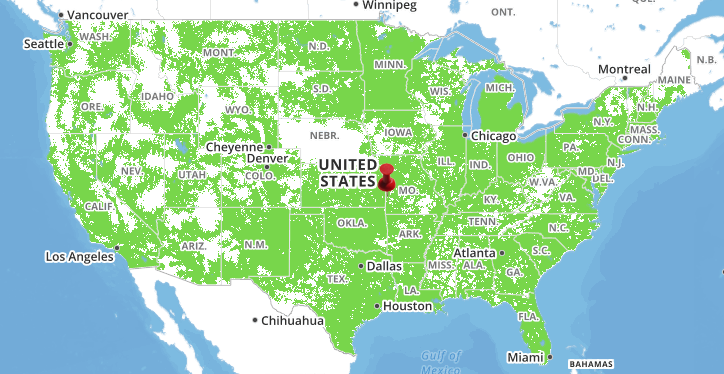 As we mentioned earlier, Net10 gives users access to their choice of any of the four major US networks. As a result, you can expect the same great coverage as you would when purchasing service from these carriers directly. This means that most users can expect the best overall coverage and reliability by choosing either AT&T or Verizon as their host network. However, the option to connect to either T-Mobile or Sprint is available if those work better in your area.
Does Net10 Wireless have unlimited data?
Net10's name comes from its original phone plans in the late 1990s that offered rates of 10 cents per minute for voice calls. However, all of Net10's current smartphone plans offer unlimited talk, text, and data.
Note: While Net10 currently offers 6 unlimited talk, text, and data plans for smartphones, they all limits how much of that unlimited data is at full, 4G LTE speed. After you pass your particular plan's high-speed data limit, you are restricted to the equivalent of 2G speeds until the following month (or until you purchase additional high-speed data at a rate of $10/GB).
How much is a Net10 unlimited plan?
| | $20 Plan | $35 Plan | $40 Plan | $50 Plan | $60 Plan | $65 International |
| --- | --- | --- | --- | --- | --- | --- |
| Talk | Unlimited | Unlimited | Unlimited | Unlimited | Unlimited | Unlimited |
| Text | Unlimited | Unlimited | Unlimited | Unlimited | Unlimited | Unlimited |
| High-Speed Data | 1GB | 4GB | 8GB | 10GB | 12GB | 10GB |
| International Calling | No | No | No | No | No | Unlimited (15 Numbers) |
| Auto-Refill Discount | No | $31.50/mo | $36/mo | $45/mo | No | $60/mo |
Net10 offers a wide range of unlimited talk, text, and data plans aimed at modern smartphone users. The plans differ by how much of that unlimited data is at full, 4G LTE speed, and whether or not they include international calling. And as mentioned above, once you exceed your plan's allotted high-speed data, network speeds will be reduced until the next billing cycle (or until you purchase additional high-speed data at $10/GB).
Looking for an even better deal? You're in luck, as you can save even more by enabling auto-refill on your account. The $35 Plan, $40 Plan, $50 Plan, and $60 International Plan all offer discounts ranging from 7.5% to 10% with auto-refill.
What phones work on Net10 Wireless?
As we mentioned above, Net10 uses all four nationwide carriers as its host networks. This means that just like how the Swappa Marketplace offers a nearly limitless selection of gently used smartphones, Net10 offers subscribers unrivaled versatility when selecting a compatible device.
After you find your ideal device, simply choose your intended network when picking the SIM card for your Net10 plan. So whether you're looking to pick up a gently used phone on Verizon, T-Mobile, AT&T, or Sprint, Net10 will never limit you in terms of network compatibility. Click the button below to head over to the Swappa Marketplace and start saving on compatible phones.
Net10 Wireless Reviews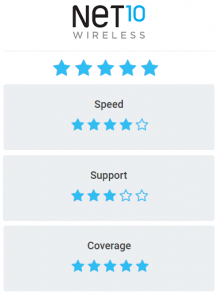 When we added our Smartphone Plan Comparison Tool, we also baked in the ability for Swappa community members to share their experiences with mobile carriers. So in addition to giving you all of the details on the most popular plan options, the Net10 Plans page also lets you add or view Net10 reviews.
Although we currently only have a limited number of user reviews for Net10, the carrier has received great ratings so far for coverage and network speed, as well as good ratings for user support. But let's not stop there. If you've ever used Net10, we'd like to hear from you! Head over to the Net10 Reviews page to share us your feedback on how they did, or if you simply want to check out the experiences others have had.
In addition to user reviews, it's also nice to check out how a business conducts itself and handles complaints. For this, the best place to look is the Better Business Bureau. Here, Net10 has been accredited since 2014 and has earned an A+ rating.
Note: When checking out ratings and reviews for any carrier on the BBB, you will likely come across a large number of negative ratings. This is due to the various complaints made against the brand over the years. However, please keep in mind that the users most likely to leave a comment on the BBB site are those dissatisfied with their service. Another important metric is to check how many of the complaints have been answered or resolved by the company. Net10 has resolved 100% of user complaints, which means that Tracfone takes customer satisfaction seriously.
Is Net10 Wireless any good?
Because Net10 runs on all four major US carriers, it offers exceptional device compatibility. This means that you don't have to worry when picking up a new or gently used smartphone on the Swappa Marketplace — they will all work flawlessly on Net10. This also means that you are able to select whichever network has the best coverage in your area. And thanks to Net10's new set of unlimited plans, pricing is rather competitive for most customers.
Aggressive pricing, spotless network coverage, and excellent device compatibility — sounds great, right? Well as with most cell phone plans, whether Net10 is a good choice for you depends mainly on your wireless needs. If you are a moderate to heavy smartphone user, Net10's various unlimited plans make a lot of sense. However, if you're a very light user or if you're constantly around WiFi, there may be cheaper options worth considering. In addition, as with all MVNO carriers, there is the possibility that you may experience slower data speeds in times of heavy traffic due to network deprioritization. Whether this is a major issue depends on which host network you choose, how much network traffic is present in your area, and whether you're using a lot of data during peak hours. If you're a current Net10 subscriber in need of customer service or tech support, you can find Net10's contact info here.
*****
Ultimately, Net10 offers a fantastic value proposition for most smartphone users. If you're a moderate to heavy smartphone user and want to make sure that you have excellent network coverage and device compatibility, Net10 is worth taking a closer look. Click on the button below to check out Net10's best plans.