---
Happy 10th Swappaversary!
It was the year 2010 — The Social Network and Toy Story 3 were out in theatres, Angry Birds was the "it" game of the moment, auto-tune songs were all the rage, the first iPad was released, and we saw marvels like the Galaxy S and iPhone 4 launched.
It was also the year that Ben Edwards, CEO and founder of Swappa, bought a Motorola Droid on Craigslist and got ripped off.
How Swappa started
Ben, a mobile developer, was interested in test devices for Android development projects that were cheaper than retail. Facebook Marketplace and refurbished smartphones weren't an option. eBay was a disaster, as a search for Motorola Droid came back with everything from Star Wars Droids to Droid phone cases. With too much junk to wade through and leery of scammers, Ben turned to Craigslist. While slightly better, he dealt with missed meetups, terrible communication, and scammers by the dozens. Finally finding a device at the right price, he arranged to meet the seller in the parking lot by his house.
While the phone (that cost a few hundred dollars) appeared to be in top shape, Ben knew he had been scammed when the seller sped off into the night, running red lights after the deal was done. Sure enough, upon an activation attempt, the phone was blocklisted and rendered worthless. Sick of blocklisted phones, junk devices, inefficient communication, and sites fraught with scammers and fraud; Ben knew there had to be a better way.
Spurred on by that frustrating and expensive experience, Ben started building Swappa on mornings, nights, and weekends. On December 5th, 2010, Swappa was launched.

Swappa's Early Days
Swappa catered exclusively to Android devices and developers at the onset. Popular iPhones, MacBooks, and other categories have been added over time as Swappa has grown. In the early days, when a new phone was launched it carried huge feature changes, but people welcomed the opportunity to buy gently used devices from real people at a lower cost.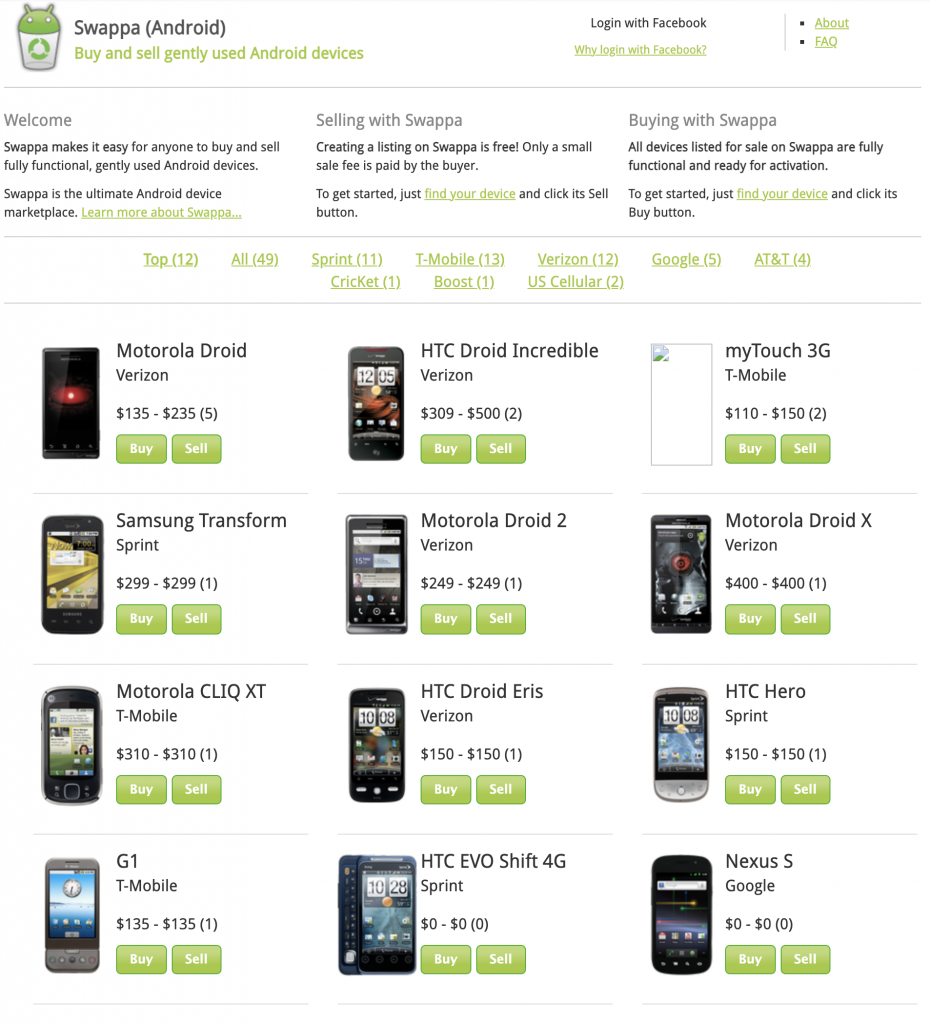 In the early days, there was only a team of 1, building and perfecting the tools that would become today's marketplace. A strong product catalog and fraud tools/methods that weeded out scammers and junk devices became the Swappa way. Word started to spread in the Android community, with orders jumping from ten to twenty a day. As any small business owner or entrepreneur will tell you, it's an incredible feeling when your idea starts to gain traction. Not only was there a Lifehacker mention that drove early adopters and media exposure, but Swappa even sponsored a Big Android BBQ Developer event. We sponsored the keg and showed up with a big ol' bag of Swappa t-shirts. Let's just say we walked away with a lot of new friends and Swappa awareness.
Team Swappa forms
After 2 years of running Swappa as a side gig, Ben finally quit his day job — and with his second hire (Wes, a Swappa force still to this day), was able to take his first Saturday night off in years. The community began to grow and more Swappa users became Swappa employees. Swappa has been remote from the start, founded by the belief that talent isn't bordered by geography or even regular 9 to 5 working hours. Today, Team Swappa can be found all over the world, working to make the best possible experience for our community of buyers and sellers.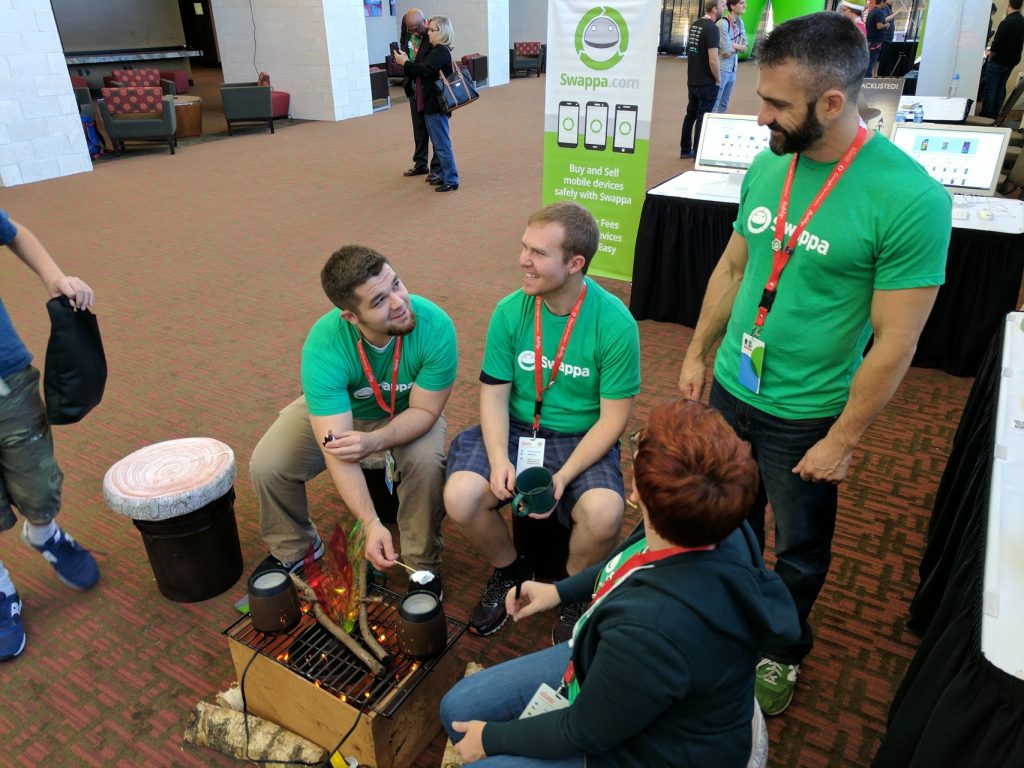 It was decided early on that customer support was the most important place to invest, so we could remain true to delivering literally the opposite of eBay and other marketplaces — a good, safe experience. By the time we made our 7th hire, our goal to have 24/7/365 support was realized. Those first 7 hires were in fact, customer support and moderation. True to any start-up, everyone was wearing multiple hats and filling in wherever they could.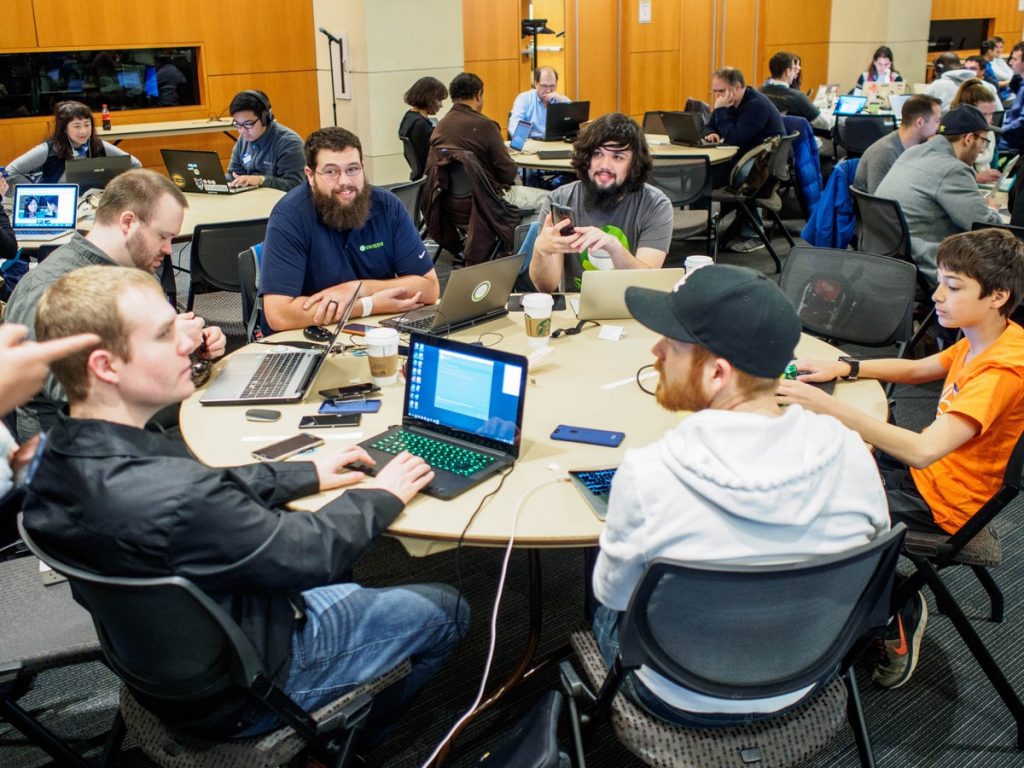 That's how Swappa was built and continues to operate today. Through grit, determination, and tackling problems that others didn't think could be done, we simply put in the work on complicated issues. Buying used tech online simply and safely is no easy task. There's a reason why other marketplaces don't put in the time and effort. It's incredibly labor-intensive to review every listing and maintain an average response time within minutes. It takes a highly knowledgeable staff and ongoing process improvements, not to mention close coordination with the development team. It's what sets us apart, and has from the very start.
There's a reason we put this into every single job posting: "Though we've been around awhile, are bootstrapped and profitable, Swappa still operates a lot like a startup. Everyone on our team wears many hats and does whatever it takes to get the job done. Egos are left at the door and the phrase "that's not my job" never flies here."
We're brought together to make a difference for our community and each other, building a platform with a small but mighty team that's laser-focused on doing good in the world. Sure we're stubborn at times, but we're all trying to improve Swappa and you can hear it in every corner of the world in which we work and collaborate. And you find everyone, from Ben to the latest hire, truly believes and practices this.
We want to grow this company you deserve a better experience that saves you money, makes you more money, and extends the life of a device. It's a valuable and needed service and damn, we're proud to be a part of building it.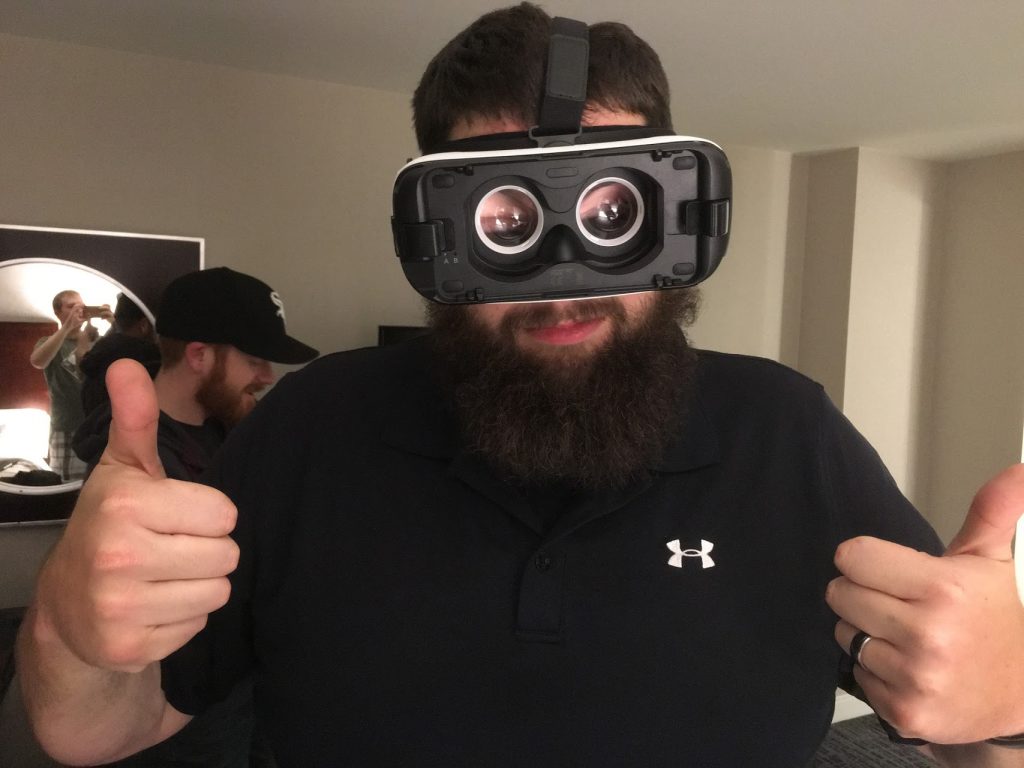 There's a lot to be proud of here at Swappa:
We've run more than 10 million GSMA checks that have helped keep lost and stolen devices from being sold in the marketplace
We surpassed $92 million in annual seller proceeds back in 2018. From repair shops and flippers making a living off selling on Swappa to the regular person just trying to make a few extra bucks, we're thrilled to be helping fund upgrades and savings accounts every single day.
Swappa has been mentioned in Wired, The Today Show, Mashable, The Wall Street Journal, LifeHacker, USA Today, Android Authority and more. Want to see the full list?
10,500 and counting TrustPilot reviews in less than 2 years with a nearly perfect rating. These are real customers talking about their experiences, and we read each and every one.
Swappa, 2020 and forward
People-powered, safe, and simple — these values are part of who we are and what made us different than those other marketplaces. Today we proudly boast no junk, no jerks, and we relentlessly defend the safety of the marketplace.
This community wouldn't be what it is today without you, whether you've just bought your first iPhone on Swappa or you've sold 35. These 10 years are about all of us saying no to bad experiences and junk devices. You'll find us, as we always are, dreaming up ways to make things better, simpler, safer, and always with your experience in mind. We can't wait to see what the next 10 years and beyond brings.
Thank you for your trust, your feedback and for being a part of the Swappa community.
Have a story to share? We'd absolutely love to hear from you. Share it with us on Facebook or Twitter.
Love,
Team Swappa