---
One of the many tools we use to keep the Swappa community safe is our free IMEI check. Although this is just one piece of the puzzle, it is an important one — and one that sets us apart from other online marketplaces. Every single smartphone and tablet on Swappa undergoes an IMEI check before its listing is approved. But rather than restrict our IMEI checker to phones and tablets bought and sold on Swappa, we've made it freely available so anyone can check the status of a device they're looking to buy or sell, and make sure it hasn't been reported stolen or placed on a blocklist.
We recently updated our free IMEI check tool with several new features. This article will cover IMEI numbers, why they're important, and how Swappa's revamped IMEI checker keeps you safe.
What is an IMEI and why should I care?
IMEI stands for International Mobile Equipment Identity, a 15-digit number used to uniquely identify every cellular-enabled device. Since no two devices share the same IMEI, this number can be used to track or flag a particular phone for whatever reason. If a phone is reported lost or stolen, its IMEI will be added to a global blocklist database. ESN and MEID are similar unique identifiers that are used primarily with CDMA devices.
Each and every smartphone and tablet on Swappa is checked before its listing goes live. We make sure that every device has a clean IMEI / ESN / MEID. This is a critical component of our listing review process, and it keeps out phones that have been reported stolen or added to any sort of blocklist.
Learn more about IMEI numbers, ESNs, and why they're important.
How do I find my IMEI number?
It is quick and easy to find the IMEI number.
iPhone IMEI numbers can be found by going to Settings > General > About
Android IMEI numbers can be found by going to Settings > About Phone > Status
Learn more about how to find your phone's IMEI number.
Swappa's revamped IMEI check tool
Swappa's ESN Checker takes a smartphone's IMEI, ESN, or MEID number and checks it against a database of blocklisted devices. This helps verify device authenticity and makes sure that the phone or tablet in question hasn't been reported lost or stolen. Similar services typically charge a fee on a per-check basis. But unlike those other sites, Swappa makes our IMEI check service available free of charge to private buyers and sellers by giving you 10 free IMEI checks every 24 hours. Paid checks are also available to commercial sellers who require more than 10 per day.
Swappa's free IMEI checker is nothing new. In fact, we recently passed our 10 millionth GSMA check. Our IMEI check lets you know if a device is on the allowlist, or on the blocklist, along with much more. For example, thanks to some recent improvements, it is now easier than ever to get details about the phone and details about what it's worth.
Find out what your phone's worth before you buy or sell
Whether you're buying or selling, it's essential to know the fair market value before parting ways with your device or hard-earned cash. Because of this, we've integrated real-time pricing data into our ESN check tool. After looking up the status of a phone or tablet, you are now shown a graph tracking its value over the last six months. On average, you'll make over twice as much selling on Swappa — and we've made listing easier than ever by letting you get started right from within the ESN checker.
Track multiple devices with notes and tags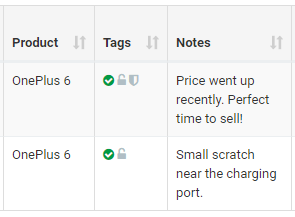 We've also added a new feature that lets you easily track multiple devices and add notes and tags. After viewing your IMEI check results, you can jot down a note or select from a set of tags as you see fit: allowed for sale, blocklisted, broken, financed, carrier locked, carrier unlocked, and still under warranty.
Notes and tags appear alongside every device you've checked using our free tool on the ESN Check History page. This page helps you keep track of multiple phones or tablets at a glance.
---
Swappa was founded 10 years ago. Since then, we've made it our mission to improve the way people buy and sell used tech. A large part of this comes down to safety. Sites like eBay and Craigslist often feel like the Wild West since you never know what to expect. In contrast, Swappa is a human-powered marketplace. Our dedicated support team goes to great lengths to keep scams and junk devices out, and our IMEI checker helps us accomplish this.
Whether or not you plan to sell on Swappa, our free ESN check verifies device authenticity and makes sure it hasn't been placed on a blocklist or reported lost or stolen. And now with real-time pricing data and note-taking capabilities, it's easier than ever before to track multiple devices.
Click the button below to get started with our IMEI checker. And while you're at it, consider buying and selling on Swappa. We cut out the middleman so buyers pay less and sellers make more. And since we keep you safe while doing so, why wouldn't you choose Swappa?