---
The iPhone XS Max is a solid smartphone, built using premium materials like a stainless steel frame sandwiched in between glass panels. While an iPhone XS Max screen protector is a great way to keep your phone's free from scratches, a hard enough fall can still crack the screen if it lands on the right spot.
Best case scenario, a cracked screen is unsightly and may obstruct your view or interfere with the touch function. Although not technically "broken," you may have wondered how much an iPhone XS Max screen replacement would cost you.
In this post we'll explore the various repair options available to you, and help give you a better idea of how much it will cost to repair the iPhone XS Max screen.
iPhone XS Max screen replacement cost
When it comes to any smartphone screen, which is susceptible to accidental damage, there are all sorts of issues that can warrant a replacement. Cracked screens are not only unsightly, it's something that can also compromise the phone's water resistance. Should the phone ever get wet — even if simply used in the rain — water can seep in through the cracks and do further damage, sometimes resulting in complete hardware failure. This is why it's important to replace a cracked screen as soon as possible.
Read more: How much does it cost to repair my broken iPhone?
When trying to figure out how much an iPhone XS Max screen replacement will cost you, the first place most people look is the Apple Store. The Apple Store is a great place for AppleCare+ repairs, but you may find out-of-warranty repairs more expensive than anticipated. For instance, Apple's out-of-warranty iPhone XS Max screen repair pricing is $329.
Should you decide to go with Apple screen repair, the first thing you'll need to do is schedule an appointment. This will most likely need to be done weeks in advance as the number of Apple Stores are limited. Going without a phone for weeks can feel like eternity, which is why the Apple Store isn't always the best repair option for a lot of people.
There is a much quicker option, however. The Swappa Repair Network helps you find local repair shops with services that are not only faster, but often times significantly cheaper than the Apple Store. With over 2,300 phone repair shops located in 270 metropolitan areas across the US, there's a good chance you'll find a Swappa Repair Network shop in your area.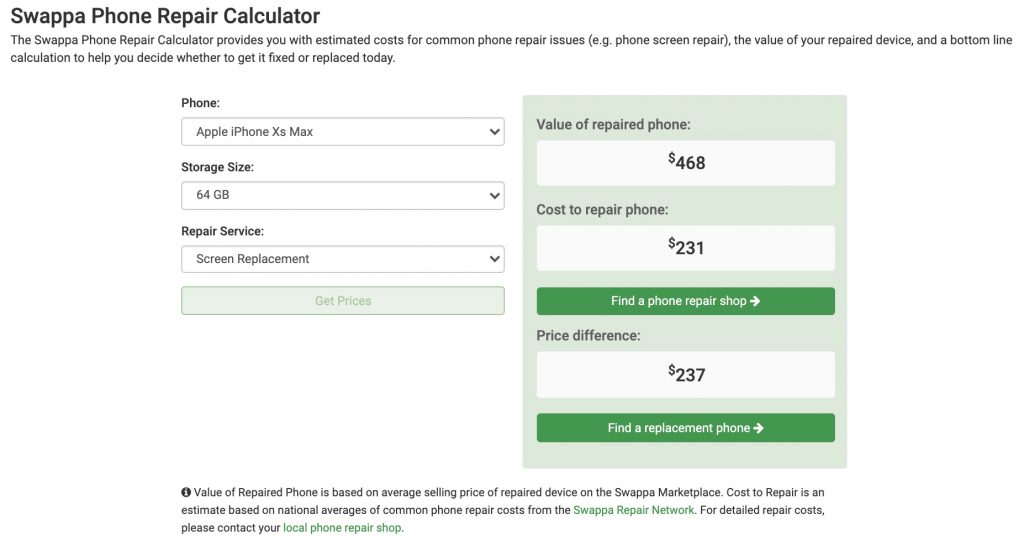 To help give you a ballpark figure of how much iPhone XS Max screen repair will cost, the Swappa Phone Repair Calculator provides you with average prices from shops in our repair network. In the case of the iPhone XS Max, screen repair averages $231 — that's a full $98 cheaper than the Apple's out-of-warranty repair. More than often you'll be receiving same-day repairs (depending on each shop).
Is iPhone XS Max screen repair worth it?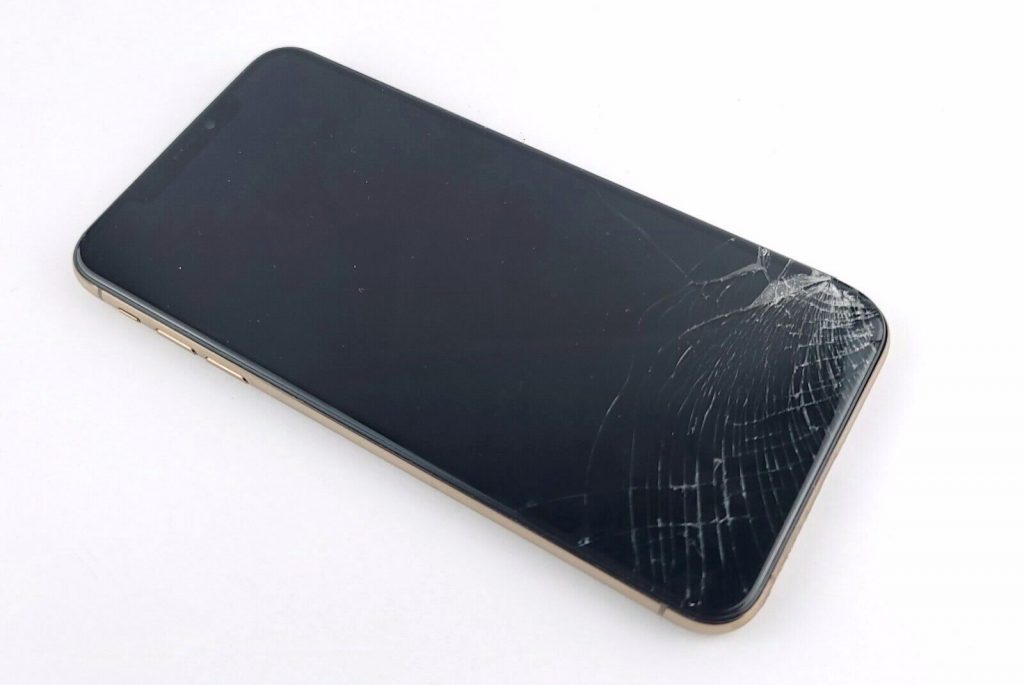 Should something happen to your phone that results in a cracked screen or any other kind of damage, most people think they only have two options: either repair their phone or buy a new model. But there's still another option that could save you lots of money: buying a gently used phone on Swappa. In the Swappa marketplace, a used iPhone XS Max starts at $625.
If you're only in need of screen repair — in which case an iPhone XS Max screen repair averages $231 — it would be much cheaper to find a local repair shop than it would be to buy an entirely new phone or repair at the Apple Store. But if your iPhone XS Max is completely destroyed, you'll probably want to check out used models on Swappa.
In other words, yes, it's definitely worth it to repair the phone. However, as iPhone XS Max prices continue to drop, it also might be worth checking the Swappa marketplace for the latest deals and prices. Also, be sure to check out the best iPhone XS Max upgrade options on our iPhone Buyer's Guide.
To find cheap and affordable iPhone repair near you, hit the link below to browse available shops in the Swappa Repair Network.
Ditch the repair bill — get a protection plan for $5.99 per month

Cell phones break, but you shouldn't be stuck with a costly repair bill. Swappa teamed up with Warranty Life to get you full repair coverage for just $5.99 per month. Whether it's a cracked screen, broken power button, or water damage; a used phone protection plan will save you money by making expensive out-of-pocket cell phone repair a thing of the past. Click below to learn more.