The iPhone X is quickly approaching its first birthday and anyone who's been wondering when the iPhone X price will drop will finally have their answer. Apple has officially announced that their 2018 iPhone event will be taking place on September 12th (the same day as last year). This is where they'll not only announce shiny  — and expensive — new iPhones, but a price drop for the older models as well.
If there's one thing to be said about Apple, it's that they're consistent. Looking at previous year's events, Apple typically drops the price of the outgoing models by around $100. That means new pricing for last year's iPhone X will likely drop to $899 this month. Although specific storage configurations are still up in the air, we could see a new 128GB iPhone X. This new lower price will likely remain for another 12 months or so until Apple's next yearly event.
While this may not be the best news for bargain shoppers looking for a crazy good deal on an iPhone X (a $100 is like good, but not great), we have the perfect solution: the Swappa marketplace. This is where you can find the best prices on an iPhone X simply by buying a gently used model instead.
Because prices for used models are always falling, there's never a bad time to pull the trigger on a used iPhone X, it just depends on how long you're willing to hold out. Don't just take my word for it. We've been charting the slow decline of the iPhone X's price in the Swappa marketplace for the past year now. Let's take a look at how far we've come.
iPhone X Price Drop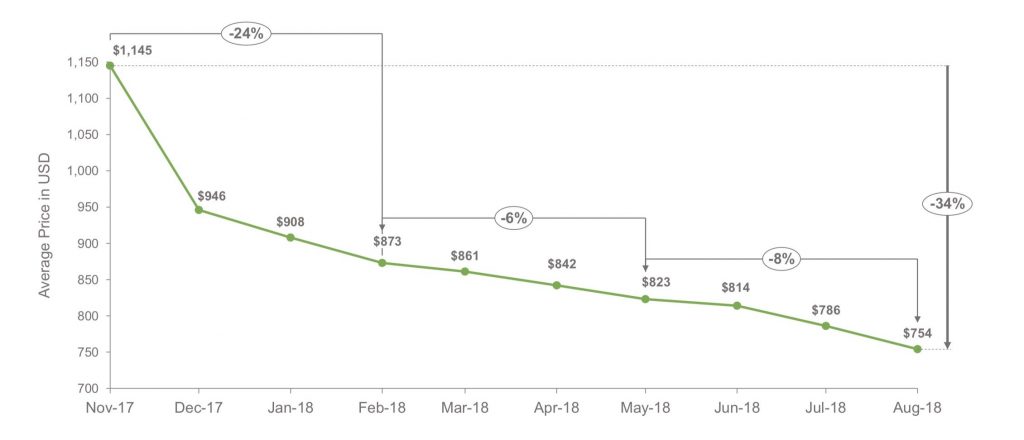 (iPhone X 64GB)
Now the iPhone X originally hit retail stores at a price of $999 (64GB) and $1,149 (256GB). It did a fairly good job of holding its value throughout the year, with the used price only falling a total of 34% since it was released in November 2017.
As you can see from our data, used prices fell the quickest from December through February, the first 3 months after the iPhone X was released. This was a whopping 24% off the full retail price (a whopping $272 dollars) and accounted for the majority of the phone's total depreciation through the year.
After that, the price of the iPhone X continues to fall, only much more gradually. It's only in June, the 3 months leading up to September, that the used price of the iPhone X hits another steep decline. This largely has to do with the impending release of an updated iPhone X model, after which the cycle will once again repeat itself.
How much does the iPhone X cost right now?
According to our data, the current going rate for a used iPhone X in the Swappa marketplace averages around $754 for the 64GB model, while the 256GB model is hovering around the $839 mark.
Needless to say, the used price of the iPhone X has never been lower, so whether you're looking to upgrade your old iPhone or Android, in need of a replacement iPhone X, or simply looking to buy a smartphone for the very first time, you can rest easy knowing you got the absolute best deal by shopping on Swappa.
On Swappa sellers deal directly with buyers, which means everyone walks away happy and with more money in their pockets. That, my friends, is a very good thing.
****
However you stumbled upon this post, our only hope was that it was helpful to you. We love sharing data from the Swappa marketplace because it helps everyone make more informed buying decision — whether you choose to shop with us or not.
You can browse our entire selection of iPhone X models in every color, storage configuration, and carrier by hitting that button below.