---
When shopping for a new (or gently used) iPhone, a lot of people want to know which iPhone has the best battery life. Whether you consider yourself a heavy iPhone user, or someone who simply has to spend extended amounts of time away from a charger, battery life is an important feature for almost everyone.
You'll never hear someone complain that their iPhone lasts too long between charges. Thankfully, battery life is one of those things that's been greatly improved as newer iPhone generations are released. Still the question remains: which iPhone has the best battery life? In this post we'll not only answer that question, but we'll even tell you which iPhone gives you the most battery life for the buck.
What determines long battery life?
What used to be a pain-point in early iPhones, we've seen Apple make some huge strides in battery life in recent years. This is thanks to improvements in both battery capacity, processors, and even software optimizations, all of which play a role in how long your iPhone lasts in between charges.
Battery capacity (duh)
So what plays the biggest role in determining long battery life? Although it's hard to argue that battery capacity — or battery size — is the easiest way for manufacturers to extend battery life, it's not always so cut and dry. In fact, it's only because of more power efficient processors that your iPhone can last a full day and then some.
Processor
We saw this back with the debut of the A10 Fusion processor in the iPhone 7, which featured two high-performance when you're using the phone, and two low-power cores that dramatically increased standby time while the screen is off. Since the vast majority of your day isn't spent staring at your smartphone, low-power cores are a great way to prolong battery life while the phone was in your pocket or otherwise not in use.
Software
Software can also play a role, with new updates that not only add new battery saving features like low power mode, location permissions, or Dark Mode (which uses darker UI colors that require OLED displays to use less power), but Apple can also optimize CPU performance based on battery health. Since battery degradation is normal over time, you might want to shop for newer iPhones or those with higher battery health percentages if you're looking for the longest battery life possible.
Apple's video playback rating
Battery life isn't really something that can be easily measured — since everyone uses their phone differently — whether it's playing games, watching videos, or snapping photos, or browsing the web. This is why Apple rates battery life based on a somewhat standardized video playback score.
Now this doesn't tell us exactly how long we can expect an iPhone will last between charges, but it does give us a general metric we can use to compare iPhones to each other when it comes to battery life.
By playing a constantly looping video, this will give you pure screen-on-time and is a good indicator of a moderate use case. Heavy users may see less time, while most people can expect far better results with mixed usage where their iPhone sits in their pocket the majority of the day.
Which iPhone has the best battery life?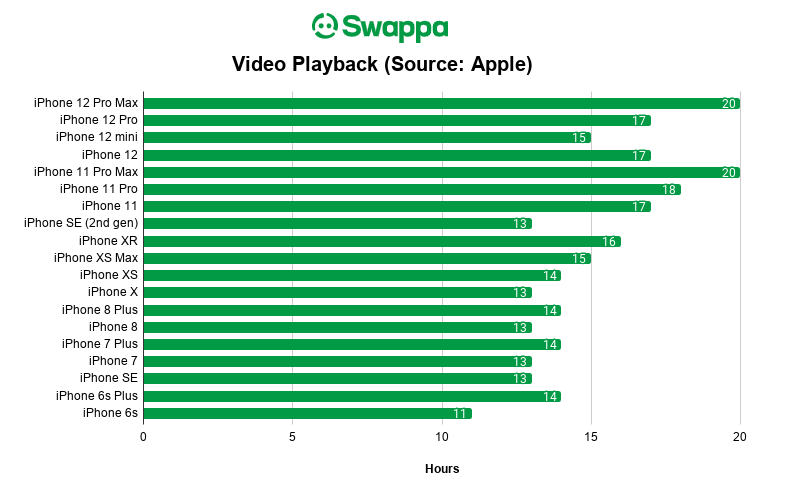 Using our handy graph, it's easy to see that the both the iPhone 11 Pro Max and iPhone 12 Pro Max offer the best iPhone battery life with a staggering 20-hour video playback rating. This not only has to do with newer more advanced processors, but these phones offer the highest capacity batteries thanks to the larger phone sizes.
iPhone 12 Pro Max prices start at $985 on Swappa, while the iPhone 11 Pro Max averages a more reasonable $723. Considering these are Apple's top-of-the-line models, not everyone can afford that kind of premium pricing. If you don't have the money to spend on Apple's latest and greatest, you may want to go with something a bit cheaper…
Best iPhone battery life for the money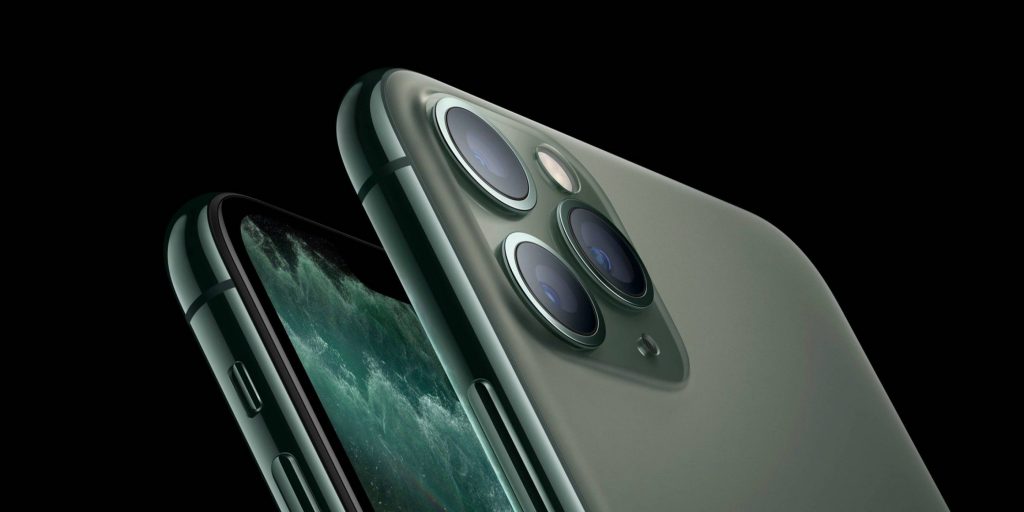 If you're looking for the iPhone that offers the best bang for the buck, it's hard to go wrong with the iPhone 11 Pro. With iPhone 11 Pro prices starting at $559 on Swappa, you won't find a cheaper iPhone with longer battery life. It even bests the newer iPhone 12 Pro. Go figure.
Clocking in at 18 hours of video playback, the iPhone 11 Pro offers the best battery life for the money. Not only that, you get a camera that's vastly superior to any iPhone before it with Deep Fusion and Night Mode, so it really is a tremendous value. It's no wonder the iPhone 11 Pro is a Swappa top seller.
Looking for something a little cheaper? The iPhone 11 offers a 17-hour video playback rating with prices starting at $429. There's also the iPhone XR — priced at $260+ — which is the cheapest iPhone you can buy with the best battery life (16-hour video playback rating). Just keep in mind you'll be sacrificing more premium hardware like an OLED display, extra camera lenses, and that rare midnight green color option.
Easy ways to extend iPhone battery life
Aside from hardware and software features that automatically, there are a few things you can do to squeeze even more battery life out of your iPhone. Here are just a few battery saving tips:
Turn on auto-brightness
Reduce your screen brightness to the lowest comfortable viewing
Switch to Dark Mode if your iPhone has an OLED display
Change location permissions to "Allow while using app" for some apps
Enable optimized battery charging in settings
Enable low power mode when battery is low, and you can't charge up
Reduce auto-lock to 30 seconds
Battery killers to keep an eye on:
Streaming video apps – Video streaming requires a constant network connection and data transfer, killing your battery in record time. A possble solution is to download videos ahead of time (for apps like Netflix or YouTube that allow it) while connected to WiFi.
Video games – Games of any kind will cause your iPhone to run on all cylinders, draining battery power faster than almost anything else. If you know you're going to be away from the charger for a long period of time, avoid gaming (or invest in a portable battery charger).
5G – This new generation of wireless technology is great, but often times speeds are slower than regular 4G LTE while draining your battery quicker. Until carriers fully flesh out their networks, it might be worth turning off 5G in your cellular settings.
You may have heard that manually closing apps (swiping them away) when you're done using them is a great way to save battery, but in fact, the opposite may be true. Force closing apps is a common misconception in regard to iPhone battery life, and is something you should avoid for a few reasons. One, it's inconvenient and time-consuming to lose your place inside an app when you return to it. Second, when you reopen an app it's going to have to pull all new data, causing even more drain on the battery. In other words: avoid this bad habit altogether.
Another bad "tip" you may have heard about is disabling background app refresh in your settings. Although this could be helpful in dire straights, this will prevent your apps from performing normally, causing you to miss out on important notifications. In other words, it's probably not worth the trade-off in convenience. For those rare occasions when you feel like something like this would be necessary, low power mode turns off background app refresh and is much easier than going into each app setting one-by-one.
If you're using an iPhone that's more than 3 years old, you'll also want to check in on your battery health percentage. If it's below 70%, it might be time to look into a battery replacement. It's a fairly inexpensive process and will help your iPhone feel like new again (especially since Apple's software slows performance to compensate for poor battery health). The good news is the Swappa repair can help you find cheap iPhone battery repair in your area. Use the button below to find a reputable shop near you.
---
Snag the best deals on used iPhones wherever you go. Download the Swappa App today!
---