---
Finding an iPhone you love doesn't have to cost an arm and a leg. When it comes to previous-generation iPhones, a cheap iPhone 8 Plus is a solid option for anyone looking for a big and affordable iPhone packed with modern features. The iPhone 8 Plus was officially discontinued in 2020, but don't worry — you can still find gently used models in the Swappa marketplace in a variety of carrier, storage, and color configurations. If you're on the fence and not sure if the iPhone 8 Plus is worth it, we hope this post will help you decide if it's the right phone for you.
Read More:
• iPhone 8 Plus vs all other iPhones [GUIDE]
• iPhone 8 Plus Comparison Guide
• When will the iPhone 8 Plus price drop?
• Is iPhone 8 Plus worth buying in 2022?
iPhone 8 Plus specs
The iPhone 8 Plus was first introduced in 2017 where it was offered as a larger version of the smaller iPhone 8. A successor to the previous year's iPhone 7 Plus, the iPhone 8 Plus added a handful of upgrades like a gorgeous glass and aluminum design, Qi Standard wireless charging, faster processor, wired fast-charging, and an improved True Tone display. For more iPhone 8 Plus hardware specs, check out the table below.
| | iPhone 8 Plus specs |
| --- | --- |
| Display | 5.5-inch LCD (1080×1920) |
| Rear camera | 12MP, f/1.8 (primary) + 12MP, f/2.8 (telephoto) |
| Front camera | 7MP True Depth |
| Processor | A11 Bionic chip (64-bit) 10 nm |
| RAM | 3GB |
| Storage | 64/128/256GB |
| Battery | 2,691mAh w/ 20W fast-charge |
| Water resistance | IP67 |
| Size (dimensions) | 158.4× 78.1 × 7.5mm |
| Weight | 202g |
iPhone 8 Plus Specs and Features
Hardware specs are a great way to measure a phone's value, allowing you to quickly see what's being offered and see how it compares to others in its price category. Just keep in mind that the numbers don't always tell you the whole story, as it's possible for a phone to have lesser specs, but still perform better or have longer battery life than a slightly better-equipped competitor.
When it comes to the design, the iPhone 8 Plus has that classic look that we've seen since the iPhone 6, with slight changes like an all-glass back. Unfortunately, this can make the phone look a tad dated by today's standards, especially when compared against newer iPhone models like a cheap iPhone XR or a used iPhone 11. You'll notice large black bezels surrounding the iPhone 8 Plus display, complete with Apple's trademark home button and Touch ID fingerprint reader. There's no Face ID or notched OLED displays, just a familiar design that so many people have grown accustomed to.
Of course, a phone is only as good as the software it's running, and unlike Android devices that rarely receive more than 2 or 3 years of major software updates, the iPhone 8 Plus is still going strong. In fact, the phone launched with iOS 11, but has since been updated to iOS 15 — that's 4 major platform versions with no signs of slowing down.
How big is the iPhone 8 Plus?
The regular iPhone 8 is fairly small, while the iPhone 8 Plus is the larger model. Although big by even today's standards, the screen itself is actually smaller than the one equipped on the iPhone 13 (5.5-inches vs 6.1-inches). This is because the iPhone 8 Plus has large black bezels on the top and bottom of the screen that increases its overall footprint. Meanwhile, newer iPhone designs have full displays that stretch to all four corners of the phone, with only a small notch at the top to house the True Depth camera and Face ID sensors.
iPhone 8 Plus dimensions: 158.4 x 78.1 x 7.5mm
iPhone 8 Plus weight: 202g
Comparing the iPhone 8 Plus size to previous-generation iPhone 6 Plus and iPhone 7 Plus, the 8 Plus is slightly thicker and heavier due to the glass back and wireless charging. If you find yourself favoring larger-sized iPhones, then you'll feel right at home with the iPhone 8 Plus. If you're looking for an even larger screen, then you may want to check out a used iPhone XR or a cheap iPhone 11 as affordable options sporting Apple's newer design.
iPhone 8 Plus colors
Similar to previous-generation models, the iPhone 8 Plus glass and aluminum design comes in four color options: space gray, silver, gold, and red. For those that can't see the phone in person, the gold color is technically more of a rosy/peach color — not yellow gold — so keep that in mind if you were considering picking this one up.
Apple says the glass finish on the iPhone 8 Plus is made using a "seven-layer color process" for added color depth. With the exception of the silver/white model, the glass matches the "aerospace-grade" aluminum frame. It's a solid color lineup, although not as bright and colorful as the iPhone XR that launched the following year. As for the most popular color options sold on Swappa, the space gray and (rose) gold are the best-selling iPhone 8 Plus models in our marketplace.
iPhone 8 Plus camera
The iPhone 8 Plus camera specs features a familiar dual setup — 12MP primary and 12MP telephoto zoom lens — similar to the one we saw on the iPhone 7 Plus, although photo quality has been improved thanks to the A11's new image signal processor. It's a great camera for sure, but it lacks Apple's Smart HDR (a feature found in the iPhone XR on up) making the camera arguably the weakest part about the iPhone 8 Plus.
Portrait mode (now with Portrait Lighting) could make up for the lack of Smart HDR depending on your shooting habits, but you'll need to have plenty of daylight or bright indoor lighting to take a crystal clear shot. Video recording is also pretty great on the iPhone 8 Plus, with the ability to shoot up to 4K/60fps, and slow-mo full HD 1080p/240fps video.
Is the iPhone 8 Plus waterproof?
First off, there's no such thing as a truly waterproof phone. We say that because a popular misconception is that modern phones these days are waterproof, when the vast majority are only water-resistant to varying degrees. With that out of the way, we can talk about the iPhone 8 Plus and its water resistance.
The iPhone 8 Plus has an IP67 water/dust resistance rating, which means the phone is able to survive being fully submerged in up to 1 meter of water for 30 minutes. So while you probably shouldn't take the phone snorkeling, it will have no problem surviving a splash of water or fall into the toilet. Just make sure you rinse the phone thoroughly afterward. 😉
iPhone 8 Plus battery life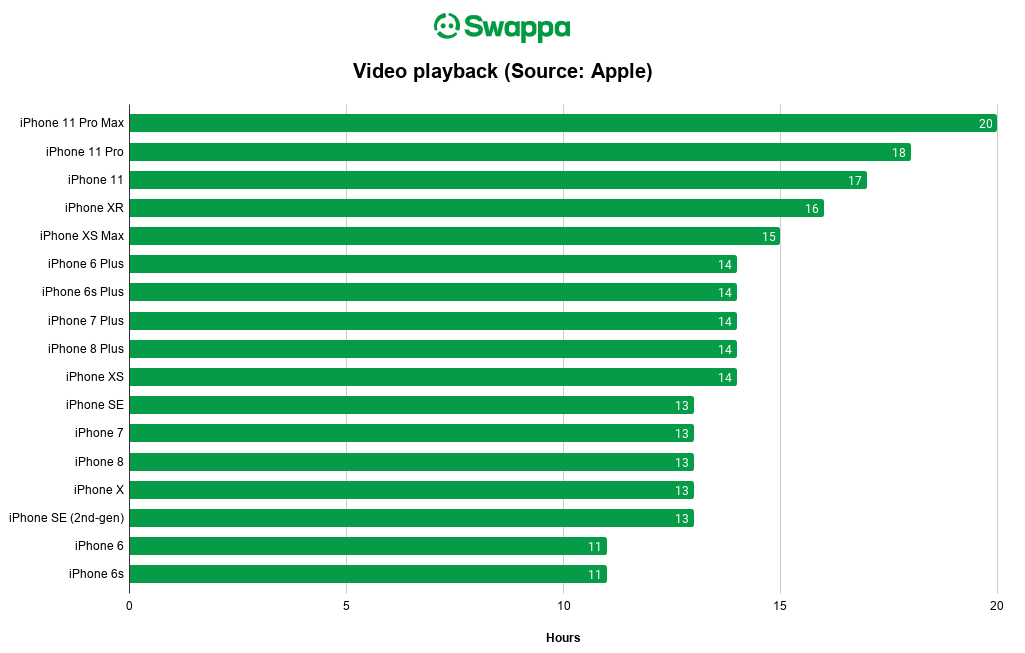 One of the best perks of owning a larger-sized phone is the higher capacity battery that typically comes with these devices. Because of their larger screens, big phones require more power, thus necessitating the need for a higher capacity battery. The side effect is that larger-sized phones typically have much better battery life than their smaller counterparts, the same is true for the iPhone 8 Plus.
The iPhone 8 Plus battery specs show it comes with a 2,691mAh battery. According to Apple, it delivers roughly 14 hours of uninterrupted video playback. This isn't raw battery life, only Apple's scoring system, which is merely meant to give you a general idea. If you don't plan on watching video for 14 hours straight, then you can expect much longer battery life, with an iPhone 8 Plus being capable of taking you through an entire day until you're ready to plug in at night.
In other battery-related news, the iPhone 8 Plus also supports fast-charge, a feature that debuted on this model year. When paired with an 18W-20W adapter, the iPhone 8 Plus can charge from empty to 50% in only 30 minutes time. This allows you to quickly juice up when in a pinch.
How much does iPhone 8 Plus cost?
The iPhone 8 Plus is by no means a bad phone. In fact, it's still able to compete with the best phones out there, simply because the phone offers many newer smartphone features — like water resistance, wireless charging, and dual cameras — providing you can get past the semi-dated design.
When the iPhone 8 Plus first launched, it retailed for $799 (64GB) and $949 (256GB). On Swappa, you can get a cheap iPhone 8 Plus 64GB for under $200! Need more storage for photos and apps? The iPhone 8 Plus 128GB averages $285, while the iPhone 8 Plus 256GB is around $300. Seeing as how these are only average prices for various listings you can find on Swappa, it's easy to find even cheaper prices according to the specific carrier or phone's condition.
You'd better hurry. iPhone 8 Plus prices are the lowest they've been all year, which means there's nothing standing in between you and finding a great deal on Swappa. Check out the iPhone 8 Plus prices on Swappa using the widget below.
---
Snag the best deals on used iPhones wherever you go. Download the Swappa App today!

---