It's that time of year, folks. As a new set of iPhones looms near, Apple enthusiasts desperate to upgrade may find themselves asking, "When will the iPhone 8 Plus price drop?"
It's a perfectly valid question. Especially for someone with a device no longer working as intended. As Apple announces a new lineup of iPhones, prices of the previous generation devices are discounted, usually by around $100 or so. Sometimes Apple mixes it up by changing up the storage configuration but one thing is almost always certain: prices will drop.
For those that have been eyeing the iPhone 8 Plus, prices are falling lower every day. If you're looking for a great price on an iPhone 8 Plus, Swappa is your best chance to nab the best deal possible.
iPhone 8 Plus Price Drop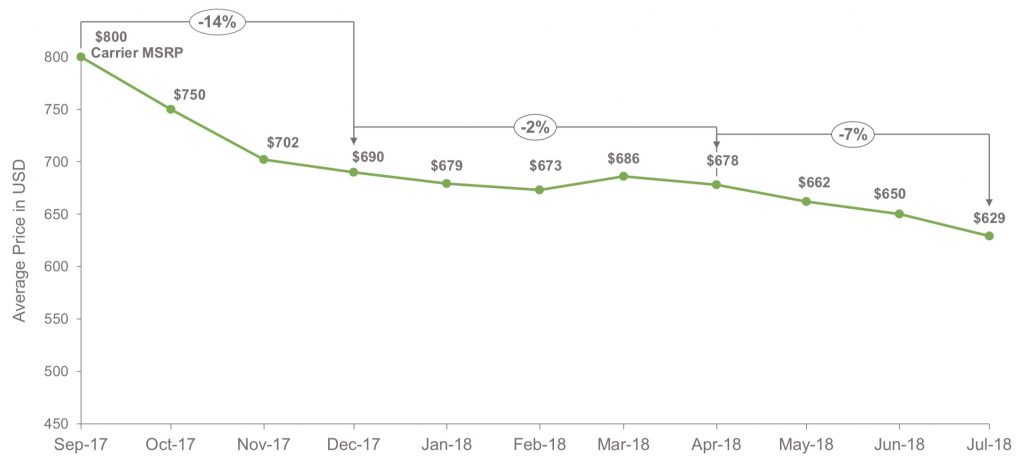 Apple phones tend to hold their value extremely well during their initial launch year. The iPhone 8 Plus has been no different. The iPhone 8 Plus was first introduced at $799 (64GB) and $949 (256GB), with no changes in retail pricing since launch. Used pricing, however, is much different and that's where the most savings can be found.
During the past 10 months, we've seen the price drop a total of 21%. The majority of that occurred during the iPhone 8 Plus' first 2 months on the market, where we saw the price drop $110 September to December.
We can see things plateau a bit December through April, picking up steam May through July. Of course, we expect the price to continue falling through August, with the phone taking its biggest dip in September — once the retail price of the phone drops — and used models follow suit.
According to our data, the current going rate for a used iPhone 8 Plus in the Swappa marketplace averages around $622 for the 64GB model, while the 256GB model is averaging around $670.
Best time to buy the iPhone 8 Plus ?
The price of the phone is the lowest it's been all year, so there's never been a better time find a great deal on a used iPhone 8 Plus. Of course, if waiting is an option, anytime after September will see the price of the iPhone 8 plummet to its lowest levels yet.
Worst time to buy the iPhone 8 Plus ?
The only real "bad" time to buy an iPhone is on launch day, before used models hit the Swappa marketplace. Simply wait a month or two, and the price will see the biggest drop during the initial launch year. Really it just depends on how long you're willing to wait for that price to drop even further.
See also:
Buying a used iPhone 8 Plus is a great way to get a newish device for a fraction of the price. On Swappa there is a huge selection of used tech to choose from, so finding the perfect price, storage size and condition for you is just a few clicks away.
Those looking to buy an iPhone 8 Plus, we hope this post was helpful. By sharing the data from the Swappa marketplace, you should be able to make a more informed buying decision before investing your hard-earned money on an iPhone 8 Plus.
With Swappa, you'll always find the best deals on the iPhone and can browse our entire iPhone 8 Plus selection by simply hitting the button below. Happy savings!