---
Last month, alongside a more affordable Nintendo Switch Lite, Nintendo also quietly revealed a slightly upgraded version of the original Nintendo Switch. Visually, it's identical to the OG model that debuted in 2017 — same size, color and build quality — but on paper Nintendo appears to have added a small hardware upgrade big enough to catch the attention of hardcore fans everywhere: longer battery life.
SHOP NINTENDO SWITCH DEALS ON SWAPPA
According to Nintendo, this newer Switch model will deliver 4.5 – 9 hours of playtime, a notable improvement from the previous version's 2.5 – 6.5 hours. It's not clear if this is due to a higher capacity battery, or if a newer, more battery-friendly CPU is responsible for the increase. In any case, it's a pretty big improvement, especially if you find yourself gaming on-the-go (handheld) more than hooked up to the TV (docked).
For some, the improved battery life is enough to warrant an upgrade, so we wanted to make sure Swappa users know exactly what to look out for as newish models inevitably begin making their way onto the marketplace. Here are the key identifying markers to look out for: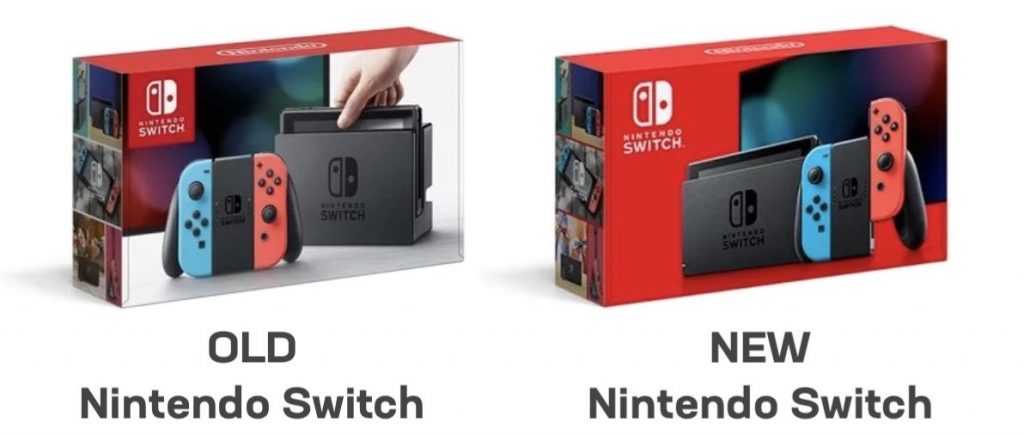 New Nintendo Switch
New box with red background (gray or red/blue controllers)
Model number (printed on back) for the new Switch is MOD HAC-001 (-01)
Serial number (printed on bottom) starts with XKW
Old Nintendo Switch
Old box with TV, hand, and white background
Model number (printed on back) for old Switch is MOD HAC-001
Serial number (printed on bottom) starts with XAW
Now you know what to look out for, you should have no problem identifying the new Switch either in-stores, or in the Swappa marketplace. Because online retailers may still show stock images of the original (older) model, it can be tough knowing which model you're ordering — so be careful.
For Swappa users looking to sell the newer Nintendo Switch in our marketplace, we recommend including images of the model number and/or box to make it more easily identifiable. When buying on Swappa, feel free to request a photo of the model number on the back of the Switch whenever coming across a listing that claims to be the newer model.
If you're looking to upgrade to the newer model, check out our blog post on Transferring Your Nintendo Switch Saved Game Data over to the new system (heads up: you'll need both old and new systems to complete the transfer). We also have a comprehensive walkthrough showing you How To Sell Your Nintendo Switch on Swappa.
And of course, the absolute best way to the get most money for your old tech is by selling it directly to a buyer on Swappa. To create a listing and sell your old Nintendo Switch today, simply hit the button below to get started.