---
The month of June has begun, which means we can take a few minutes to look back and see which computers and laptops made the best-selling list for the month of May. Similar to what we are used to seeing with the top ten best-selling phones, the best-selling computer list is dominated by Apple devices. Continue scrolling to check out the best-selling used computers for the month of May.
Top selling used laptops from May 2023
In total, there were nine Apple laptops and one Apple desktop on the list this month. The Apple laptops ranged in release date from as early as 2017 to as late as 2022 and included models from the MacBook Air and MacBook Pro lineups. The sole Apple desktop was the Mac mini (2020), which is a great deal with current starting prices at around $450.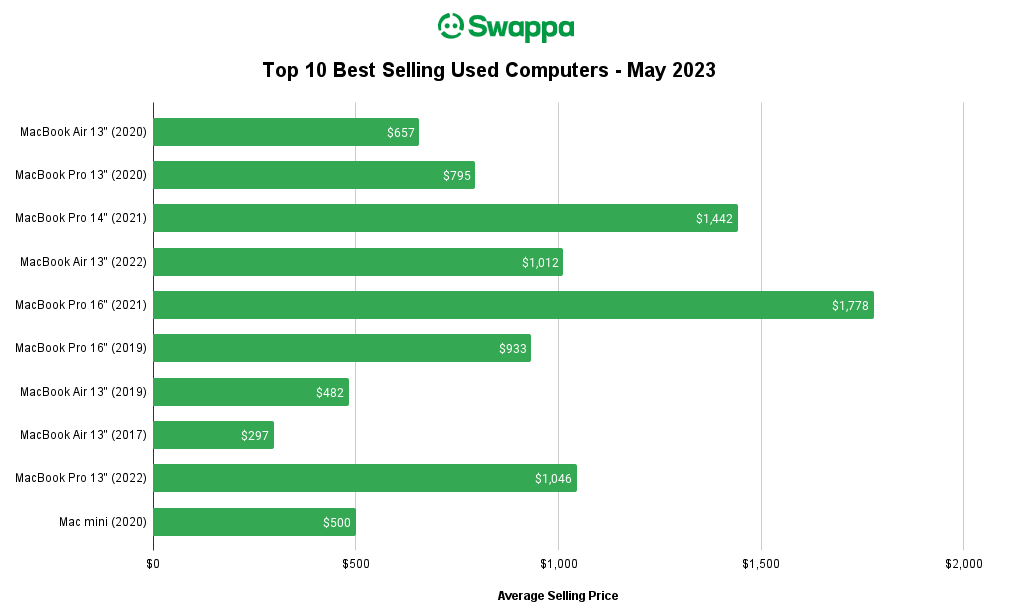 Buying a gently used laptop from the Swappa marketplace is a great way to spend less money. Not only will you save on current models, but you also have the opportunity to get gently used models from previous years that are no longer available from Apple.
For example, if you're looking for a MacBook Air for everyday use — web surfing, email, watching video — the MacBook Air 13″ (2017) with a starting price of around $180 is certainly worth considering. Similarly, the MacBook Air 13″ (2019), priced from around $500 would be a great laptop that could easily last you for years into the future.
Buy and sell your gently used computer on Swappa
We love sharing these best-selling lists, but there is a bit more value — they help buyers. If you're browsing for a computer, and are a bit unsure of what model you want, or how much you want to spend, this list will give you a good idea of what models other users are buying, and perhaps equally important — what others are paying.
This best-selling computer list also benefits sellers. Sellers are able to get an idea of what models are most popular amongst Swappa buyers. This is good to know if you are already flipping gently used computers, or looking to start flipping as a way to make a few extra bucks.
Of course, we also have to point out that Swappa is much more than gently used computers. The Swappa marketplace is also a great place to buy and sell gently used smartphones, tablets, smartwatches, video games, game consoles, and much more — including graphics cards.
Shop safe and save BIG on Swappa
The Swappa marketplace is the safest marketplace for used tech. And, it is easy to use, and a great place to shop if you want to save money. After all, you're always spending less if you buy gently used instead of brand new. A few other key perks of using Swappa include:
In addition to reviewing listings and keeping the junk out of the Swappa marketplace, our support team also actively works to ensure you won't have to deal with any jerks. But…any marketplace can claim to be safe and to have happy users — so we encourage you to review some of our Trustpilot reviews.