---
It doesn't matter if you're a bargain shopper hunting for a great deal, or someone looking to make some extra cash online — the Swappa marketplace is your best bet for both buying and selling used tech. Although we have numerous transactions taking place every single day, not everyone is familiar with the Swappa marketplace or how it works.
In this post, we'll talk about what makes Swappa unique from other online marketplaces, as well as cover the buying, selling, and shipping process for any newcomers. This will hopefully answer most questions you might have and ensure the best possible experience for anyone looking to get involved on Swappa, whether it's buying or selling.
What is Swappa?
Swappa is a human-powered marketplace that cuts out the middleman. This allows buyers to deal directly with sellers, ensuring everyone walks away getting the best deal possible. Our strict no junk policy gives buyers the peace of mind in knowing that everything sold in our marketplace is in full working condition and with no seller fees, there's nothing standing in between you and selling your old tech right now.
Get paid what your device is actually worth
Unlike trade-in services like Gazelle, our sellers receive top dollar for the goods they're looking to sell. We provide sellers with pricing data, so they can price their goods at fair market value and get paid fast. Selling gently used tech on Swappa is free, with buyers paying the small listing fee — not the seller.
Always get the best deals on used tech
Of course, cutting out the middleman also means Swappa is the best place for bargain shoppers looking for the best deal on gently used tech. In most cases used items sold in the marketplace are priced significantly lower than their retail counterparts. This makes Swappa a win-win for both buyers looking to score the best deals, and sellers looking to put some extra cash in their pockets.
The safest way to shop
All transactions in the marketplace are made using PayPal, with sellers receiving money in their account the moment their device sells. For buyers, PayPal protections mean you get exactly what you paid for or your money back. Simple as that.
How to buy on Swappa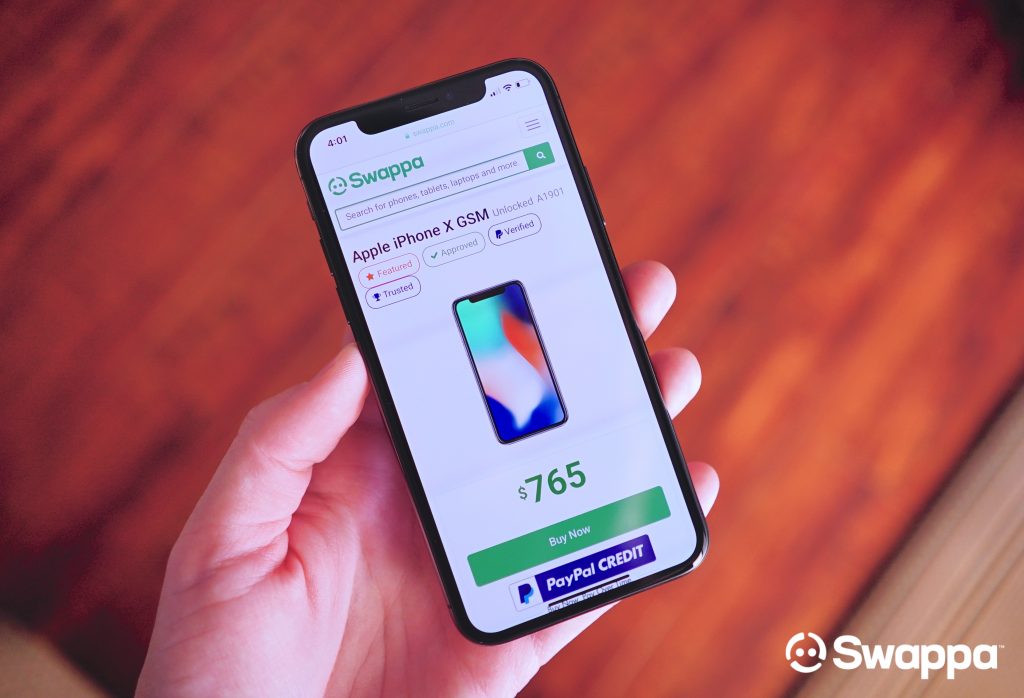 Finding the best deals in the Swappa marketplace is super easy. You can start by either searching for a product manually or browsing popular categories like iPhones, laptops, tablets, cameras, watches, and more — right on our homepage. Swappa's strict "no junk" policy gives you peace of mind in knowing everything sold on the marketplace is kosher and ready for activation.
Once you've found something you like, you can view the listing, ask questions by leaving a comment on a listing, and if everything looks good, hit that big, green Buy Now button. You can also add an item to your cart for later purchases.
For a more detailed breakdown of buying on Swappa — including navigating search results, buying tips, making lower offers, and returns/refunds — check out the full Swappa Buyer Guide linked below. You won't regret it.
How to sell on Swappa
Selling your used tech on Swappa is almost as easy as shopping. On Swappa the buyer pays the seller fees, so there's nothing standing between you and getting paid. Oh, and it's a heck of a lot safer than meeting someone off Craigslist and you get paid the moment your item is sold. No awkward handshakes, hugs, or encounters. You can sell everything from the comfort of your home.
To get started, just find the product you want to sell by searching for it on our homepage (if you can't find it, you can contact our support team here). Once you've found the product, you'll be asked to enter a few details about the device, and its condition and once you've uploaded a few pictures, you can name your price.
After you submit your listing, our team will do a quick check to make sure you've provided all the necessary information (and that the device isn't blocklisted or still being financed). Once approved, your listing will be live on the marketplace and you can start making money.
Of course, this was just a quick rundown of how selling on Swappa works, for a more detailed walkthrough — including tips on preparing your device for sale, verification photos, upgrading to a featured listing, accepting lower offers, and more — check out the full Swappa Selling Guide linked below.
How to ship on Swappa
We've reached the final component in the Swappa buying/selling process and that's shipping. Anyone curious about how shipping works on Swappa, it's pretty straightforward. For buyers, shipping is free since costs are already included in the listing price. It's also a good idea for buyers to have a PayPal-confirmed address to avoid any issues during shipping.
Sellers are required to ship the item within 2 business days of receiving payment and can ship the item using any service they like — United States Postal Service, UPS, FedEx, etc. Sellers are responsible for ensuring the item is safely packed and arrives exactly as described in the original listing. Sellers will need to provide a tracking number (and insure the package) and remain in contact with the buyer until the transaction process is complete.