---
Apple first unveiled the iPhone 8 in September 2017, alongside the iPhone 8 Plus and iPhone X. The eleventh generation of the iPhone, the iPhone 8 was the successor to the previous year's iPhone 7 and introduced a handful of new features like wireless charging, a faster processor, fast charging, and an improved True Tone display. Today, the iPhone 8 is now a little over 2 years old and while there are lots of reasons to pick up the latest and greatest iPhones Apple has to offer, there's also a good reason NOT to: Apple's ever growing prices.
For those that don't care about having the latest bells and whistles, budget minded shoppers can find huge savings simply by choosing a previous generation iPhone. On Swappa, the current used price for the iPhone 8 starts at $255 — that's over 45% off Apple's new retail price. Because used prices are dropping all of the time, there's never a bad time to buy a used iPhone 8. Keep reading for a more detailed breakdown of our iPhone 8 prices in the USA by storage and carrier.
iPhone 8 Prices on Swappa
(iPhone 8 prices as of 11/19)
On Swappa, the current average price for an iPhone 8 (64GB) is $342. Need more storage? The iPhone 8 (128GB) average price is $439, and the iPhone 8 (256GB) around $411. Again, these are the average listing prices on Swappa, so you're sure to find cheaper prices depending on the individual seller or the phone's condition.
Needless to say, these are some crazy good deals and Swappa makes it easy to find a cheap iPhone 8, whether you're looking for a replacement, upgrade, or even to outfit the entire family with a handful of new iPhones. We all know that one person in desperate need of an upgrade and with the holidays around the corner, you can even find a mint condition iPhone 8 to gift to that special someone.

iPhone 8 Price History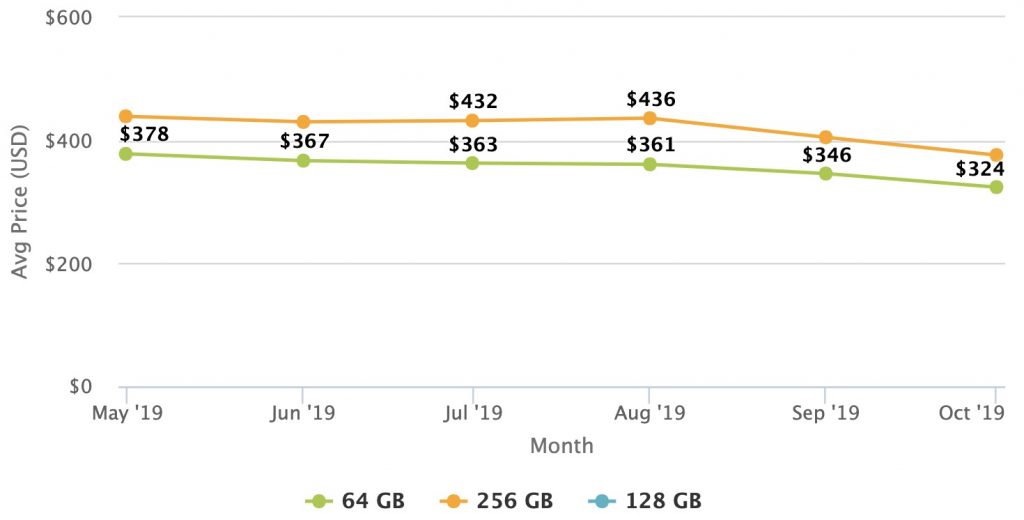 (Average prices on Swappa)
When the iPhone 8 first came out, the new retail price was $699 (64GB) and $849 (256GB). iPhone 8 colors included silver (white), gold (peach hue), and Space Gray (Apple's version of black). The following year, Apple introduced a special edition iPhone 8 PRODUCT(RED) color option a few months before the new iPhone lineup was announced. In September 2018, the iPhone XS, iPhone XS Max, and iPhone XR were unveiled and Apple dropped the iPhone 8's price down to $599 and $749.
Is the iPhone 8 discontinued?
In September 2019, Apple dropped the price of the iPhone 8 again, where it is now currently $449 (64GB) and $499 (128GB) brand new. Apple also discontinued the iPhone 8 256GB (in addition to the iPhone XS and XS Max), more than likely to set the phone apart as the most affordable phone in Apple's lineup. That means if you had your heart set on the larger 256GB iPhone 8, you'll have to search for used or refurbished models. 
With an all-glass back, the iPhone 8 is a little more fragile than previous generation models but don't let that worry you. Swappa offers an affordable Used Phone Protection Plan that protects your used iPhone 8 from accidental damage should you crack the screen or the back. Whether you're buying a used iPhone 8 for yourself or a loved one, you can rest easy knowing your investment is safe from most of life's mishaps. For more info on our Used Phone Protection Plan, make sure to check out our blog post.
*****
Lucky for you, you'll find the absolute best deals on a cheap iPhone 8 — including the now discontinued 256GB model — by shopping the Swappa marketplace. Right now, used prices for the iPhone 8 are the lowest they've ever been, so there's nothing coming in between you and finding the best price on a cheap iPhone. Start browsing our entire selection of cheap iPhone 8s by hitting the button below. Happy shopping. 🙂