---
Apple launched the iPhone 11 Pro Max in September 2019, alongside the iPhone 11 Pro and iPhone 11. Although it's no longer Apple's latest and greatest, a used iPhone 11 Pro Max is still a phenomenal phone in 2022 thanks to its drool-worthy specs, impressive features, and stunning industrial design.
We took an in-depth look at the features and specs in our iPhone 11 Pro Max review, and now let's take a closer look at cheap iPhone 11 Pro Max prices in 2022 on Swappa. Trying to find out how much the iPhone 11 Pro Max is in 2022? Keep reading to find out.
iPhone 11 Pro Max price
Even though the iPhone 11 Pro Max wasn't cheap when it came out, you can get one today on Swappa for about half of its original retail price! Depending on your storage and carrier selections, you could be looking at as much as a $839 discount on the 512GB model, $719 off the 256GB model, or $614 off the 64GB model! In other words, you're generally paying less than half the original retail price.
Needless to say, paying half as much on Swappa makes the iPhone 11 Pro Max much more affordable. When saving this much, many buyers are able to look into larger storage sizes than they'd otherwise consider. Rest assured that whichever storage size or carrier model you prefer, you'll always get the best deals on newish tech by buying on Swappa.
iPhone 11 Pro Max price history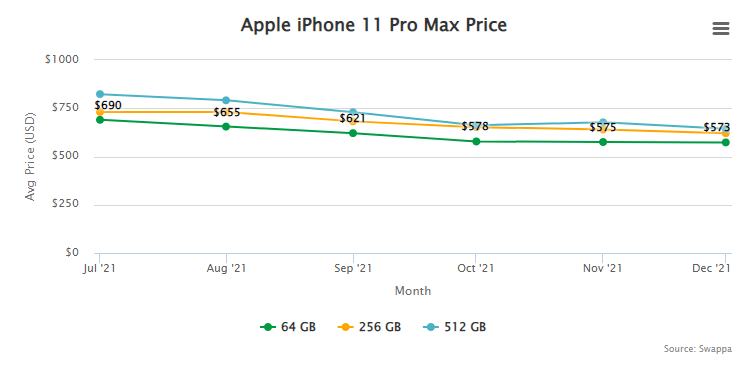 We recently published an in-depth analysis examining how well iPhones hold their value over time compared to their Samsung Galaxy rivals. If you haven't already checked it out, now would be a good time; but suffice it to say that iPhones retain their value extremely well. And despite the fact that new devices generally see the quickest depreciation within the first few months of release, the iPhone 11 Pro Max's resale value still holds incredibly strong.
With that said, prices on Swappa will continue to fall as time goes by. This means it's always a good time to buy. So if you're trying to get the most for your money, you'll always score the best deals by shopping on Swappa.
*****
Make no mistake; a cheap iPhone 11 Pro Max is one of the very best smartphones available today. It features a speedy 6-core A13 Bionic chip, and pairs it with an amazing Super Retina XDR screen, a stellar triple-camera system, and a downright gorgeous aesthetic design. But as you'd expect, it comes in at a fittingly high retail price — MSRP starting at $1099 for the 64GB model, and rocketing up to a whopping $1449 for the 512GB model.
Thankfully, Swappa has you covered, with gently used iPhone 11 Pro Max phones starting at less than half of their original retail price! And thanks to Swappa's strict "no junk, no jerks" policy, you can rest assured knowing that you're buying a fully functional device that is ready for activation on the network of your choosing. After all, each and every listing is reviewed by our expert moderation staff before it goes live.
So what are you waiting for? Head over to the button below and rake in the savings on a used iPhone 11 Pro Max! Still deciding if this is the right iPhone for you? Check out our iPhone 11 Pro Max Buyer's Guide and iPhone 11 Pro Max Comparison Guide to learn more
Swappa makes buying even easier with Buy Now, Pay Later. Get the tech you want today, and pay for it in 4 easy installments spread over time. And don't forget to pick up a Swappa Used Phone Protection Plan while you're at it. 😉
---
Snag the best deals on used iPhones wherever you go. Download the Swappa App today!

---