---
Like the tick of a finely tuned Swiss watch, Apple's yearly iPhone release cadence never skips a beat. With each passing year since the original iPhone launched in 2007, we've been treated to new and improved iterations of the world's most recognizable smartphone. What this means to consumers is a yearly batch of upgrades: better cameras, faster processors, upgraded screens, and more.
Launched in September 2019, the iPhone 11 Pro Max is a former flagship with some serious specs. Curious about how much a used iPhone 11 Pro Max costs and whether it's worth buying in 2022? Read on to learn more.
Jump to:
iPhone 11 Pro Max Design
The iPhone 11 Pro Max carries a lot of the same design language that was first introduced with the iPhone X back in 2017 — glass on the front and back, with metal on the sides. This also means that love it or hate it, the notch is still there. One major change, however, is the frosted glass on the rear panel. This not only gives the iPhone 11 Pro Max an improved in-hand feel, but it also makes the phone a bit less slippery.
How big is the iPhone 11 Pro Max?
As we touched upon above, the iPhone 11 Pro is available in two screen sizes this year: the 5.8-inch iPhone 11 Pro, and the 6.5-inch iPhone 11 Pro Max. Make no mistake, the iPhone 11 Pro Max is a big phone. It measures in at 77.8 (W) x 158 (H) x 8.1 (D) mm, and weighs 226g.
What colors does the iPhone 11 Pro Max come in?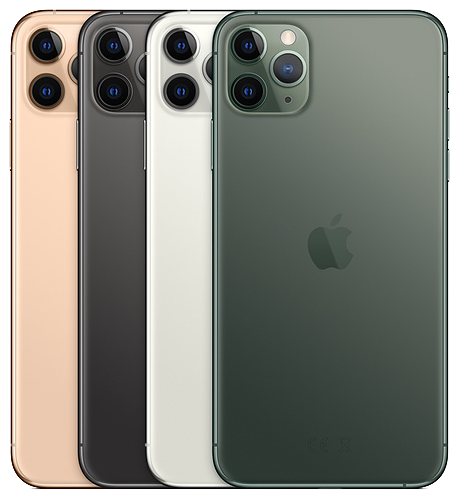 The iPhone 11 Pro Max is available in 4 colors: Space Gray, Silver, Gold, and the brand new Midnight Green. Your choice affects the rear and sides of the device — with the front face being identical between the colors. In typical Apple fashion, all the color choices are elegantly understated and offer their own unique flair.
If you're unsure which to choose, here's some data from the Swappa Marketplace: The most popular color on Swappa is Midnight Green (46% of buyers), followed by Space Grey (26%), Gold (20%), and Silver (8%). Although Midnight Green may be the most popular, we think that all the colors look great.
What's new in the iPhone 11 Pro Max?
Although visually similar to the outgoing iPhone Xs Max, the iPhone 11 Pro Max packs quite a few upgrades into its sleek metal and glass housing. For starters, you get a faster and more powerful processor and an upgraded display. In addition, you have increased battery life and improved water resistance (IP68 under IEC standard). Finally, you have major camera upgrades, thanks to both new camera modules and Deep Fusion neural image processing enabled by the A13 Bionic chip.
iPhone 11 Pro Max Specs
Although a modern smartphone amounts to much more than the sum of its parts, it's still important to make sure that its specs are in line with what you're paying. As expected from a recent flagship device, the iPhone 11 Pro Max is a beast of a phone. Check out our iPhone 11 Pro Max comparison to see how it stacks up against other iPhones.
Display
6.5-inch Super Retina XDR (AMOLED)
Resolution
2688×1242 (458 ppi)
Processor
Apple A13 Bionic Chip
Memory
4GB LPDDR4X
Storage
64GB, 256GB, or 512GB
Rear Cameras
Primary: 12MP f/1.8 with OIS
Ultra-wide: 12MP f/2.4 (120-degree)
Telephoto: 12MP f/2 with OIS (2x zoom)
Selfie Camera
12MP f/2.8
Battery Capacity
3969 mAh
Dimensions
77.8 (w) x 158 (h) x 8.1 (d) mm
Weight
226g (8 oz)
Water Resistance
IP68 under IEC Standard
Apple A13 Bionic Chip
Every passing generation of iPhone brings with it a new processor, and the iPhone 11 Pro Max is no exception. The iPhone 11 Pro Max prominently features the hexacore Apple A13 Bionic processor, which is Apple's fastest smartphone chip, and arguably the fastest processor on any modern smartphone available today. Featuring two high-power Lightning cores and four low-power Thunder cores, the A13 Bionic has more than enough grunt to handle anything you could possibly throw at it.
RAM
Long gone are the days when iPhones lagged behind their Android counterparts in terms of RAM. The Apple iPhone 11 Pro Max features 4 GB of LPDDR4X memory. From hardcore gaming to opening tons of Safari tabs, the iPhone 11 Pro Max packs more than enough memory to satisfy even the most demanding power users.
Storage
The iPhone 11 Pro Max is available in 3 storage sizes: 64GB, 256GB, and 512GB. Just like all previous iPhones, the iPhone 11 Pro Max does not offer expandable storage — so be sure to select your capacity wisely. If you're heavy shutterbug or you like having a massive media library on your device, you'll probably want to get the 256GB or 512GB models. On the other hand, if you predominantly use cloud storage and stream most of your media content, you'll probably be fine with the 64GB version.
Still unsure about what to pick? We've seen that the 256GB option is the most popular option on the Swappa Marketplace, as it strikes an excellent balance between cost and capacity. Next, we have the smaller 64GB variant, and finally we have the 512GB monster.
Display
What good are a superfast processor and plenty of RAM without a great screen? Thankfully, the iPhone 11 Pro Max doesn't make you answer that, as it packs one of the absolute best screens on any smartphone today. The 6.5-inch Super Retina XDR display features a high 2688×1242 resolution, which equates to 458 ppi. It also lives up to the XDR in its name by offering an average brightness of 800 nits, with peaks of 1200 nits in very bright scenes. And thanks to Apple's obsession with providing displays with excellent factory calibrations, it delivers some of the best colors and overall visuals on any smartphone. As a result, it should come as no surprise that it has earned an A+ rating from DisplayMate labs.
iPhone 11 Pro Max Cameras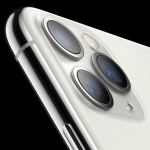 Apple iPhones have always been known for their excellent photo capabilities. With the iPhone 11 Pro Max, Apple ups the number of rear-facing cameras to three. Offering some of the best still photos and without question the best video capture for several generations now, iPhones are always a solid choice for anyone into mobile photography.
Ultra-wide
The right-most camera module on the iPhone 11 Pro Max is a 12MP ultra-wide camera. The lens has an f/2.4 aperture and a 13mm focal length, equating to a 120-degree field of view, letting you capture up to 4x more of the scene than a traditional camera lens.
Standard
On the top, we have another 12MP sensor backed by a more traditional, wide-angle lens. With a 26mm focal length, an f/1.8 aperture, and optical image stabilization, this camera is a versatile everyday shooter for most of your photography needs.
Telephoto
Finally, on the bottom, we have a third 12MP module. This sensor is backed by a 62mm f/2.0 lens with 2x optical zoom and optical image stabilization.
What is Deep Fusion?
Deep Fusion is Apple's take on computational photography, similar to what we have seen on the Google Pixel 4 and Pixel 4XL. Deep Fusion uses the A13 Bionic chip to deliver neural image processing aimed at lowering noise and increasing sharpness on your images. These powerful machine learning algorithms constantly work in the background to make sure that every single shot you take looks as good as possible.
Thanks to the excellent camera hardware and software, the iPhone 11 Pro Max is one of the absolute best smartphones for mobile photography and videography today. All this amounts to a phone that scores 117 on the industry-standard DXOMark rankings (124 photo, 102 video), giving it the fifth highest ranking overall, tied with the Note 10+. This score represents an impressive 11-point improvement over its predecessor, and clearly demonstrates Apple's continual advancements in the realm of mobile photography.
iPhone 11 Pro Max Carrier Models
There is a single iPhone 11 Pro Max model for North American carriers: A2161. This is the version you get when you buy the phone directly through US carriers or unlocked from the Apple Store, and is the version most frequently found for sale on Swappa.
There are two other models available internationally that you may occasionally come across when purchasing a used iPhone: A2218 and A2220. The A2218, also known as the "international model," offers better support for network bands used by international carriers, but lacks support for legacy 3G CDMA networks used by Verizon and Sprint. Finally, the A2220 is sold exclusively in China and Hong Kong, and it includes dual physical SIM slots. Due to its intended markets, you will likely never see an A2220 in the US.
IPHONE 11 PRO MAX COMPATIBILITY
iPhone 11 Pro Max vs Samsung Galaxy Note 10 Plus
If you're looking at a cheap iPhone 11 Pro Max, chances are that you're looking at other large phones as well. Undoubtedly, one of the most popular large phones is the Samsung Galaxy Note 10 Plus. Let's take a quick look at how these devices compare, shall we?
A direct descendant of the first real "phablet," the Note 10 Plus has a lot going for it such as a stellar screen, fantastic quad-camera array, fast processor, plenty of RAM, and great industrial design. However, the iPhone 11 Pro Max is able to more than hold its own in most of these areas thanks to its even faster processor, a similarly good display, comparable cameras, and superior biometric security.
Ultimately, with these two flagships, it really comes down to personal preference. Both offer stellar user experiences, and they both show off the very best that their respective platforms have to offer. If you like the simplicity of iOS and prefer a slightly more compact overall package, the iPhone 11 Pro Max is probably your best bet. But if you prefer the added productivity prowess courtesy of the revolutionary S Pen stylus, the Note 10 Plus is probably the best choice for you.
How much does iPhone 11 Pro Max Cost?
A gently used iPhone 11 Pro Max is unquestionably one of the best smartphone values available today, and it's certainly worth buying in 2022. Right about now, you're probably wondering what's the best way to get your hands on one. After all, this former flagship packs almost all of the latest features and specifications into an elegant and attractive package. iPhone 11 Pro Max prices were expensive at release, but this is where Swappa comes in.
You can currently find great deals on a cheap iPhone 11 Pro Max — currently starting at just $420, less than half of the original price. And since used phone prices continually fall as time goes by, it's always the perfect time to buy.
Whichever phone you end up getting, rest assured that Swappa is the safest and easiest way to snag a great deal whenever you're ready to upgrade. So what are you waiting for? Head over to the button below to pick out your iPhone 11 Pro! And while you're at it, why don't you head over to our wireless plan comparison tool or check out our list of the best cheap phone plans to find the perfect plan for your next smartphone.
---
Snag the best deals on used iPhones wherever you go. Download the Swappa App today!

---