---
The iPhone 11 Pro launched in September 2019, alongside the iPhone 11 Pro Max and iPhone 11. Not too long ago, we took an in-depth look at the iPhone 11 Pro and found it to be a superb device thanks to its speedy A13 Bionic chip, class-leading Super Retina XDR display, and impressive photo and video capabilities.
We also recently looked at how you could save 50% on a gently used iPhone 11 Pro Max on Swappa, but not everyone wants a 6.5-inch phablet. Luckily, the iPhone 11 Pro takes all the power and features from the Pro Max and packs them into a more pocket-able 5.8-inch size. Read on to find out the latest gently used iPhone 11 Pro prices in 2021!
iPhone 11 Pro price
Let's not mince our words here: The iPhone 11 Pro was pretty expensive when it launched. Starting at $999 for the 64GB model and ballooning up to $1349 for 512GB, you have to pay to play when shopping retail. But fret not; you can save quite a bit of money by buying a newish iPhone 11 Pro on Swappa.
Depending on your storage and carrier selections, you can save up to $499 on the 64GB model, $555 on the 256GB model, and $729 on the 512GB model. This substantially brings down the cost of entry and makes the iPhone 11 Pro quite attainable.
iPhone 11 Pro price history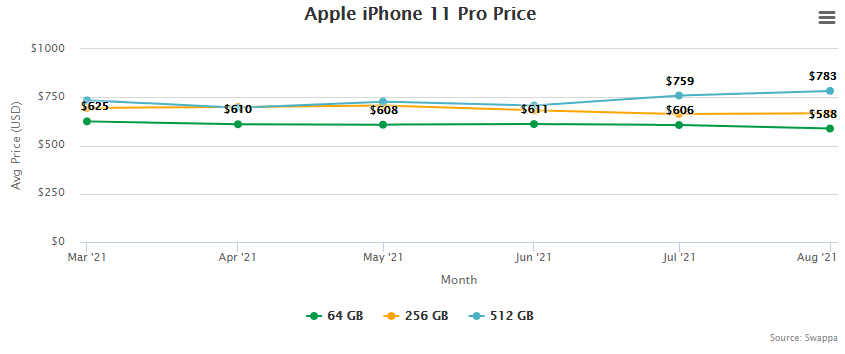 As we've covered in great detail, Apple iPhones hold their value extremely well. However, this doesn't mean that they're immune to depreciation. Just like all other tech toys, even Apple iPhones lose value over time.
As you can see above, the iPhone 11 Pro has seen a gradual decline in resale value. And since prices are always falling, it's always the right time to buy.
*****
The Apple iPhone 11 Pro is nothing short of an amazing device. It packs some of the best features, performance, and cameras into a compact and aesthetically pleasing frame. Unfortunately, this means that it also commands a rather hefty price tag. Thankfully, buying a gently used iPhone 11 Pro on Swappa can save you over $700.
Swappa is the safest and easiest way to buy and sell used tech. And thanks to our strict "no junk" policy, you'll feel confident knowing that Swappa has your back. After all, each and every listing is screened by our expert moderation team before it goes live in order to ensure that you're buying a fully functional device that is ready for activation on the network of your choosing.
So what are you waiting for? Click on the button below to snag a great deal on a newish iPhone 11 Pro. And while you're at it, don't forget to protect your investment with a Swappa Used Phone Protection Plan!
---
Snag the best deals on used iPhones wherever you go. Download the Swappa App today!

---