---
Apple released the iPhone 11 in September 2019, alongside the iPhone 11 Pro and iPhone 11 Pro Max. Although it's no longer the latest and greatest Apple has to offer, a used iPhone 11 is still a great phone in 2021. The iPhone 11 packs a serious punch thanks to its powerful A13 Bionic chip and large screen. It also features a fantastic camera and the same sort of class-leading industrial design we've come to expect from Apple.
Previously, we took a look at how you can save over $400 by picking up a gently used iPhone 11 Pro Max on Swappa — but not everyone needs a 6.5-inch range-topping flagship. For many, the more affordable and slightly smaller iPhone 11 is the right choice. Join us as we take a look at the sort of savings you can get by buying a gently used iPhone 11 on Swappa.
Used iPhone 11 prices
Although the iPhone 11 is positioned as Apple's value-oriented device, you can see that it isn't exactly "cheap." The iPhone 11 retail price was $699 for 64GB, $749 for 128GB, and $849 for 256GB — placing even Apple's smallest capacity iPhone 11 out of reach for many buyers. But as you can see above, you can save hundreds of dollars buying your iPhone 11 on Swappa — starting at well under $400!
As you already know, storage size affects how much you're going to have to pay. Looking at all three storage sizes, you can save up to $304 on the 64GB model, $310 on the 256GB model, and a whopping $334 on the 128GB model. This means you're paying about half of what you would at retail!
iPhone 11 price history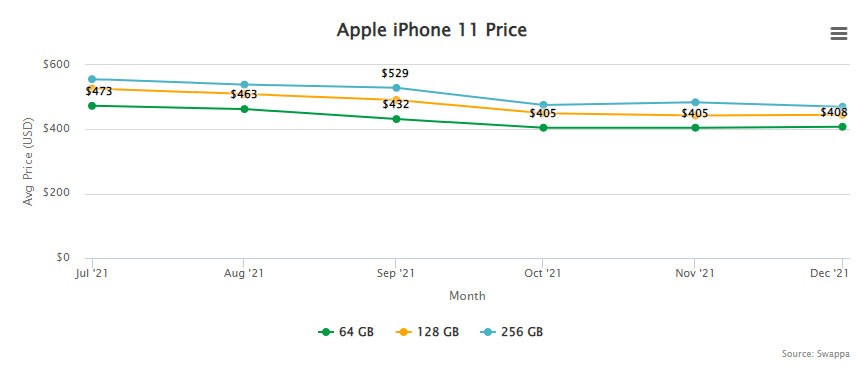 Used iPhones have long been known to hold their value extremely well. Market history data that we've collected here at Swappa over the years has shown this to be true. However, just like all technological toys, even iPhones succumb to depreciation over time. And since prices on Swappa continue to fall over time, it's always the right time to buy. If you're looking to pick up a cheap iPhone 11, you'll find the best deals at Swappa.
*****
The Apple iPhone 11 is unquestionably a fantastic device. When we took a closer look at its features and specs, we came away impressed with what Apple could offer for users looking for a more affordable, modern iPhone. That said, it's not exactly cheap. Luckily, you can save over $200 by purchasing your iPhone 11 gently used on Swappa. And because of Swappa's strict "no junk" policy, you'll feel confident knowing that you're buying a fully functional device that is ready for activation on the network of your choosing. Swappa keeps you safe because each and every listing is reviewed by our expert moderation staff before it goes live. We even keep your device safe after you get it with our accidental damage protection plans. So if your screen ever shatters or if your device ever suffers from water damage, you won't have to pay for repairs out of pocket.
Still deciding? No problem! Check out our iPhone 11 Buyer's Guide and iPhone 11 Comparison Guide to learn more.
So what are you waiting for? Head over to the button below and rake in the savings on a newish iPhone 11 Pro Max! No matter which phone you choose, Swappa makes buying even easier with Buy Now, Pay Later. Get the tech you want today, and pay for it in 4 easy installments spread over time.
Don't forget to pick up a Swappa Used Phone Protection Plan and check out our unlocked iPhone compatibility guide while you're at it!
---
Snag the best deals on used iPhones wherever you go. Download the Swappa App today!

---