---
Recently, we've been writing about the values of various models of the iPhone. The goal of those posts has been to highlight the current value of the iPhone and to also show how the value differs between trading in and selling directly to another person. These posts make it clear that trade-in services can be convenient, but that you will be trading value for convenience.
Working for Swappa for over five years I've seen firsthand how much less you get for your old tech with Apple trade-in. But when it was time to get rid of my old iPad mini, I wanted to give Apple trade-in another go. I was feeling a little lazy and figured hey, let's see how the experience is now.
---
My Apple Trade-In Experience
The iPad mini I traded was an original model iPad mini with 32GB of storage, and assuming I listed it for sale, it would have been listed in "Good" condition. Here's how my Apple trade-in experience went:
Started the trade-in process on February 6
The shipping kit was mailed to me on February 8, and I received the shipping kit on February 12
I mailed the iPad mini on February 13, and they received it on February 23
The iPad mini was also inspected on February 23
I was notified that my payment was "in process" on February 26, and I received my Apple eGift card via email on March 1
In full disclosure, a weather issue was the reason it took 10 days (Feb 13 – Feb 23) for the iPad mini to be delivered. But due to the shipping delay, I received three emails (all automated) asking me if I still wanted to trade. One of those emails was the "final reminder" which only caused me to worry because these trade-in offers expire if the company does not receive your item within 21-days.
With my trade-in experience, it took 24 days in total. Even removing the delay to account for the shipping weather delay, that still leaves 14 days, and while Swappa cannot guarantee a quick sale — the marketplace is active so there is a good chance my iPad mini would have sold within that timeframe.
Shipping delay and overall timeframe aside, the bigger issue here is how much I received for my trade — $40, which to be fair, I agreed to accept before I shipped the iPad mini. If you're wondering how much I could have gotten if I sold the iPad mini — $80, which is reflected in the screenshot below.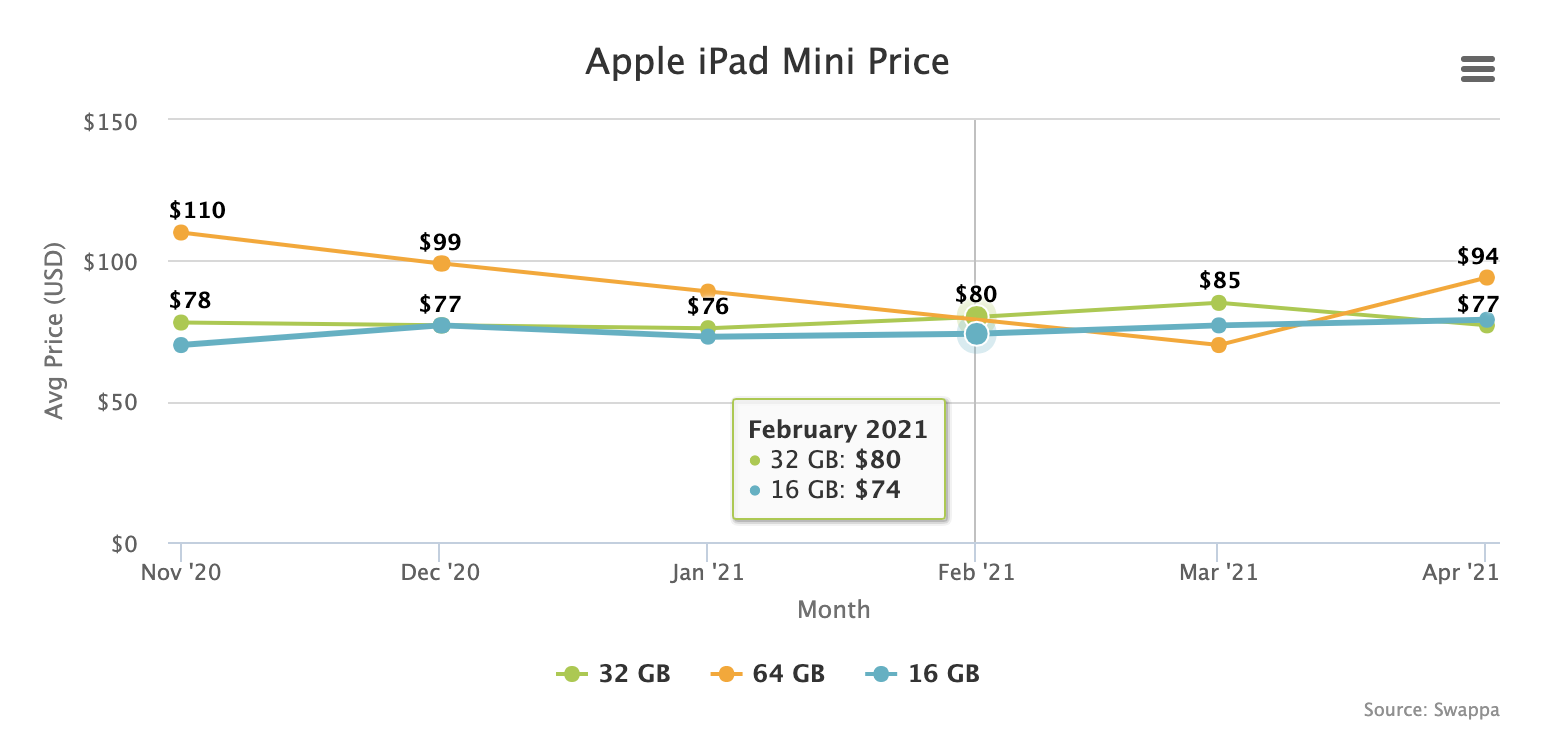 This means I settled for about half of what I could have received if I sold directly to another person. Not to mention, the $40 I received was an Apple eGift card, so I need to buy something from Apple to spend it, and that just means I will likely spend even more money.
The bottom line is that I got what I expected — an easy, but slow process that resulted in me getting less money, which came in the form of a gift card.
---
Apple launched a new iPad Air in October 2020, and the new iPad Pro line in April 2021 so you may be tempted to upgrade. If you are thinking about upgrading to one of these newer iPads — please, take my advice, don't be lazy, and sell it to another person.
Selling your current iPad is a great way to fund your upgrade, and the truth is, it is really easy to list an iPad (or another item) for sale in the Swappa marketplace. In fact, this is one of the points we often share — about how Swappa is safe, secure, and easy to use. The Swappa marketplace is an active marketplace, which increases the potential for a quick sale. Some of the other perks you get if you buy or sell on Swappa include:
And just in case you need any further convincing about Swappa — make sure to check out Trustpilot, where we currently have a rating of Excellent.